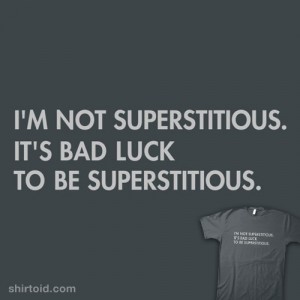 In my twenty-some odd years on this earth I've had four pairs of lucky boxers.
How many league titles have Liverpool won in that time? One.
By then I had no say in what pants I was wearing and was soiling them regularly (I was barely a year old, just to clarify and save my character) totally unaware Kenny  class of 1990 were being crowned champions.
I have no recollection of where I bought each pair of boxers from, or even if they were a well needed Christmas present, but I soon attached to them a status of major importance. I'm fairly sure they weren't in the 'half price on magic pants' sale so why did I give them such a mystical tag? Because of a desire to make my team win games that brought out my superstitious nature.
Even writing that sentence seems strange and recently I've come to realise the reality is even weirder. The thought that the wearing of particular underwear, miles away from where your team are playing, can somehow alter the outcome of a game makes the tactics board redundant. It's bordering arrogance too. Yet thousands of us do it on a weekly basis, thirty-eight times at least.
Turn back a year and I'd be exactly the same. Freshly washed shirt hanging up, lucky pants (sick of them already) in the draw and a pre-match routine only bettered by my ritual throughout the ninety-minutes.
At the ground it consists of the basics. Walking the same way to the ground, getting a programme from the same vender, placing it in my right back pocket during the game and never, ever going into the family zone (losing 1-0 to Southampton two seasons ago was a direct result of my stupidity).
When I'm unable to get tickets and become one vender's best customer, I find a regular place in the pub and decide on a game-by-game basis whether an alcoholic drink or a coke is best to unlock an opposition defence.
Even outside of match days I don't let up, all in the name of three points. I'd be too concerned to criticise an opponent too heavily for concern they'd score against us at a later date. Against Crystal Palace in 2013/14 I was too busy fighting the urge to join in the jokes about Marouane Chamakh from those around me in the Kop to even notice Dwight Gayle. When he fired Palace's equaliser in that infamous 3-3 draw I looked back and thought I could have done more at Anfield months earlier. The title could've been safely in the bag.
Writing this feels like a therapy group. I was tempted to begin this article with, 'my name is Michael and I'm superstitious.' Or at least I was.
When atheists question god's role in major tragedies it's similar to why I'm abandoning my superstitious ways. Not that I'm comparing Gerrard's slip v Chelsea to a world war, it was just an example to grab your attention really and make sure you're still listening.
My point being that if there is a footballing god out there, someone who oversees all superstitions and carries out results better than a player or manager ever could, why do I and thousands like me not get their wish every week?
As fans we're the heartbeat of a club. We show a passion for our team that's unrivalled and pay a fortune in following them around the country, wearing their name proudly in a semi-fashionable manner. However, we are pretty selfish.
We demand that these players are exceptional in every aspect for ninety-minutes and feel it's acceptable to call them, and their families, all sorts for falling below par. It may well be jealousy that these millionaires with cornrows in their hair are living out our dreams but sometimes we ask too much from them.
In the lower leagues especially, players are playing for their livelihood and a contract that will pay the mortgage for the month. For these players, why should they put the needs of a fan whose only aim for the weekend is to mock his rival supporter in the pub over those of his family. Not every player plays his heart out for the supporters in the stand, or at home, and it's something that's hard to accept for those paying a fortune to see them live.
This is why superstitions are near pointless. They're good for those who need a reason for their team's failure, or those who want to feel some responsibility for a victory, but so many factors need to be going your way. Mostly the right attitude of your players on match day.
Abolishing my superstitious ways will allow me to live my life again. No longer will I have to base decisions on whether Liverpool are playing home or away, being able to breathe easy knowing I've not affected the game in any way.
Having said all that, if this no superstition thing works then I'm definitely trying it again next year.
By Michael Williams – @mikewilliams_05