---
1) Fireworks
Balotelli sets off fireworks in his Manchester mansion, causing an inevitable fire, thousands of pounds worth of damage and a full house evacuation. Brilliantly, he later becomes a fire safety campaigner.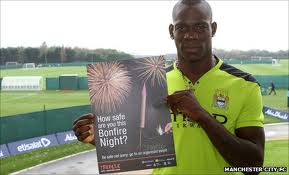 2) Man United tweet
Balotelli immediately warmed himself to Liverpool fans by, along with the rest of the country, laughing at the fact Man United were walloped 5-3 by Leicester City at the beginning of last season.

3) Jose Mourinho red card story
"I could write a book of 200 pages of my two years at Inter with Mario, but the book would not be a drama – it would be a comedy," Mourinho once said.
"I remember one time when we went to play Kazan in the Champions League. In that match I had all my strikers injured. No Diego Milito, no Samuel Eto'o, I was really in trouble and Mario was the only one.
"Mario got a yellow card in the 42nd minute, so when I got to the dressing room at half-time I spend about 14 minutes of the 15 available speaking only to Mario.
"I said to him: 'Mario, I cannot change you, I have no strikers on the bench, so don't touch anybody and play only with the ball. If we lose the ball no reaction. If someone provokes you, no reaction, if the referee makes a mistake, no reaction.'
"The 46th minute – red card!"
4) Why Always Me?
Bags the opener in a 6-1 demolition of City's arch-rivals United in 2011, and reveals the now infamous 'Why Always Me' shirt – which the club's kit-man 'Chappy' sepecially made him.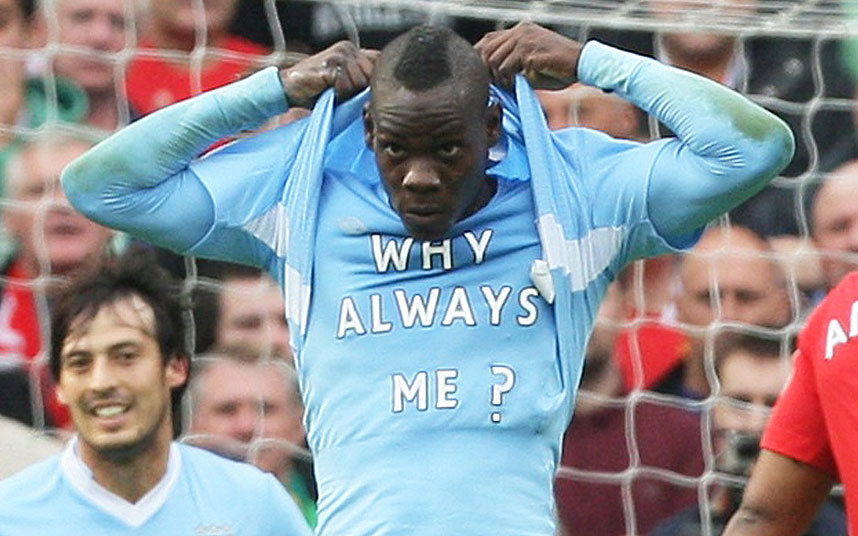 5) Allergic to grass
In a Europa League defeat for City away to Dynamo Kiev, Balotelli had to substituted after claiming he was allergic to the grass in Ukraine.
6) Bibliotelli 
Balotelli can't put on bibs. Like all of us at 5-a-side, he struggles to work out which holes are for arms and which holes are for heads.
7) Casino win
Following a Manchester casino splurge that saw the Italian £25k up, the generous forward gave £1,000 of his winnings to a tramp outside. Class.
8) Women's prison
Mario and his younger brother Enock drove into a women's prison in Brescia because they wanted to look around in 2010.
"Balotelli has apologised. He spoke in a low voice, he was a little embarrassed," said the detaining police officer, who had to hold the pair for entering without a permit!
9) Super Mario Instagram post
Attempting to post a message of anti-racist positivity, Balotelli shared a meme of his namesake Super Mario – entitled 'Don't be racist!'. Sadly, it also included the text 'grab coins like a jew,' at the bottom. The striker was banned for one game by the FA.