---
Jordan Chamberlain – Editor of Empire of the Kop – @Jordan_AC90
Debates are going to run and run this week regarding which side and which tactic we should deploy versus Arsenal. Fans have to irritatingly wait until Monday for the fixture, so discussions, rumours and potential XI hyperbole will reach boiling point by the end of the weekend, especially if our captain Jordan Henderson's injury problem fails to alleviate.
This is understandable, as the match itself is crucial. We've started with two wins, but a positive result against one of the title favourites away from home would really persuade the remaining doubters that this season will be different than last.
Don't let Arsenal's West Ham result fool anyone. The Emirates trip is one of the most formidable of the campaign. And Brendan Rodgers is going to have to get it tactically perfect.
John Aldridge, a brilliant goalscorer for us, but an admittedly fishy commentator on the same subject, this morning suggested that James Milner should be used on the right wing in bigger matches (via the Echo).
"Milner could be moved out to the right for the game to make us more solid," he began. 
"I know he's been promised that he'll play centrally but sometimes the manager has to say 'just take one for the team' and there's nothing to stop him going back to the centre the following week."
For Rodgers to start consistently breaking the promise of central midfield football made to Milner would be damaging, but in this particular fixture – the idea has some legs.
Here's why against Arsenal, Aldridge may have a point…
———–
Our friends at AllArsenal have put together an enlightening piece, based on player heat-maps, which reveals that against Crystal Palace last weekend, Arsenal's attack was heavily biased towards the left wing.
Their best player Alexis Sanchez starts on this flank, while playmaker Mesut Ozil has a tendency to drift closer to his world-class team-mate in order to play sharp one-twos. Santi Cazorla similarly naturally moves left, while the 'right winger' (if you could call him that) Aaron Ramsey, actually attacks more on the left – and simply reverts to the right side of the field when defending to maintain shape.
Check out what AllArsenal have to say on the matter, as well as seeing Arsenal's average positions at Palace.
Arsenal average player positions: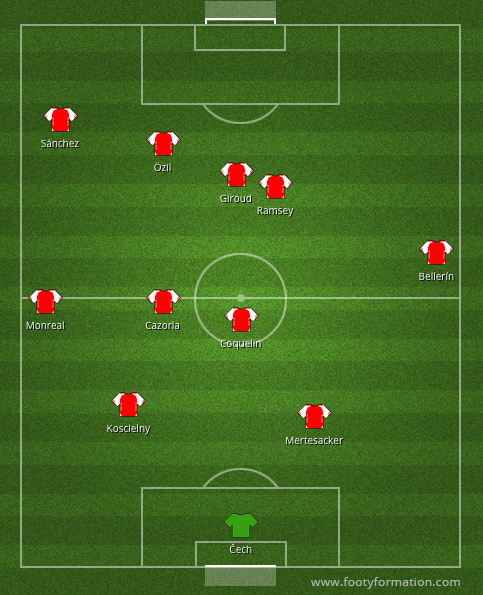 AllArsenal: 'Our philosophy is anything but rigid though, and the fluid nature of our game sees our forward line interchange and roam around freely.
Aaron Ramsey rarely remains out wide, Olivier Giroud regularly drops deep, and our full-backs love to bomb forward. When you look at the heatmaps and players' average positions throughout the game, you can see how different things really look.'
Aaron Ramsey heat-map: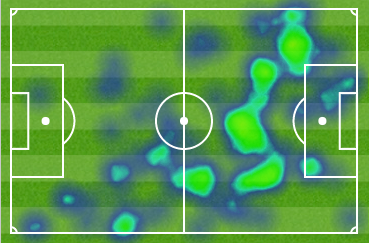 Alexis Sanchez heat-map: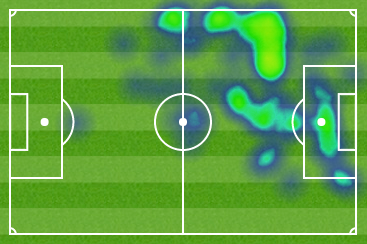 So while we recognise that heat-maps are usually best used to mock Falcao's lack of movement, in this instance they make a clear point: Arsenal's best players are more suited to attacking down the left than they are down the right.
Such an imbalance could be random, but the Arsenal player's attributes back it up. Ramsey's strengths lie in his all-round contribution to matches, and he'd frankly be wasted stuck hugging the touchline. Sanchez likes to start on the left because it means he can cut in and shoot on his right foot. On the other flank he'd have far less opportunities to score goals. Ozil, simply, goes where the other players go – so he can receive the ball and give it back to them.
To counteract this, Liverpool could 'use' Milner on the right, supporting Nathaniel Clyne. Sanchez is arguably the best player in the Premier League, but by using our two ferocious Englishman on him, his influence will hopefully be lessened. Milner's energy and work-rate means he'll still be able to offer something offensively for us from the wing, and he'll be able to cross better from here too – maximised further by the fact Christian Benteke will be waiting in the box.
It's sometimes not wise to base plans around the opposition, and many managers will stubbornly stick to 'their own game', but the evidence, and therefore potential solution, is plain to see. Arsenal attack down the left, and by using Milner on the right we bolster our defence and pressing on this side of the field.
Milner's too good a player to be consistently deployed to counteract opposition strengths, but sometimes, the situation obliges. And considering a draw would be a fine result in North London, Monday's situation does.
SEE MORE:
Editor's column: Alberto Moreno's cameo gives Brendan Rodgers a 'Rafa Benitez option' down the left
Liverpool's Greatest 50 players of the Premier League era – From Titi Camara to Steven Gerrard