---
Why is Brendan Rodgers leaving Mamadou Sakho, our best central defender, on the sidelines? It's the question that Liverpool fans around the world are currently asking themselves.
Is the vice-captain of the French national team, who two years ago was ranked among the best young defenders on the planet, really contemplating moving to Roma or Bayer Leverkusen to try and get more first-team football – as Sky Sports have today been reporting?
Sadly, it seems, the answer is yes. Somewhere along the line Rodgers lost faith in the 25-year-old. And, if the last three and a bit years have taught us anything, it's that Rodgers' players very rarely come back once having earned that 'unwanted' tag – just ask Mario Balotelli, Fabio Borini or Jose Enrique.
SEE MORE:
Alberto Moreno's cameo gives Brendan Rodgers a 'Rafa Benitez option' down the left
Liverpool linked heavily to Spain Under-21 midfielder Dani Ceballos
Former Liverpool striker demands Lucas feature against Arsenal next week
Is Sakho good enough for Liverpool?
The statistical evidence would suggest that Rodgers is right to choose Martin Skrtel and Dejan Lovren – the pair who started against both Stoke and Bournemouth – as his first choice centre-backs.
Take a look at this graphic – based on our defender's respective performances last season: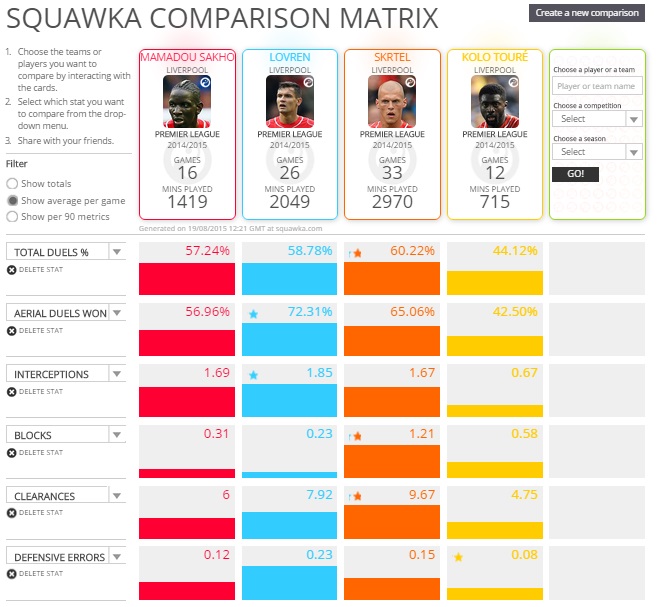 As you can see, not only were Skrtel and Lovren able to stay fit, but they also bettered the Frenchman in almost every area. They are both better in the air and in the tackle, Lovren makes more interceptions and Skrtel makes the most blocks and clearances. While the Croatian's error-count was uncommonly high, only two of those errors led directly to a goal, just one more than Sakho.
If we take our search parameters back further, to look at the previous season, then this was the result:
What's interesting here is that Sakho is again very much in second place. He featured in less games than the supposedly injury-prone Daniel Agger, while the Dane won more duels – both on the ground and in the air – and made more blocks. Skrtel was, once again, by far and away our best defender.
If we then compare Sakho's performances progressively – taking into account his final year at PSG and his two years at Liverpool – then you can see how he has declined in almost every area of his game.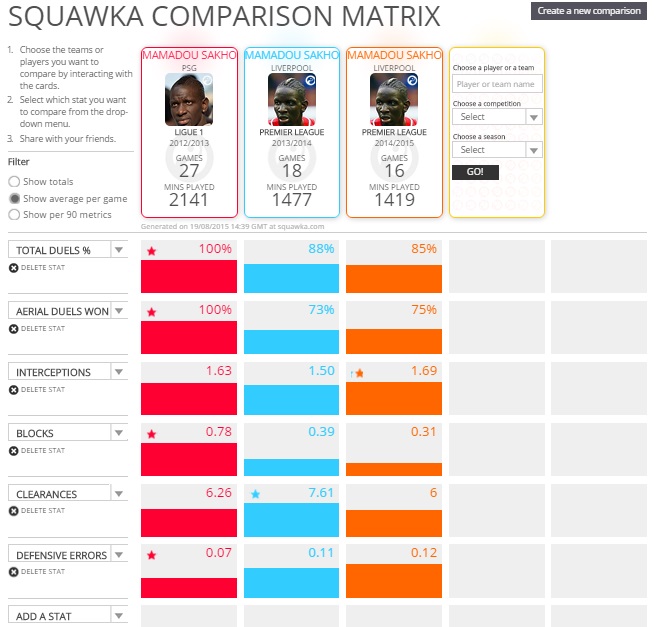 Statistics cannot possibly tell us everything of course. However, they prove – at least to an extent – that Sakho is valued higher than Lovren by many Liverpool fans based on reputation alone. Two successive years of sustained injury problems mean that we've arguably never seen him at his best in a Reds shirt, while we certainly haven't seen him on a consistent enough basis to form a fair judgement.
Why has Rodgers lost faith?
Are Sakho's injury problems alone enough to cause Rodgers' recent distrust of the defender? Surely not. He looked happy and healthy in pre-season and, regardless of Lovren's form, should surely be ahead of Kolo Toure in the pecking order and eligible for a spot on the bench against both Stoke and Bournemouth.
What then are the other possibilities and what has changed since the end of last season? After all, Sakho was, when fit, selected ahead of Lovren earlier this year. In fact, during our most successful period of the 2014-15 campaign, the Frenchman was favoured on the left-hand side of a back three and Lovren was sitting on the bench.
The most obvious reason is that it's tactical. Rodgers has made several prominent changes to the way he sets his team up this season and Sakho could simply be a victim of the changing times. This is best demonstrated by the graphic below: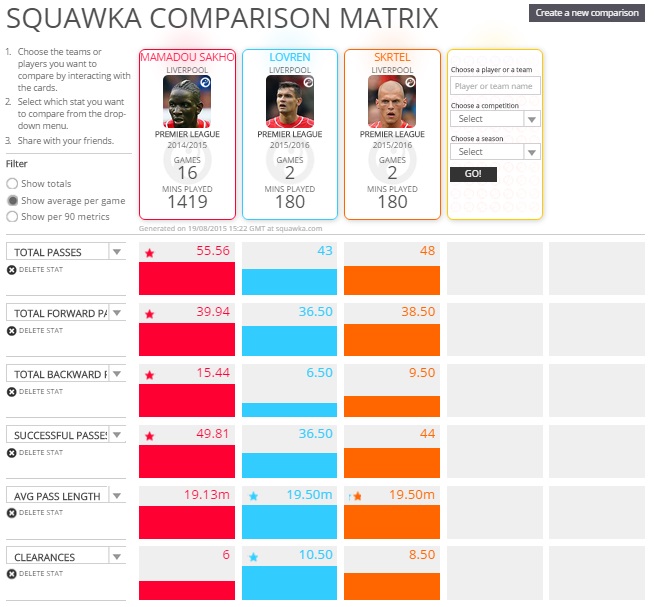 As you can see here, Sakho is predominately a ball-playing centre-half who likes to work the ball out from the back and play slightly shorter passes rather than immediately going long. In previous years, this would have been welcomed, but now things have changed and there is more of an emphasis on moving the ball from back to front quickly – using the height and power of Benteke and the pace of wide players such as Clyne and Ibe as our most prominent weapons.
This style of play is better suited to your more traditional, no nonsense centre-backs, such as Skrtel and Lovren, and that is partly why we've seen an upturn in the Croatian's form during the first two games of this season – there is less pressure on him to spend time on the ball and as a result he can focus more on his defensive duties.
Sakho was caught out on a couple of occasions in pre-season when he tried to play short passes, either because he missed his target all together or because he was putting the recipient under unnecessary pressure. With fewer of our midfield players dropping deep to pick up the ball, the only option for a player in possession in this scenario is to go backwards, subsequently slowing the play and preventing us from keeping the pace and tempo of the game high.
Is there still a place for him?
Sakho is not the only player to find himself in a tricky situation at the start of this season. Lucas can relate to him very well indeed. He, like Sakho, has unique qualities that make him different to any other member of our squad. As the only natural holding player in our squad, one might think he would be an automatic pick. However, the way in which we now play – with two central midfielders sitting behind three more attacking minded players and a central striker – renders his position somewhat obsolete.
Rodgers has proven in the past that he's not afraid to ditch players if they can't adjust to the style or the system and it appears that, at least for the time being, that he doesn't trust Sakho to do the job that he's asking for.
The boss has so far rejected at least two offers for the player – proving that he does still consider Sakho to be part of his plans. However, the decision as to whether he stays or goes might ultimately come down to the player. It's highly unlikely that he's going to be content with babysitting the kids in the Europa League group stages and the early rounds of the League Cup, particularly with a major international tournament coming up at the end of the summer. So if that infamous 'play me or let me leave' line comes up in conversation, Rodgers might not have a choice.
Sadly, the boss has demonstrated in the past that he can get these sort of scenarios wrong. Just look at how the situation with Steven Gerrard's retirement was handled (via Daily Express), or how the Raheem Sterling contract feud escalated beyond belief (via The Guardian). One way or another, these situations have a habit of becoming both public and ugly.
Rodgers has undermined Sakho by excluding him from the first two games and failing to offer us a reason why. If he'd explained that the Frenchman's wife had just given birth to their second child, for instance, and his mind was currently elsewhere – then perhaps all this could have been avoided.
The truth is that Rodgers would be loathe to lose Sakho at this moment in time both because the season has already started – and we were seemingly so intent on getting all our business done early – and because we're so close to the end of the transfer window, leaving us little time to find a suitable replacement. If the veteran Kolo Toure and the untested Tiago Ilori are the only back-up options at the heart of our defence then we have some serious issues with a long and testing campaign ahead of us.
Potential replacements
We put this piece together last weekend – detailing six possible replacements for Sakho.
The difficulty here is that anyone coming in knows that they're not likely to be an automatic first-choice. While the Reds lack cover and would need someone new if Sakho were to go, it's hard to see us splashing big cash on a glorified bench-warmer.
Of those six options Stefan de Vrij is arguably the most appealing – a younger player still learning his game and the ideal future replacement for Martin Skrtel. However, with the Dutch international only one year into his stint at new club Lazio, a deal would be extremely hard to pull off.
Monaco's Aymen Abdennour – linked to us already this summer by the Daily Express – is perhaps the most likely, but would undoubtedly be a backwards step in terms of quality.
If we're looking to promote from within then you look towards Ilori, who is yet to feature for the Reds first-team, and possibly Joe Gomez, who is after all a centre-back by trade and has done extremely well on the left thus far.
Conclusion
Most Liverpool fans could probably have stomached Sakho being left out of the starting line-up so far this season had two things happened – the first being that he was on the bench ahead of Toure and the second being that we received an appropriate reason for him being left out.
Rodgers has, after all, got his team selection right thus far – as two successive clean-sheets prove. However, the lack of transparency promotes both debate and speculation over Sakho's future. This leads to the player becoming unsettled and ultimately could cause a drop in his performance level – although we won't discover whether that is true here until we see him back on the pitch.
There also aren't a lot of great centre-back options out there at this moment – just look at the trouble our old rivals Manchester United have had in recent years as they look to replace Rio Ferdinand and Nemanja Vidic.
Sakho needs to stay at Liverpool, regardless of whether he's first choice or third, and that can only happen if Rodgers banishes the speculation and makes the player himself feel comfortable in his role at the club. If reports in L'Equipe, which suggest that the player is growing increasingly unhappy, are to be believed – then it's clear than he's done neither thus far.
For both Rodgers and Sakho, the time is ticking as we approach the close of the transfer window. Let's just hope that both parties come to a sensible situation before it's too late.
Dropping Sakho from the team is fair enough. Dropping him permanently would be totally ridiculous.
Glen Harrington – Empire of the Kop – @GlenH1992