---
Statistics:
As you can see in the graphic below, Real have been steadily trying to change Illarramendi's style of play, changing him from a defensive-minded midfield player into a playmaker – putting more emphasis on his passing rather than his tracking back – something which does not necessarily suit him.
At Liverpool he would be more likely to play his natural game – as he did at Sociedad in the 2012-13 season. If you compare his statistics in that column (on the far left) with those of Lucas from last year (on the far right), then you can see the improvement in quality that he would offer.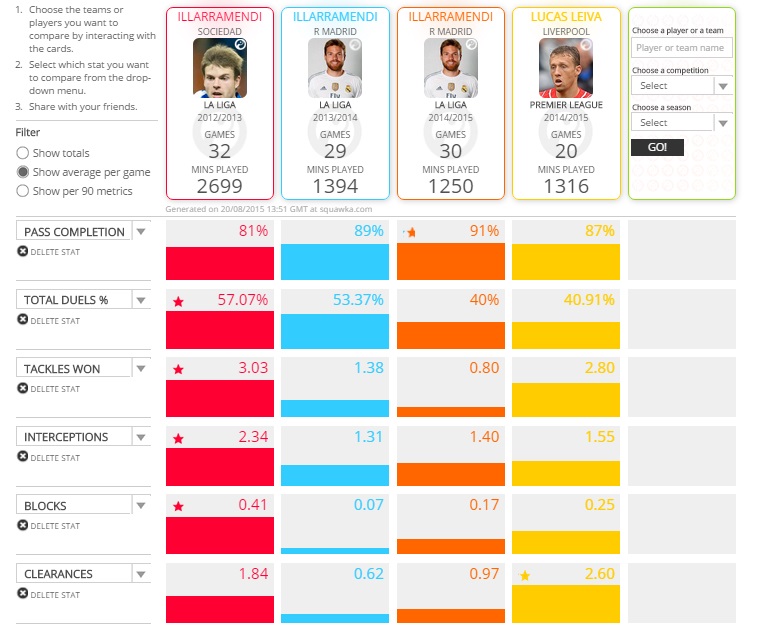 Strengths:
Despite everything that we've said about him being more of a defensive midfielder than a passing midfielder, he wasn't compared with Xabi Alonso for nothing, and he would fit well with Brendan Rodgers' current philosophy – players that are capable of adapting their game to suit a certain situation and are happy moving the ball quickly from back to front.
His long passing range is particularly impressive, so if he's picking the ball up in defensive areas and then picking out Benteke up front, then he'll be a very useful addition to our team. As we've already alluded to, his work-rate is very impressive and his tough tackling nature could be compared to Javier Mascherano, something we've not seen on Merseyside for several years.