---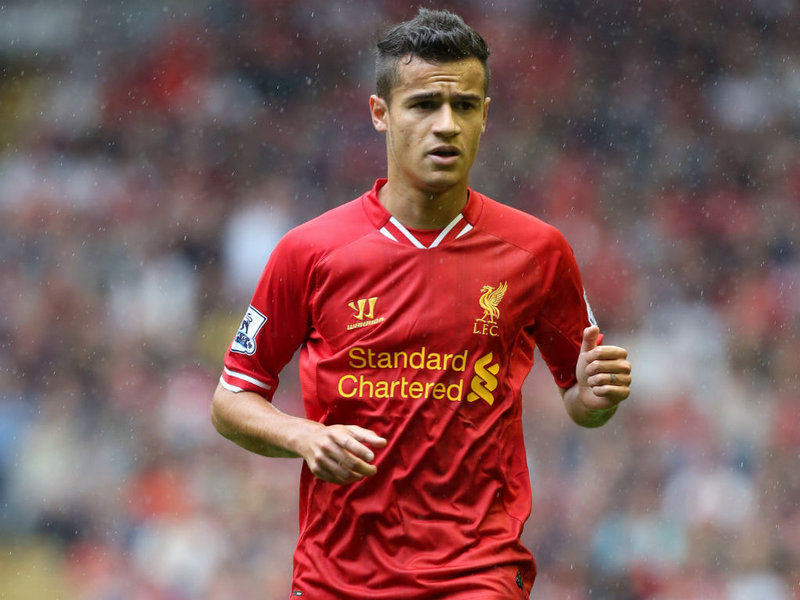 Who's the ultimate 5-a-side player? Would Messi or Ronaldo cut it on the smaller pitch? Luis Suarez would surely be one of the first on the teamsheet. The greatest deadline day signing in history has been sorely missed at Anfield, and he'd be a one man army on the smaller pitch, locked up in the cage with five trembling opposition players.
But without him, who'd make your Liverpool 5-a-side team from the current squad? With our formation, a safe pair of hands is needed in goal, a swashbuckling defender, two all-action midfielders, and a monster of a striker. The team should be able to switch positions seamlessly, not be intimidated, and break out the full Joga Bonito to impress the WAGS watching at the side.
Check out our Liverpool 5-a-side team, and if you think you can do better, hit us up in the comments below!
Goalie: Simon Mignolet
Between the sticks, no matter how small, there can only be one choice. Mignolet loves to distribute short and on the floor, making him ideal for the 5-a-side pitch. He's not bad at keeping goal either.
Defender: Martin Škrtel
While the big Slovak may not be the quickest, he certainly makes up for it with aggression and sheer presence. No matter how rabid the opposition striker, they won't be getting past Škrtel at the back. And if things get heated, he's better than a pair of Millwall supporting twins.
Midfielder: James Milner
In terms of dictation and pace setting, we couldn't look past Milner in midfield. A tough bloke from Leeds with an eye for a pass, James is tireless in his role of foil, and has the engine to easily make it box to box.
Midfielder: Philippe Coutinho
The diminutive Brazilian waltzes into our first five, with his brand of dynamism and invention crucial to the smaller pitch. He'll be the man to unlock the defence, wind up the opposition with a box of tricks, and strike late on to break hearts.
Striker: Daniel Sturridge
Hitman supreme, Sturridge, fronts our all-star Liverpool outfit. All swagger and shooting boots, the England man is ideal up top, especially considering that its actually encouraged to shoot on sight in this arena. I wonder how many times he would be bothered to do the dance over the course of a match, with more goals going in than you could shake a Suarez at?
What do you think? Have we missed any players out? How about Roberto Firmino and his basketball hoop skills? Would Christian Benteke work with headers off the table? How about Alberto Moreno at the back for some pace? Send in your lineups in the comments below!
Playing football this weekend?
Fancy playing a 5-a-side game with your friends? Goals, the world's largest and most respected operator of 5-a-side pitches, is the place to be. With over 500 pristine, FA accredited pitches at all-weather centres spread across the UK, Goals is the ultimate destination to scrap for bragging rights under beaming floodlights.
Ranging from between £60-£73 per pitch (just over a tenner each), and with leagues and tournaments to join/create, top notch shower and changing facilities, an exclusive app to keep track of progress, and fully licensed BT Sport lounge bars in every location – you and your mates will be strutting the Ronaldinho on (and off) the pitch in no time!
And if that wasn't enough, how about receiving new gear and beer on the day, and potentially winning prizes from a treasure trove worth £200,000?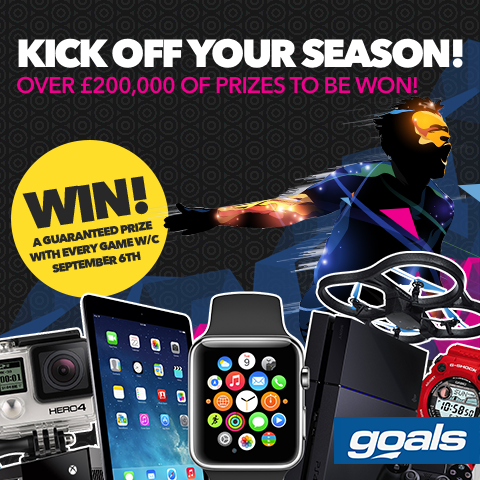 Goals are gearing up to launch their Kick Off Festival week, and teams booking a pitch on or after the 6th September will be given a guaranteed scratch-card on their arrival, with prizes ranging from new shin pads and goalie gloves, to pitchers of beer for celebrations (or wound licking) after the game!
There's also an automatic entry for those teams into the main prize pot, with an Xbox One, PS4, Go Pro and iWatch just some of the amazing kit up for grabs!
Head over to the Goals website for a quick and easy register, with 10% off all pitches booked online!