According to the Liverpool Echo, we're going to play a 3-4-2-1 tonight versus Bordeaux, which could show a change in tact for Brendan Rodgers stylistically after our two horrible Premier League results.
With the players available, this is a likely XI, and the one heavily mooted as a starting team in France at 6pm.
But what are the benefits of the formation change? And will it reap rewards if we stick with it for the Premier League as well?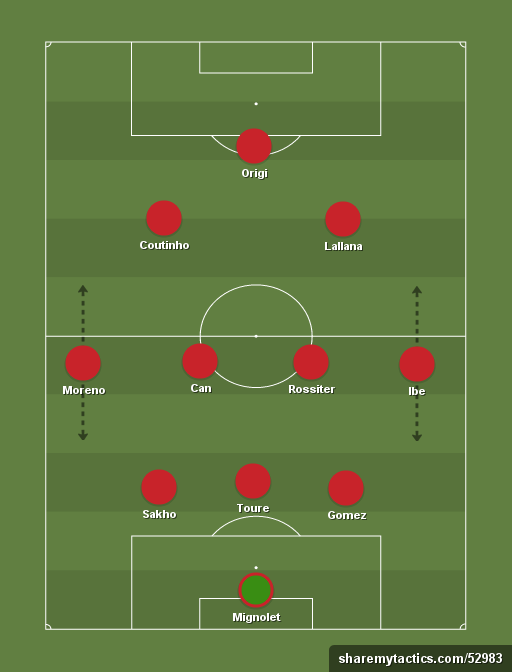 SEE MORE:
Liverpool fans debate 3-4-2-1 on Twitter – Most excited by formation switch…
Liverpool starting XI v Bordeaux named – Rodgers reverts to 3-4-2-1
1) Gets more square pegs in square holes…
This formation enables Mamadou Sakho to play in his best position as a left-sided centre-back. It gives Alberto Moreno the freedom the traditional left-back role doesn't. He hasn't played there before, but Joe Gomez, naturally a centre-back with lots of fullback experience, should slot in nicely on the right, too. The two attacking midfielders play in between the lines, tucked in, which favours them more than the 4-3-3 as well. The central midfielders play as central midfielders, with defensive and offensive responsibilities. The only player the formation doesn't naturally suit is Jordon Ibe, but interestingly, he's enjoyed his best performances for Liverpool as a wing-back, not as winger.