---
In what may well become a cruel twist of fate, Liverpool fans might have to cheer on the likes of Chelsea, Arsenal and Manchester City this season in Europe (never Manchester United), because the Premier League is at risk of losing its fourth Champions League spot.
Ours and Tottenham's performances in the Europa League similarly count towards England's future chances of having four teams in the Champions League. 
Arsenal lost to Olympiakos last night while Chelsea fell at Porto, giving both sides an uphill task in terms of qualification. City and United, who play this evening, also lost their opening matches.
And according to Sky Sports, a repeat of how English and Italian clubs fared last season will see Serie A claim our fourth spot – as they'll gain further coefficient points and overtake us as the third best 'league' in Europe. Spain and Germany occupy the top two spots.
The Premier League will definitely have four teams in next season's competition regardless, but by 2017/18, if Serie A clubs significantly outperform English ones this term, only three English clubs will qualify for the Champions League.
Here's how it currently stands: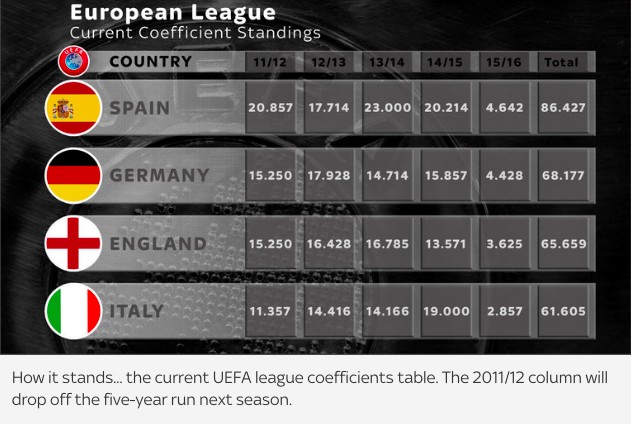 So Italian clubs need to beat English clubs coefficient score by 3.095 points this season in order to earn our fourth spot in 2017/18.
A country's coefficient score is calculated by adding up the total points each side earns from said country and dividing by the number of teams they have competing in Europe.
Sky have explained how each club gains points: