We had to read this report a few times to make sure we hadn't got the wrong end of the stick, but it genuinely appears that Liverpool's recently fired manager Brendan Rodgers is going to take a job as a pundit for beIN Sports – alongside Richard Keys!
For anybody unfamiliar, Keys was famously sacked as Sky Sports anchor after a microphone picked up a sexist tirade during an ad break – and his blog is honestly one of the most accidentally comical things you're likely to read on the internet!
And the presenter has claimed on Twitter that Rodgers will be joining the beIN Sports team, which has been confirmed by a Eurosport report as well.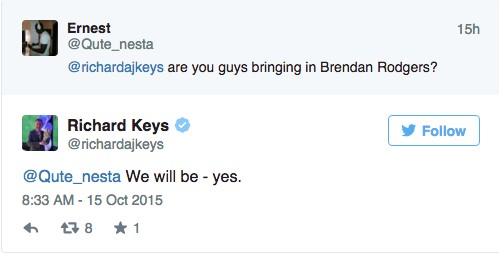 There were rumours that Rodgers might remain in the Premier League and take the Aston Villa job once Tim Sherwood gets the boot, but it now appears that he'll head to Qatar to work along Keys!
Rodgers got far too much stick from Liverpool fans and neutrals alike during his Anfield stay, for what making what many believed were cringeworthy, egotistical statements. But alongside Keys, he's arguably making himself a laughing stock – which is not fair considering his 2013/14 season.