Stephane Henchoz has joined Bruce Grobbelaar in openly criticising Liverpool goalkeeper Simon Mignolet – who could have done better for two of Arsenal's three goals at Anfield last night.
The retired Swiss defender made the comments on talkSPORT following the 3-3 draw with Arsenal.
Former keeper Grobbelaar has also provided countless quotes on how Liverpool need to replace Mignolet. So much so, the club actually asked him to stop (via talkSPORT) back in November.
"He's good on his line but when he has to come out and deal with crosses or corners he is not good enough," said Henchoz – who was a mainstay of our treble winning side in 2000/01.
SEE MORE:
Five negatives from Liverpool's 3-3 draw with Arsenal, with Benteke static in attack again
Five big positives from Liverpool's 3-3 draw with Arsenal, including Can/Henderson analysis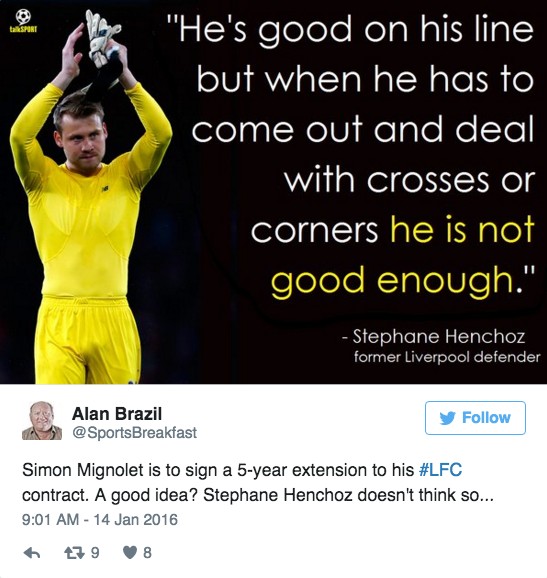 With Henchoz and Sami Hyypia at the back, Liverpool were a solid defensive unit under Gerard Houllier, but we've not had a back-line we can totally trust in some time.
Jamie Carragher is our last great central defender, and Pepe Reina our last great stopper.
Mignolet is about to sign a five year contract though, which could keep him at the club until 2021.
Jurgen Klopp has openly backed him time and time again, but eventually – he'll surely have no choice but to bring in an improvement should the Belgian keep directly costing us points.