---
Follow @Jordan_AC90 on Twitter
Adam Lallana is an enigma. He's talented, technically superb and loves the football. (That's why Brendan Rodgers spent £25m on him in the first place.) His attributes and style are inherently unEnglish. It doesn't make sense that he played in the lower leagues until he was almost 24. But it also doesn't make sense that a man possessing his raw talent scores and assists rarely.
Two goals and four assists in 21 Premier League games this term. Meh.
Earlier in the season I compared Lallana to a horse. Not because of his immaculate hair or polo addiction, but because he's a frontrunner. He loves playing in teams already ahead. He hates coming from behind. "Smooth and impressive in full flight after a good start, but shoddy when stuck in the middle pack," I claimed.
This was meant to analyse Lallana's inability to take a game by the scruff of the neck when we're stuck in a dogfight. His preference to cleverly recycle possession rather than make something happen.
Now, I think this, while being a decent metaphor, was mostly pointless. Lallana's not a horse. He's a £25m footballer Liverpool and Jurgen Klopp need to maximise.
And to do so, they should consider playing him in the middle three of the 4-3-3 Klopp's used most. Usually, Lallana's in the front-three. I want him deeper: in one of the box-to-box roles either side of the anchorman.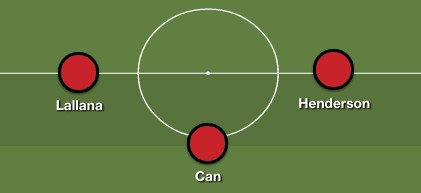 Liverpool have lacked central midfield creativity throughout the season. We're stale. We've missed Steven Gerrard – even the ageing one who led the team last season. Lucas, Emre Can, Jordan Henderson and James Milner have toiled, but their moments of genuine quality have been too irregular. They're up for the fight, but in many games we shouldn't just be fighting – we should simply out-football opponents.
So why not try Lallana here? He could keep the ball in a phone-box with two defenders tackling him – so brilliant are his feet. This means he'll retain possession centrally, but he can also dribble through the centre and aim forward passes as well. Lallana's two-footed, so can turn out to either flank while starting centrally, while he also has that clever knack of getting his body between ball and opposition to create space.
Crucially, he's got the work ethic for it too. Lallana closes and presses as well as any other player in the squad. The energy, pressing and creative spark of 'Lallana and Henderson' either side of Can/Lucas is so much more exciting than 'Milner and Henderson'.
What's more, it will enable us to get our game changing players together in the crucial forward positions. Obviously this relies on them all being fit, but every Liverpool fan knows our best chance this season involves getting Daniel Sturridge, Roberto Firmino and Coutinho on the pitch together at the same time.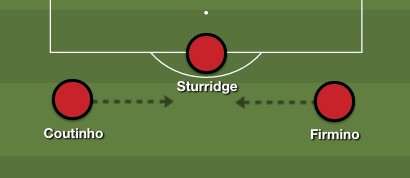 Lallana's role would be to work ferociously hard centrally and link defence and attack. This takes away the responsibility of goals and assists from his game, something he's struggled with ever since joining Liverpool – but allows him to maximise his natural characteristics. It won't matter if he holds onto the ball slightly longer. His Cruyff-turns will open up space rather than slow our attacks.
It's not alien to Lallana either. He regularly played in central midfield for Southampton, and has been used in the central three under Roy Hodgson for England too. In fact, during England's 3-2 win over Slovenia June 2015, he came on at half-time centrally and changed the game.
By deploying Lallana in the midfield three Klopp is adding ball retention and creativity centrally, while allowing his speedy game-changers time together up top. It's the way we should go forward if Coutinho and Sturridge stay fit.