---
It seems like Manchester United have gone full-Chelsea…
Soon, they'll be handing out plastic flags for supporters at Old Trafford!
Today, our bitter rivals sent out a message to fans with away tickets for the Anfield tie of the Europa League Last 16, set to take place next Thursday.
SEE MORE:
Liverpool's 5 most popular players named: Divock Origi voted in 4th with 95.1%
Liverpool supporters name 7 players we'd like to sell, including two fan favourites
Here's what it said: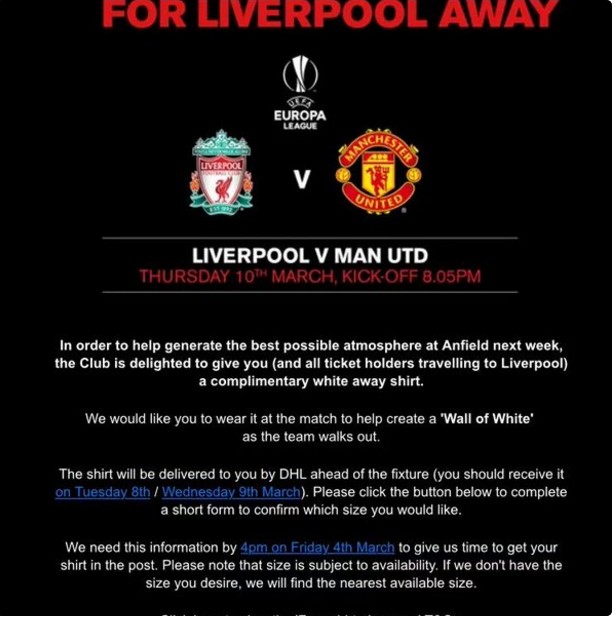 We don't know about you, but a 'Wall of White' sounds like a serious surrender to us!
As if this fixture really needs planned atmospheric boosts, United…? It's the first time England's two biggest clubs, who happen to despise each other, have faced in European competition. It's going to be an enormous occasion and doesn't need gimmicks to make it any better.
Hilariously, it's gone down awfully with United fans – who quite reasonably consider the idea as embarrassing as it really is.
Here's a few angry tweets which lightened our mood:
@TuftyMUFC that's embarrassing, what are we, @SunderlandAFC ? An away end at Anfailed should not need gimmicks.

— mark (@thechorleyred) March 3, 2016
@TuftyMUFC Wonderfully North American stuff. Embarrassing.

— Jürgen (@garymac21) March 3, 2016
@TuftyMUFC why?? We shouldnt be creating an atmosphere for them ffs are the club really that stupid

— Aaron Knowles (@aaronjk90) March 3, 2016
@TuftyMUFC What next? Phony sanitised flags around the stadium carefully filtering out any dissent?

— Guz (@darrenmcgurrin) March 4, 2016
We can't imagine this plan will go ahead following the backlash, and we can assure United that there'll be noise aplenty at Anfield on March 10 – with or without their 'Wall of White'!