---
Disappointing news that dampens a brilliant night, this.
BBC Sport confirm that both Liverpool and Manchester United have been charged for a number of disciplinary cases following the completion of our 3-1 aggregate victory.
However, unbelievably, only we have been charged with 'illicit chants' despite United's away support audibly and loudly singing "The S*n was right, you're murderers" last week.
There was a scuffle in the crowd last night towards the end of the game and seats were torn out in Old Trafford. Before the game, United fans hung a "Murderers" banner on the M62 between Manchester and Liverpool, and our youth player Jordan Williams is facing disciplinary action over a tweet which referenced the Munich disaster.
The case will be heard on May 19, a day after the final – which means there's no danger we'll be thrown out the competition.
Here's a full list of the charges made against both clubs: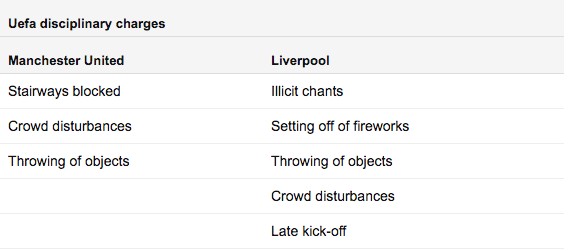 We cannot condone any of the behaviour from Liverpool fans despite the taunts from United. It's our job to rise above them and enjoy our players making a fool out of theirs on the pitch. This news is a real shame.