Time and time again this season Jurgen Klopp has sprung unexpected selection decisions with a view to keeping players fresh for latter games.
For example, before our first Europa League tie with Manchester United, Klopp rested Coutinho, Nathaniel Clyne and Daniel Sturridge, and we can see him doing something similar this time before Thursday's crucial Borussia Dortmund tie – especially as it's away in Germany.
We think that after taking the games played during the international break and those who went to Tenerife into consideration, Klopp will not start Clyne, Jordan Henderson, Coutinho or Roberto Firmino. 
Europe is clearly the priority and after our defeat to Southampton made hopes of a top four finish look very slim, we predict the German will make the changes – so the team could look something like this: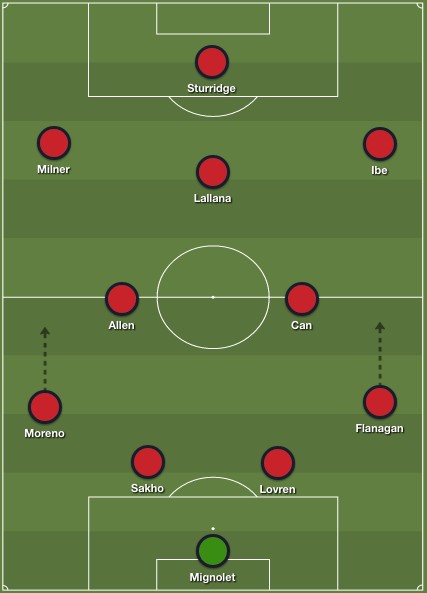 Alberto Moreno has been in Tenerife and has returned to full fitness, so Klopp is likely to use his Spanish left-back along with Jon Flanagan – who's also been sunning himself in Spain. Clyne played a part in both of England's matches, of course, and it'd make sense to use Flanno as he's not registered in Europe.
There's no point resting the goalkeeper or centre-backs, especially with Martin Skrtel in ropey form.
Emre Can starts every match for Klopp, but we can see the manager keeping Jordan Henderson fresh and using Joe Allen instead alongside him. The Welshman's been excellent recently and put in a MOTM display for his country at the weekend as well.
In attacking midfield, Klopp could allow arguably our two best players, Brazilian duo Coutinho and Roberto Firmino, a breather as well. Coutinho will only arrive back from international duty this Thursday, and will be tired from a long haul flight. Firmino missed the Southampton defeat with an injury, but in Adam Lallana, James Milner and the underused Jordon Ibe – there's three Englishman who can step in. Lallana is in especially good form and could relish the pivotal playmaker role.
Up top, Klopp has little option but to use Daniel Sturridge, although expect him to only last an hour. Divock Origi and Christian Benteke picked up injuries with Belgium, while Danny Ings remains a long-term absentee.