Mamadou Sakho has been given a glowing character reference by a charity which he has contributed to after the Liverpool defender was effectively suspended because of a doping charge.
SEE MORE: Liverpool's Mamadou Sakho fails drug test; not available for selection indefinitely
According to The Mirror, the Frenchman is facing a UEFA charge and suspension after failing a drugs test last month – the product in question claimed to be a fat-burning pill by Sakho.
Although the substance could have been consumed unwillingly, Sakho's character has understandably come under question, and 'An Hour for Others' has come out with a message of support.
The charity, which Sakho helped out, as can be seen in the above featured image, described the 26-year-old as a "diamond" and a "decent human being who has never forgotten his roots".
'An Hour for Others' released this statement on their Facebook page, in which they encourage the wider world not to conduct a "witch hunt" against one of their most generous volunteers.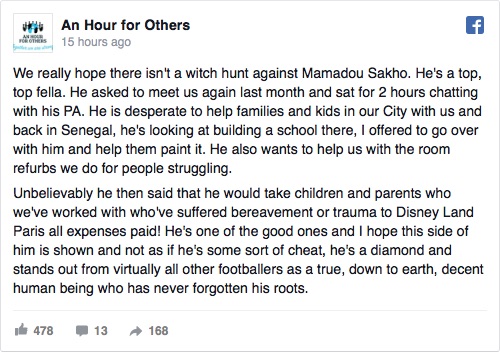 Precedent suggests that Sakho could face a ban of between three months and a year if the B sample of his drugs test, although UEFA regulations allow for a suspension as long as four years.
As BBC Sport reports, he will not be made available by Liverpool while the investigation is ongoing. But 'An Hour for Others' have reminded us that one mistake does not make you a bad person.
SEE ALSO:
Mamadou Sakho: Brendan Rodgers dropped doping-charged Liverpool defender for being fat
Picture: Grinning Sakho looks completely unconcerned by doping saga as he arrives at Melwood
As a club, Liverpool will not face action for Mamadou Sakho's failed drug test