For all the great that came out of yesterday, anything Hillsborough related sadly manages to tempt idiots out of the woodwork.
And a disrespectful tweet cost a footballer his job yesterday.
Johnny Taylor, who plays for Welsh side Gresford Athletic, retweeted a message yesterday from @jared_taylor10, which read: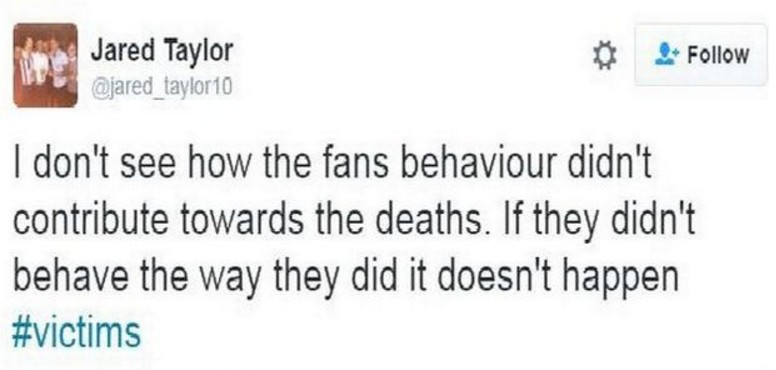 His club took swift action, and released this statement, courtesy of the Echo, shortly afterwards:
"We can confirm that as a result of the comments Gresford Athletic have severed all ties with the individual concerned. We do not in any way condone any of the views expressed by this individual and most definitely do not support them.
"We are a family club with exceptionally good values and wish to take this opportunity to distance ourselves from the offensive comments made by this individual.
"Finally, we offer our continued condolences to the families and friends of those who lost loved ones at Hillsborough. #JFT96."
Gresford are in the second tier of Welsh football, so it's not like a promising career has been ruined with Taylor's firing.
What frustrates us though is the ignorance of those who make these throwaway, downright offensive comments.
A court sat for nearly 300 days hearing the Hillsborough inquest, and a jury flatly decided that no fans were at fault for the deaths of 96 fans, but in fact they were 'unlawfully killed' due to poor police planning.
So why do they think they're more entitled to make grave, defining conclusions when they do not have the remotest understandings of the details?