On Tuesday, the Hillsborough inquests finally came to an end. In a historic ruling, the jury decided that the 96 fans who died in the tragedy were "unlawfully killed" and that match commander Ch Supt David Duckenfield was "responsible for manslaughter by gross negligence" due to a "breach of his duty of care" (via BBC).
The decision marks the end of a 27-year campaign for justice by the families of the bereaved. The criminal justice system will now over, with the Crown Prosecution Service saying it would"formally consider whether any criminal charges should be brought against any individual or corporate body based upon all the available evidence".
Clearly, the Hillsborough disaster was one of the UK's most important incidents of modern times, not just because of the loss of life, but also as a result of the police, media, and government cover-up that followed. It was, and still is, a national scandal of epic proportions.
You might think, therefore, that it would be front-page news across on all tomorrow's national newspapers. After all, foreign media as diverse as the United States' New York Times, Mexico's Milenio, and Venezuela's TeleSUR are all giving it prominent billing.
SEE MORE
Hillsborough justice
Police apologise
LFC sign right-back
Sadly, two UK newspaper's have decided not to lead with the story. One of which – The S*n – should come as no surprise. The other – The Times – less so.
Let's dig a little deeper. Who owns The Times? Answer – NewsUK. Who owns NewsUK? Answer – Rupert Murdoch. And finally, who owns The S*n, the newspaper that caused so much grief and heartache for those touched by the tragedy? We'll give you one guess…
Unsurprisingly, the decision has been lambasted by fans from across the football spectrum.
People are furious with front pages of The Sun and The Times after Hillsborough verdict: https://t.co/mngZj1aXEf https://t.co/TWHEQgrXEm

— CHELSEA EPL (@ChelseaEPL) April 26, 2016
Murdoch's rags the sun & the times are beneath contempt for not putting Hillsborough on their front page. Unspeakable disrespect. — Teresa McMahon (@teresamcmahon4) April 26, 2016
It must suck to work at The Sun or The Times today if you thought you were a journalist rather than a mouthpiece. #jft96 #Hillsborough

— Ioan Marc Jones (@ioanmarcjones) April 26, 2016
Tony Barrett, the respected sports journalist and born-and-bred Scouser who works for The Times, called the decision "unbelievable".
Unbelievable. — Tony Barrett (@TonyBarretTimes) April 26, 2016
Appropriately, the paper's Wikipedia page has been edited: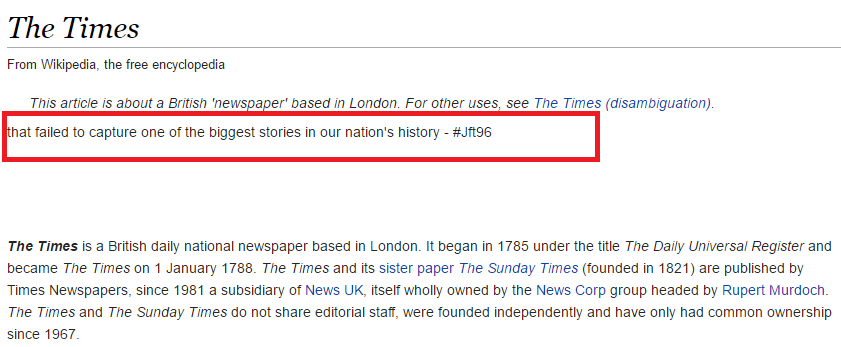 Here are the two paper's front pages: