---
By @LFC4LIFENET
Disclaimer
This is a very long, dull, boring article. For those who don't like long reads I will do a quick summary:
– I don't feel Lucas, Milner or Allen can play effectively in a two man centre midfield, with or without Emre Can.
– All three could leave us vulnerable in that area of the pitch (for different reasons) & that could make our job harder than it needs to be on the night.
– I believe Sturridge is best upfront with a partner.
– I think the Diamond Formation has been underused the last three years, certainly last two, and it suits our available players best.
– It can give us control in midfield, gets the best out of our match winners and will protect our defence well.
– For further explanation, examples and reasoning – please read the dull version below.
Dull Version – Zzzzzzzzz…
Liverpool FC have been boosted with news that Emre Can has returned to training ahead of the Semi Final Europa League Cup match vs. Villarreal FC on Thursday.
Emre has been a regular under manager Jurgen Klopp in the Liverpool midfield before he got an ankle ligament injury against Borussia Dortmund FC in the last round. One of the best decisions Klopp has made since he has arrived at the club, was to move Can from centre of defence to a midfield role. Can has thrived at the heart of the side, especially alongside Jordan Henderson and without these two key players Liverpool have struggled in centre of midfield, for various different reasons which I will highlight later in this article.
If both Henderson and Can were fit, Liverpool would most likely play two centre midfielders on Thursday. This would allow the side to play an extra attacking player to help get a victory to take the side through to The Final, in theory.
But 'Can' Liverpool risk playing two in centre midfield without Henderson partnering Emre? Assuming the German is available to start the match. That's what it will be in my opinion… A RISK! Here is why…
Do Liverpool have a centre midfielder other than Henderson and Can who can play effectively in a centre midfield two?
What's "effective" I hear you ask. For me the roles in a two man centre midfield are very clear. The pair need to be disciplined in their positioning, protect the back four and offer control to the team. It's not about getting assists, goals or how many kilometres a player runs in a game or even how good they are in possession necessarily. All of those things are a bonus in that position. The primary function for the centre midfield in a two man midfield is to be disciplined, offer protection and control to the side.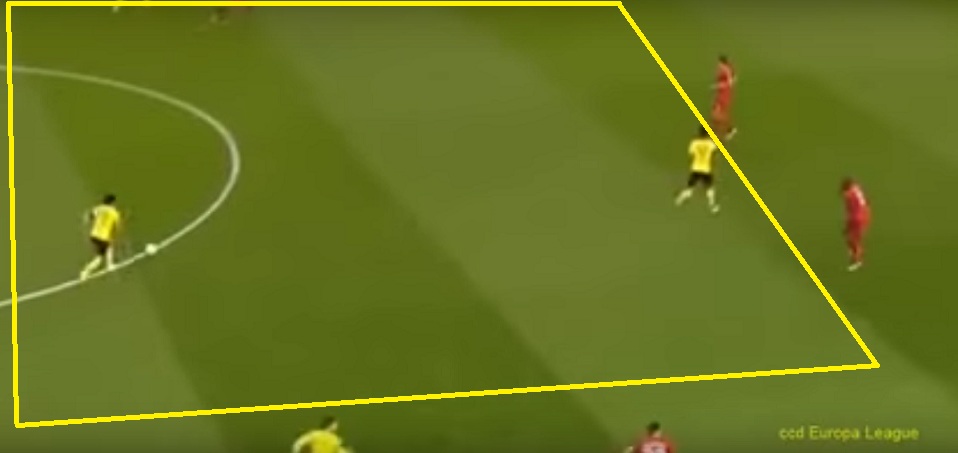 First Dortmund goal at home, no centre of midfield to be seen offering zero protection.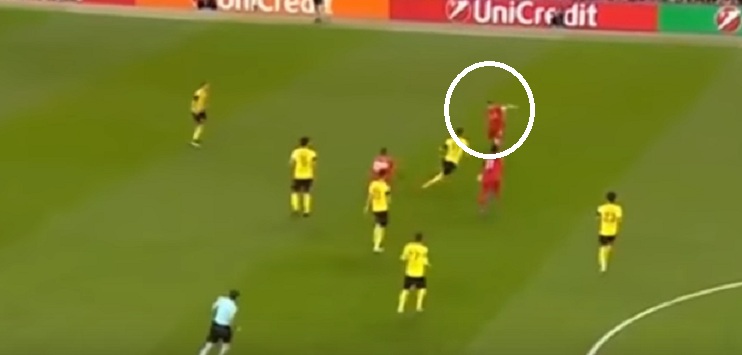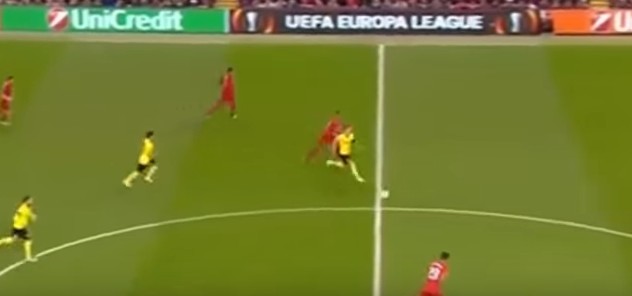 Dortmund second goal – Milner doing what he does best, gambling, following the ball, being ahead of our attacking players and leaving us exposed. (First dig of many towards Milner as a centre midfielder, I apologise in advance.)
Let's look at the Champions of the Premier League this season – Leicester City. A huge part of their success has been the partnership of Kante and Drinkwater in centre midfield. Neither are getting loads of goals, only two between then in the league. They haven't got a massive amount of assists, again 11 between them. Drinkwater isn't the most mobile or quickest of centre midfielders. Kante is tidy on the ball, but he's not got a huge passing range. However as a partnership they fulfil their main tasks – they give their back four superb protection, they are nearly always never caught out of position leaving the team exposed and this gives the side control – even if they don't have the ball, as they aren't vulnerable in that area of the pitch. Not flashy, but incredibly effective.
Atletico Madrid are another example. Champions League Finalists, after knocking out Bayern Munich last night. Competing for the title in La Liga with Real Madrid and Barcelona. A key part of their side again is the centre midfield, who give their centre backs probably the easiest job in Europe given the protection they give them. Hardly ever seen out of position, incredibly disciplined, hard working and again when their side are without possession of the ball they still look in total control.
Even look closer at home. When Rafa Benitez was our manager he would play Momo Sissoko and Xabi Alonso or later Javier Mascherano and Xabi Alonso in centre midfield. Players not known for their goals, their assists, their bursting runs into the opposition box, their crossing or match winning abilities – although Xabi might disagree after his goal last night. These players gave Benitez what he wanted – control. Mascherano & Sissoko were not the best in possession, they were limited. But it didn't matter, as they gave the ball to others to hurt the opposition. Alonso was very impressive on the ball, but he wasn't a regular match winner with goals or assists, he'd feed Gerrard or Kuyt or Torres to do that job for us at the time.
Benitez has shown this recently at Newcastle. Not playing Jonjo Shelvey in centre midfield, their best passer in the squad. Instead he has picked Cheick Tiote and Jack Colback in that area of the pitch to do the disciplined role. Shelvey is similar to Steven Gerrard at times when Benitez had him at Liverpool. At times not showing the same hunger to defend as he does to attack. This leaves gaps which could be exploited by the opposition. Benitez said Gerrard lacked 'game intelligence' at times for the role and given his best seasons for us were arguable when he played wide right winning PFA Player of the Season or in a roaming role behind Torres when we nearly won the title, it is hard to argue that he was wrong.
In a three man centre midfield field it is different. You then want one of the centre midfielders to really be contributing with goals and assists or runs into the opposition box. You know you have two centre midfelders to cover should that player be out of position taking that risk and the team can cope as a result. But in a two man centre midfield if you have a player who keeps being out of position this is a big issue, especially in Europe when organised teams can exploit that area.
Milner
This is what worries me when James Milner plays in centre midfield for Liverpool. No one can fault the effort Milner puts in on the pitch. No one can deny his contribution in attack when he has got 7 goals and 14 assists this season for us. But does he fulfil the primary purpose in that position? I would argue he doesn't. If he was playing wide right in an attacking three behind a lone striker, then I would look more closely at his attacking statistics this season and he'd get a lot of praise. Then I would probably accept his constant running and harassing of opponents more, trying to force errors, even it is sees him following the ball. But in centre midfield I do not want to see our player more often than not, in the wrong position. This leaves gaps, it gives his centre midfield partner problems and the team issues.
Another thing Milner has done this season is lots of crossing. He's actually 6th in the most crosses per game in the European top leagues this season, with 2.1 (see below). Given he's mainly played in centre midfield, I find that quite an alarming statistic, as it suggests to me he's not central and is wandering in his position frequently. This leads me once again to think that he should be playing wide, not central – when used.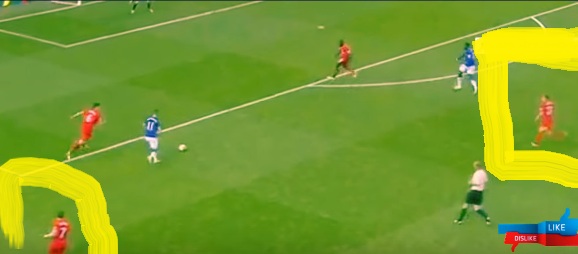 Milner out wide & out of position – as per usual… I have done a lovely oil painting showing his position. I'll call it 'The Scream'… as that's what I do when I see him constantly out of position.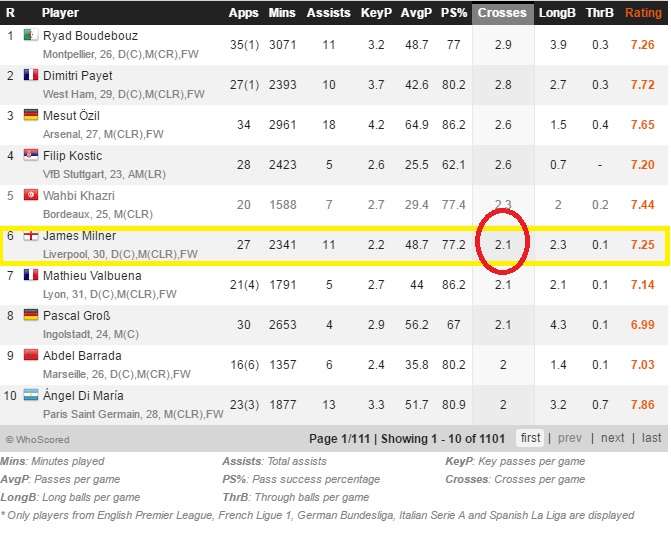 (Source – Whoscored.com)
Lucas
Lucas seems to be a player who divides the fans opinions. This might be partly because he clearly loves the club and has plenty of qualities needed to be highly effective in centre midfield. For example, nearly every season Lucas is near the top of the tackling charts. Even this season he is making the 2nd most tackles per game in the league and the 4th most in the European top leagues.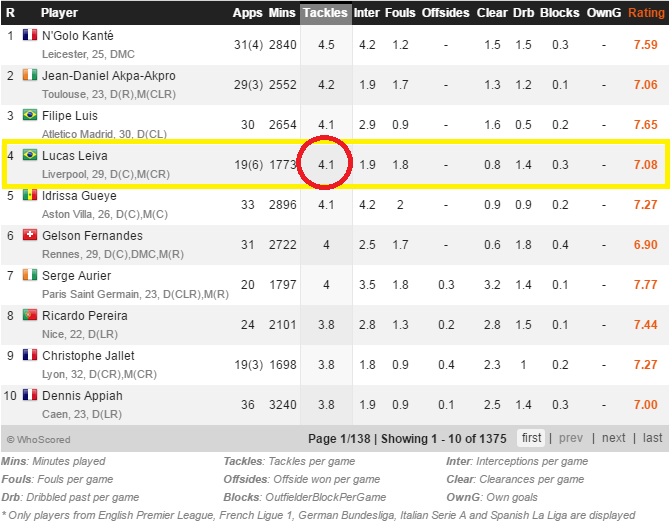 (Source – Whoscored.com)
He's also very good in the air and won't be bullied in that position physically. Probably two reasons why he has done well at centre back this season.
But the reason why he divides fans is because he does have weaknesses. He's not the most mobile, some say he gives away too many fouls and he can be beaten too easily at times which is not good when you are protecting the back four.
I think Lucas often plays like a NFL player using a 'rushing' strategy. He'll rush an opponent and this will result in either him 1) winning the ball 2) getting beaten then he's out of the action or 3) he gives away a foul. It is a risky approach, which is why he's very 'hit' or 'miss' with it. In a centre midfield three it is far more effective, as he has two other midfielders to protect him should he get beaten. Plus it is easier for him to read the game being the deepest centre midfielder, having two players ahead of him doing the pressing, then he can do what he is good at, intercepting balls, reading play and winning tackles. In a two man midfield his 'rush' approach is risky however and often he'd be better holding his position rather than his 'boom' or 'bust' approach.
Here is an example of a Lucas 'Rush' vs. Everton, I'll just give one example but there are loads if anyone wishes more evidence of his 'Rush' approach: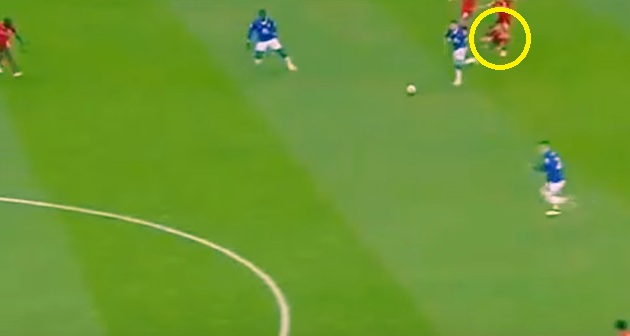 He rushes and he gets it wrong. Then the back four and his centre midfield partner are vulnerable, as shown below with Milner trying to get back.

Allen
Joe Allen is another player who divides fans. I feel he is similar to Lucas in the sense he does have plenty of strengths, but he has a few weaknesses which let him down or certainly don't make him a player all the fans believe in him 100%, certainly in a two man midfield.
He's good on the ball, more tidy and efficient than dynamic or 'world class' passes. But he is fine on the ball, actually his composure at times can bring a lot to the team in difficult situations, helping us gain control. Allen is very good at pressing, reading the game and intercepting passes. He is also disciplined in his positioning and you won't see him often out of position, unlike Milner (sorry I'll try and be nice to James).
However Allen is very light weight and he can get out muscled fairly easily from opposition players. Also as good as his pressing and energy is, you rarely see him put in a constant immense shift in for a whole 90 minutes, like Henderson at his best does. Usually he looks best in 30 – 45 minutes bursts, where he can give his all in that time. Partly why he does look good coming off the bench, as he knows for the last 30 minutes he is on the pitch he can just go 'all out' in terms of energy. At times I feel he is managing his energy or not as effective for 90 minutes, but maybe I'm in the minority on that.
Also I can't think of many performances where Allen has played in a centre midfield two and we have been dominant. Even against Southampton when he was very impressive in the first half helping us get 2-0 ahead at half time, when it should have been more. In that second half I think we saw all the issues with Allen in a centre midfield two. Wanayama really out-muscled him and bullied him at times in that second half. The side had no control, not only because of Allen I should add, but the centre midfield partnership on Can and Allen in that second half were dominated and as we all know we ended up losing that game. Showed all his weaknesses for me in that half – being light weight, potential doubts over his fitness for 90 minutes giving his 100% best and we lost the physical battle that half, which is not good when your centre midfield partner is Emre Can that day, who is as physical as it gets in that position.
I feel nearly all of Allen's best games for us have been when he has played in a three man centre midfield or used on the left of a diamond midfield. That's when he is most effective, when his strengths are fully shown and weaknesses minimised. In a centre midfield two, again he's far from an ideal choice like the other two options. It would be a flip of the coin for me if I had to select one of Allen or Lucas to partner Can – clearly by now you have realised I wouldn't go for Milner. (Another dig I know, but I can't help it!)
All the above three could play in centre midfield alongside Can and we can win on Thursday. We should have plenty of possession vs. Villarreal and if our match winners produce then it should not be a problem. But you could say that if we played any other formation on Thursday. However surely the best formation for us is one that means we are still a big goal threat, but are the most solid we can be defensively? Especially as we know one goal from Villarreal on the night and then we have to score three. Villarreal's result in the first leg now allows them to do what they wanted coming into this game, defend deep and hurt us on the break. They don't need to win the game to win the tie. A centre midfield two with Milner leaving big gaps not holding his position, Lucas rushing, Allen getting out muscled or managing his fitness through out the game – could make our job much, much harder on the night.
Is Sturridge at his best as a lone striker?
So for me three in centre midfield or a midfield diamond would make more sense. However I don't know if we have the right players to really make a front three work. It doesn't get the best out of our players available. Daniel Sturridge is best when he has freedom, like he had alongside Luis Suarez. He can roam, drop deep, drift wide and hurt the opposition with him being able to pick the ball up anywhere, knowing he still has another striker upfront in the box when he does do this. Even this season a lot of his best performances have come with him with a partner – with Ingss vs. Aston Villa (h), Origi vs. Southampton (a), Origi vs. Dortmund (h) when he came off the bench to help win us that game. The season before his best performance came alongside Balotelli against Spurs (a). Sturridge is such a talented player he can thrive whether upfront on his own or with a partner, he has proved that. But I think his best performances have mostly come with him in a partnership upfront and I'd rather give him the best chance to thrive!
Where is Firmino best used?
If Sturridge doesn't start on Thursday then Firmino you would expect to lead the line as he did in the first leg. But I think we saw in that match the problem with having Firmino in that role on his own. Far too he is not in the box, as he's not a natural striker and he likes to do a lot of his best work around the box. Obviously both might play together, but clearly that would worry me, if that results in us playing a two man centre midfield. Firmino is a goal threat and best performances for us this season have been when he has led the line. However he's not as big of a goal threat as Sturridge and when we need to score at least one goal to take us to extra time. You'd have to think you want Sturridge starting the game. If both are used, I feel you need a formation which does, once again, not make the side vulnerable defensively and for me that means no two man centre midfield.
What should we do?
We could play three in centre midfield, having three attacking players. But With Coutinho & Lallana two of the three probably used if we do go that way, then we only have one striker in the box. With both Sturridge and Firmino liking to drift wide and roam, this could lead us having no one in the box and Milner crossing to no one often, like he did in the first leg ((I've done it again!). Also do we even trust Milner in a three man centre midfield? Not sure I do personally, even the goal in the last leg showed his limitations in a three. Showing little game intelligence pressing for a ball he was never going to win which started the other errors made for that costly late winner that Villarreal gained. He can't merely hold his position and that's his problem he always has to chase after the ball. But I think I have criticised Milner as a centre midfielder enough in this article… so I'll move on – I'll spare you the screen prints of that horrific play!
I believe the answer is the diamond formation. This formation has seen so many of our best performances and results the last few seasons. It was key in getting the best out of Suarez and Sturridge and even Sterling when we nearly won the title. Our best performance last season, and bizarrely the only time we played it in the league from what I can recall, was when we destroyed Spurs (a), even with a misfiring Balotelli that day. Even this season it has been highly effective – used to destroy Southampton (a) in the League Cup, used in the last 20 minutes to beat Dortmund… actually, when in the last three years has it not worked might be the easier question?
It seems to really suit the squad in getting the right balance between defence and attack. If we had Origi and Henderson available to play alongside the hopefully returning Can, then I'd have little issue with playing two in centre midfield or a lone striker. But with the current available personnel, I feel the diamond formation would be the best approach to give the side control in midfield, allow Sturridge & Firmino to both thrive, not forgetting it allows Coutinho a central role behind them and I think it is a formation we don't play enough given the results and performances we get with it when used.
It is not a perfect formation, there is no such thing. However I do think it suits the current available personnel the best. Let Sturridge have freedom to win us the game. Let Lucas win possession but having two centre midfielders close to do the pressing and cover, if needed, for his 'rush'. Play Allen in his best position. Give Coutinho two mobile options in front of him who he can feed to win us the game. It even allow Can, if fit, to make more charging runs in attack and we have seen plenty of times this season, how he can hurt teams – with his assist vs. Dortmund (h) or Southampton (a).
Summing Up
As you might have guessed by now, without Henderson or Can together, only playing in two in centre midfield is a big concern of mine. I feel Lucas, Milner and Allen all have weaknesses which can be exploited far more in a two man midfield, than a three or a diamond and we have seen it in recent weeks.
I feel the diamond formation also gets the best out of our best three attacking match winners – Sturridge, Firmino and Coutinho. But we still have the control in midfield and stability to not get overrun, yet those three can still have the freedom in that formation to thrive.
Emre Can might be fit, which is a big bonus. We could win playing a two in midfield if our attack shines and the limitations of the midfield are just 'papered' over with goals to forget about the 'cracks'. However Villarreal are tough to score against. They will be set up to be compact, narrow, deep and will look to hurt us on the counter attack and exploit gaps which we are more likely to leave in a midfield two.
There is an argument to not worry about them, just focus on us getting goals and blowing them away. However I don't see why we need to make the job harder for ourselves, because if they score then we are going to need at least three goals, depending on how many they do get. Makes much more sense to me, to make us solid defensively, less vulnerable to the counter attack and play a formation which we can still hurt Villarreal with, maybe even more than others – as it suits our three best match winners.
It might be harsh on Milner who does get a lot of assists. It might even be tough on Lallana who has improved under Klopp and you can't fault either of their work rates. But we don't need players leaving gaps which can be exploited and I genuinely believe a 'Diamond' might be Klopp's best friend on the night and a two man centre midfield is a risk we don't need to take.
My team for Villerreal, assuming Can if fit to start (if not it will have to be Milner for him… Dam I've done it again!):