Liverpool fans steal seats, but West Ham supporters are just souvenir collectors?
Do us a favour…
Check out how the Daily Mail decided to tweet out the exact same story involving West Ham on Tuesday and then Liverpool 0n Wednesday: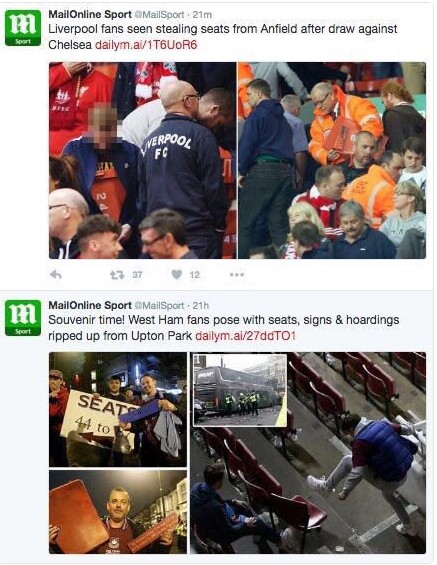 West Ham supporters had already smashed up the Manchester United team bus before they took seats and signs from the soon to be demolished Upton Park, but the Daily Mail jovially reported how fans 'posed' with mementos from the glorious final night at the Boelyn…
Liverpool fans, who hadn't done anything to Chelsea's bus might we add, were caught 'stealing' seats, however.
There are some very good journalists at the Daily Mail who produce excellent football content, but this kind of stuff is just appalling and lacks any consistency. This in turn breeds contempt and mistrust, so they, like other newspapers, should be careful which city they pick on.