This should probably be regarded as gossip and nothing else, but Liverpool fans online are speculating that Coutinho will give up his no.10 shirt and take up Steven Gerrard's former no.8!
The famous number hasn't been used since arguably our greatest ever player departed last summer, but with Liverpool set to sign a player who likes the no.10 could Coutinho take up the no.8 mantle…?
We're on the verge of completing a deal for Polish midfielder Piotr Zielinski, and recently, the 22-year-old was snapped wearing a Liverpool strip with 'Zielinski – 10' on the back.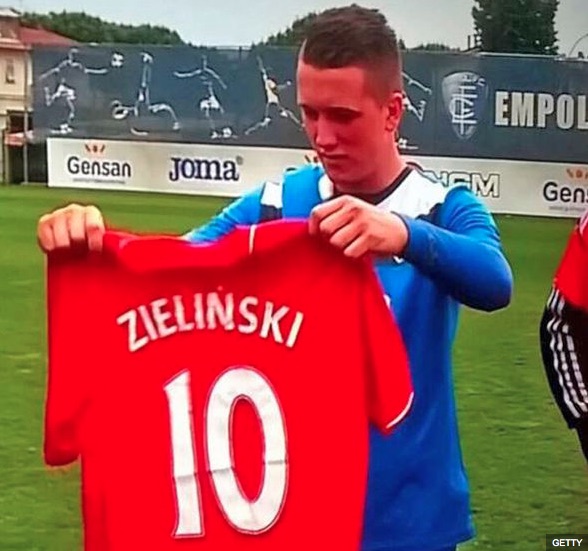 Reports suggest a deal could be finalised as soon as this week, with Liverpool making the Udinese owned midfielder our third signing of the summer following Joel Matip and Marko Grujic (although the latter was officially bought in January).
Just saw LFC "new signing" Piotr Zielinski wearing the no 10. Phil Coutinho to take the legendary no 8 maybe?

— Nazazrin Azman (@baenaja) May 16, 2016
The only way I could see Zielinski getting the no. 10 shirt is if @Phil_Coutinho switches to Stevie's no. 8. #LFC 👓 pic.twitter.com/Ia4dOQjyXn

— Victor Atela (@VictorAtela) May 16, 2016
No #8 For Coutinho
Hmmmm Thats Interesting

— Alcoholic Wizard (@LfcRahul) May 15, 2016
Zielinski wears the no.17 currently at Empoli, and in truth, we think he'd be lucky to get the no.10 upon arrival – especially with Mario Gotze likely to arrive as well…
If Coutinho wants the no.8, we're happy for him to have it, but wouldn't imagine he has much reason to give up the no.10 which perfectly suits his creative majesty!
There's also the chance that Gotze or Grujic could take the no.8, although that'd be huge pressure on an incoming, young signing.
What do you think will happen with the squad numbers, Reds? Who should be wearing what?!