---
Liverpool have been dealt a nightmarish opening few weeks ahead of 2016/17's Premier League campaign.
Jurgen Klopp's outfit have to play Arsenal away, Burnley at home, Spurs away, Leicester at home and Chelsea away in the first five fixtures, but because of the Anfield redevelopment, it could get even harder…
James Pearce of the Echo has confirmed that we have asked to switch the home tie with Burnley to Turf Moor, to give us more time to finish work on the Main Stand – set for use next term.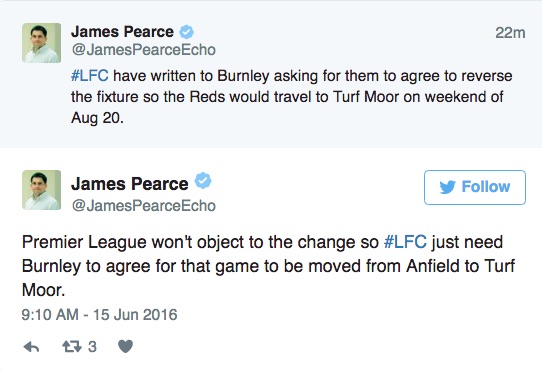 If Burnley agree, and there's no reason they wouldn't, four of our first five Premier League matches will be away from home – and the only Anfield tie will be hosting the champions Leicester City.
A baptism of fire if we've ever seen one.
Of course, every side has to play every other twice – but it's better to have points on the board than prospective 'easier' fixtures later on the calendar that eventually come too late. Our run-in last season was nice on paper, but it meant for nothing as our position as Premier League also-rans was already confirmed.
Still, Jurgen Klopp will have had a full pre-season, unlike last campaign, and some new players at his disposal. What's more, our results and performances against the bigger teams have usually been impressive, so perhaps it's a blessing in disguise!