---
Ruthless!
Raheem Sterling's stock has fallen dramatically since we sold him to Manchester City for £49m.
And it's just rock bottom, with an England fan setting up a Just Giving page to pay for the winger's flight back from France to England…
The plea reads:
Let's face it we're all sick of seeing this guy mince down the wing and fail to deliver a half decent ball into the box.
We'll bring the lad home and then we can all stop cringing every time a gust of wind knocks him over.
Don't worry about being generous, we're of one mind. A penny each will cover it I imagine.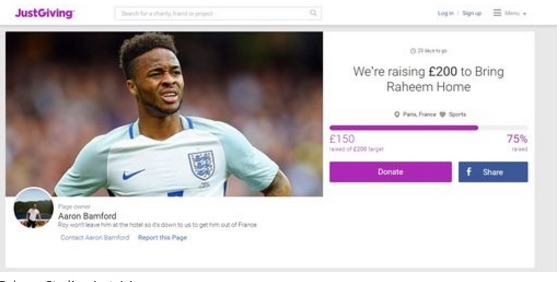 Sterling flopped against Russia and was woeful versus Wales yesterday, where he was quite rightly hooked at half-time for Daniel Sturridge.
His ex-team-mate scored the winner for England, and Sturridge is surely now a certainty to start ahead of Sterling against Slovakia.
Sterling was England's best player at the World Cup two years ago, but now – when he should have developed and improved – the 21-year-old is bereft of confidence and looks a shadow of the player we had at Liverpool.
Bet he wishes he never left.
SEE MORE:
Milner does something he hates because it's his mate Henderson's birthday!