---
Liverpool's list of hotel demands for their USA tour has been leaked on the internet.
Some of the requests are pretty standard — no alcohol in the rooms, no snacks, give players the Wi-Fi key, etc.
Among the more bizarre requests are "Please block all incoming and outgoing telephones calls from the rooms", Coutinho wanting a fan, and both Jurgen Klopp and Peter Krawietz asking for a smoking room. (via Star)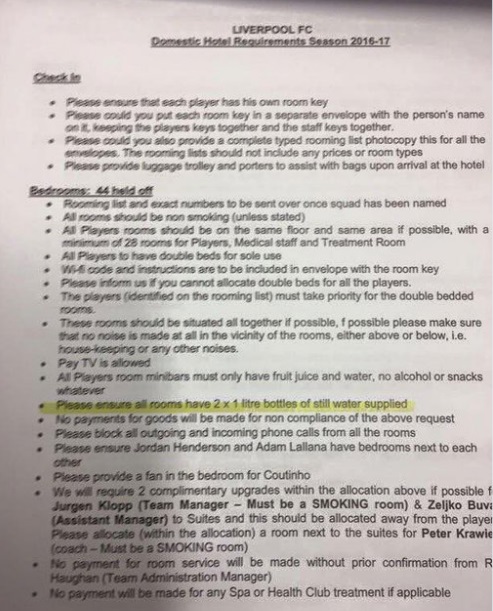 By far the oddest request, however, was reserved for team captain Jordan Henderson and his England teammate Adam Lallana. The list of demands specifically required those two to be given a room next to each other.
SEE MORE
David Thompson quits TalkSport
Klopp monitoring full-back
Ojo dumped out of Euros
This had us scratching our heads in the EOTK offices – it seems like a bizarrely precise request. Even if they're great buddies, surely they could make the short walk between rooms when they wanted to see each other…?
And then it all became apparent: