---
Coutinho is being retweeted relentlessly today, but not for anything he's written recently – but for posts sent out way back in 2011 when he was still at Inter Milan!
The tweets are great, always capped off with a polite goodbye message, summing up our Phil's excellent manners!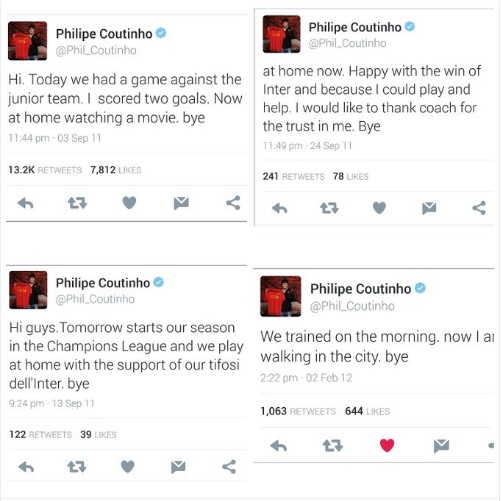 A few weeks back fans found Burnley forward Andre Gray's archive tweets to be filled with homophobic and racist slurs, and you cringe when seeing posts from other young footballers on social media – who are simply not aware how they're coming across.
SEE MORE:
What happened when Allan made full debut v Bayern Munich last night: The good & the bad
But Coutinho's just make us smile! They're polite and insightful. What more could you want?!
The Brazilian is in line to start at the weekend against Hull City following his midweek goal and assist verses Derby in the EFL Cup. Hopefully he can maintain that kind of form.