---
The 96 victims of the 1989 Hillsborough Stadium disaster will all be posthumously awarded the "Freedom of the City of Liverpool".
Kenny Dalglish, who was the manager at the time and attended many of the victims' funerals, will also be given the award – as will his wife, Marina.
The awards will be collected by families of the deceased fans, according to the Guardian.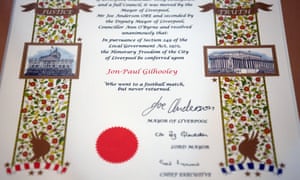 The newspaper writes that specially-designed scrolls and medals have been commissioned for the ceremony. The city's lord mayor, Roz Gladden, will present the awards. He will be assisted by the current mayor, Joe Anderson.
The families of the victims have already been awarded the freedom of the city back in 2009.
It's been an emotional year for everyone involved with the disaster, with the jury at the now famous inquest finding that the 96 victims were unlawfully killed and that a police failings contributed to their death. Some sections of the police force will now face criminal prosecutions.