---
With the launch of Football Manager 2017 just days away, we've managed to get our hands on a sneak preview of every single Liverpool player.
Are you already thinking about which positions need strengthening? Debating whether or not to sell Lucas Leiva and Mamadou Sakho? Wondering if you should play Milner or Moreno at left-back? Read this article and you'll be one step ahead of the opposition when the game launches on 4th November.
GK – Loris Karius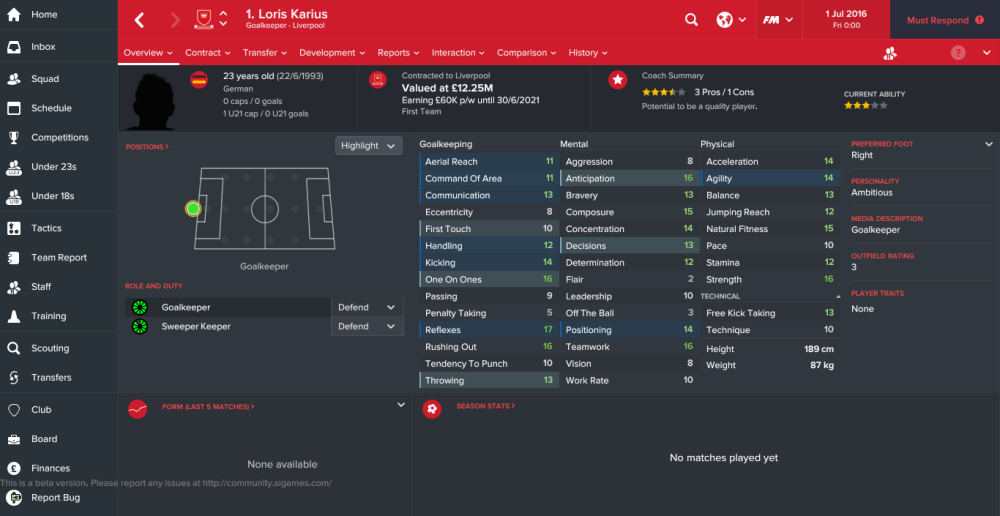 At £12.75 million, Karius is valued slightly lower than Simon Mignolet. But there's a clear indication of why Klopp chose to buy the German – he's a much better "sweeper keeper" than his Belgian teammate.
His strength (16) and rushing out (16) are also a step up on the Belgian.
GK – Simon Mignolet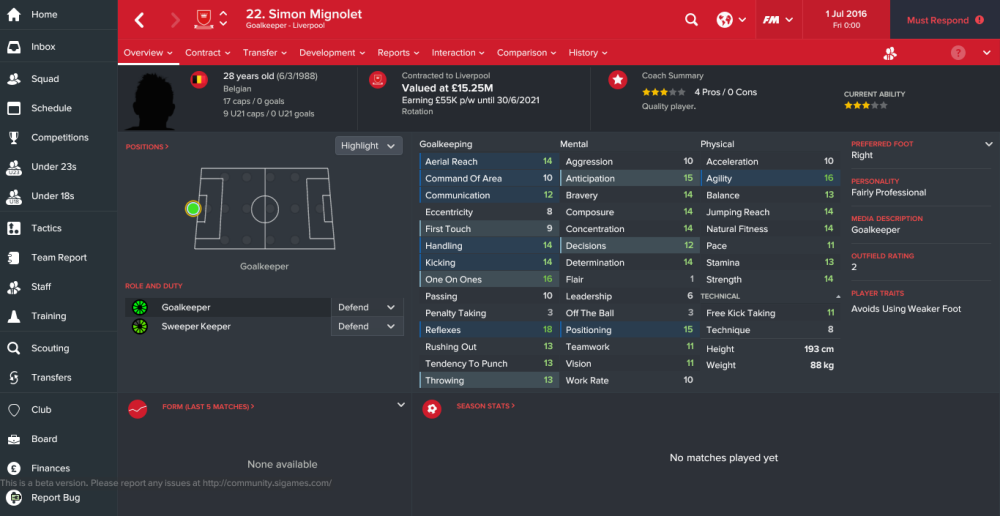 If you thought choosing your number one was going to be easy, think again.
Mignolet might not be as proficient with the ball at his feet, but his stats for agility (16), aerial reach (14), and reflexes (18) are all better than our new signing.
So, who starts in goal on the opening day? Questions, questions…
RB – Nathaniel Clyne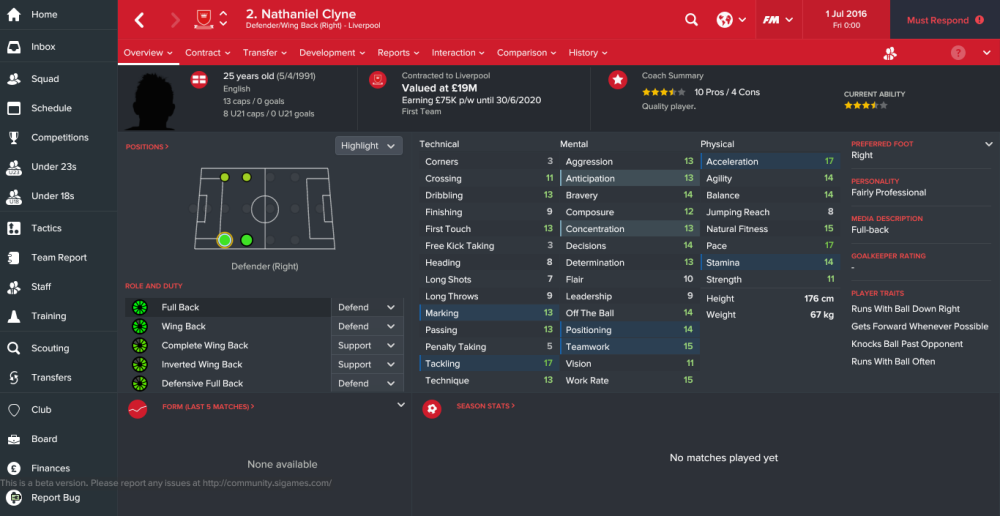 Clyne is the undisputed right-back and has solid stats across the board. You certainly won't need to be dipping into the transfer market any time soon.
At £19 million he's fairly priced. If you ever should decide to sell him, you should easily be able to get in excess of £30 million.
LB / RB / CB – Joe Gomez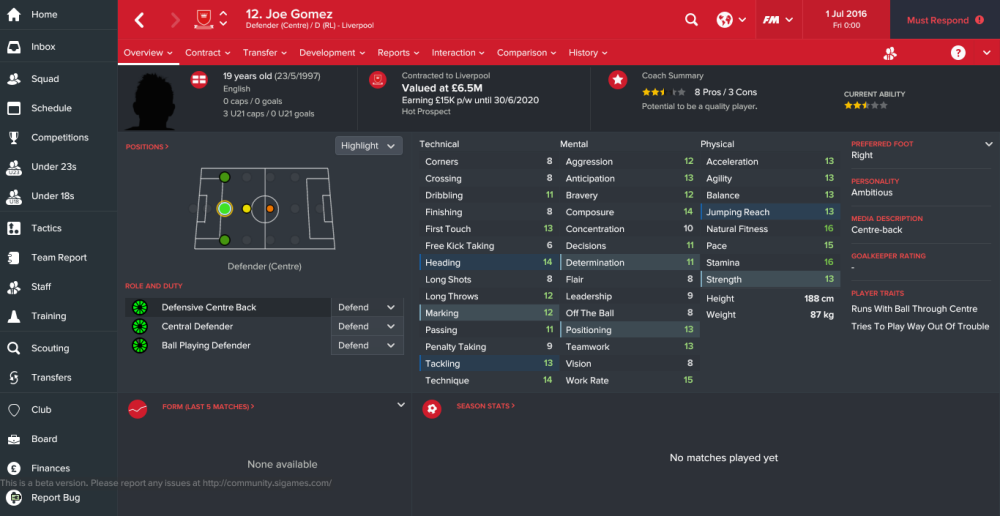 Joe Gomez starts the game with four stars for potential ability.
If you needed further proof of how important he'll be for you, check out all those positions he can play. A modern-day Jamie Carragher?!
Worth £6.5 million at the start of the game.
LB / LWB – Alberto Moreno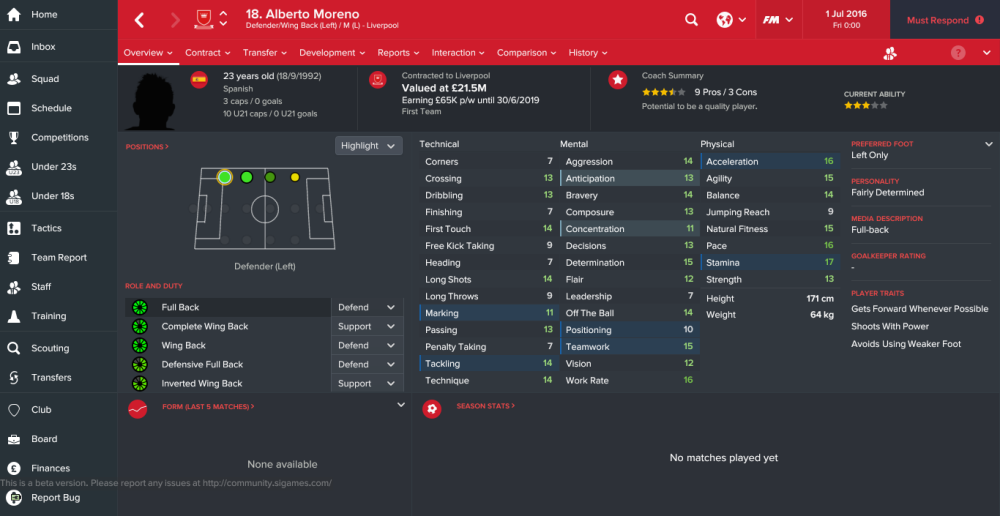 Moreno might not be flavour of the month with either Klopp or the fans, but in FM17 there's no denying he's a decent left-back.
His physical stats are especially impressive, though his defensive side leaves a bit to be desired. A sure fire starter against teams who'll sit back.
Has the potential to become a quality full-back.
CB – Mamadou Sakho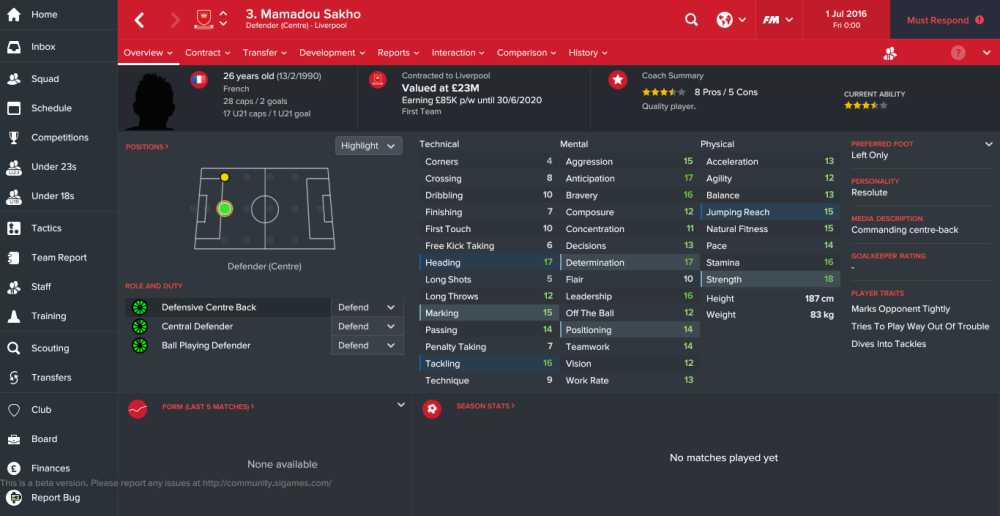 Probably the biggest decision you have to make in your first summer in charge is what to do with Sakho. He's a great ball-playing defender and boasts 15 for marking and 17 for tackling, but do you really need him with Lovren, Klavan, Matip, and Gomez?
He's worth £23 million, so the temptation to let him go is huge. You'll live or die by your decisions!
CB – Dejan Lovren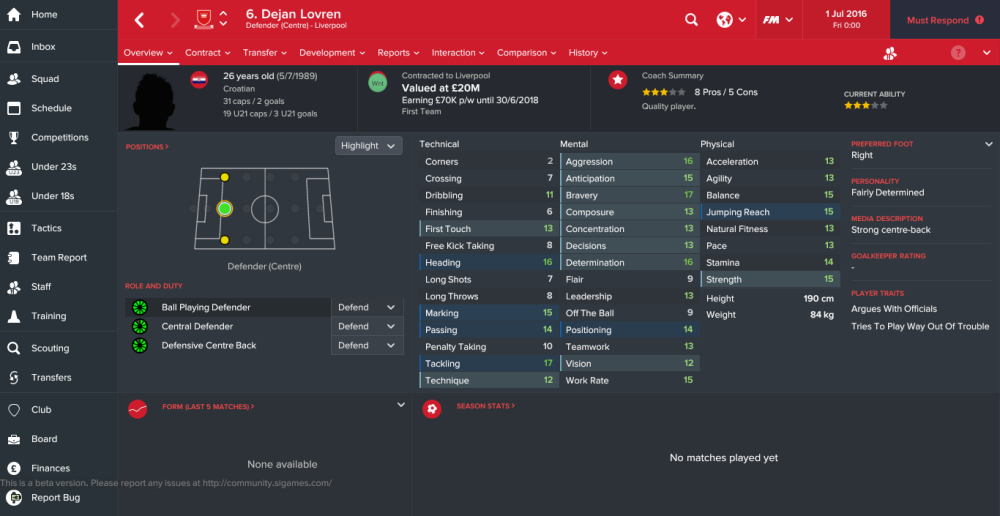 Lovren's stats aren't quite as strong as Sakho's, but he's still an excellent player. He's brave, strong, and good in the air.
Worryingly, he likes to argue with officials and tries to play his way out of defence – is he a disaster waiting to happen?
You'll pull in at least £20 million if you send him on his way.
CB – Joel Matip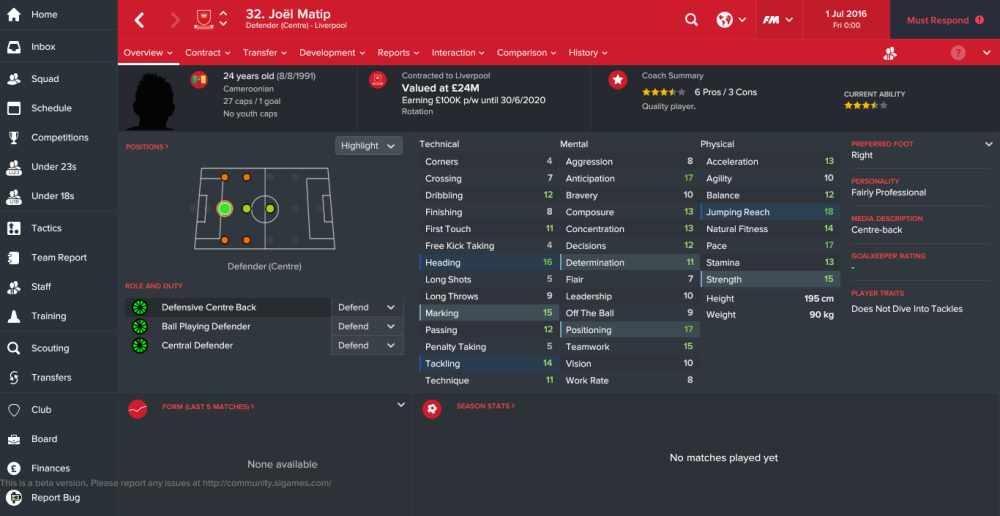 His positional play (17) is much better than Lovren or Sakho, but his basic defensive skills aren't quite as good (tackling 14, marking 15).
Physically, he's a beast, with 15 for strength, 18 for jumping reach, and 17 pace. All in all, he's a perfect foil for a more brutish centre-back partner.
CB – Ragnar Klavan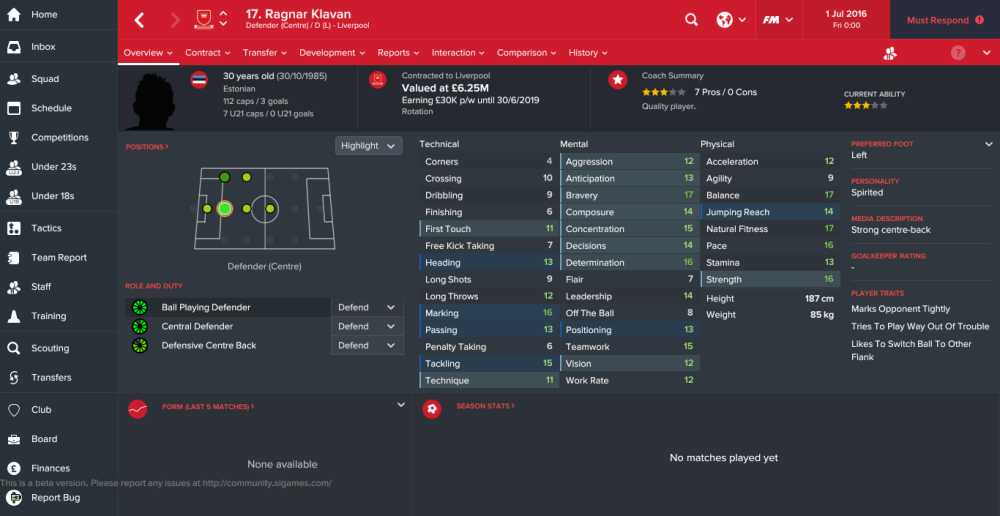 Klavan is a wild card among the defenders. He's a really solid all-around player, and mentally and physically he really excels.
He's also competent in a surprising number of positions. Of course, centre-back is his favoured role, but he'll do a job as a RB, RWB, DM, and CM.
His age means he's only worth a shade over £6 million. Definitely worth keeping around.
DM / CM – Lucas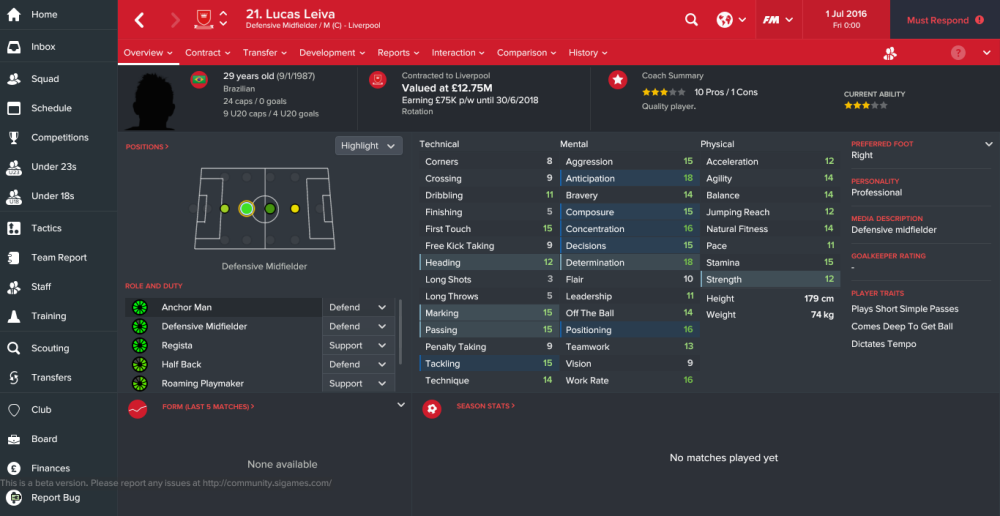 After seemingly avoiding a certain end to his Liverpool career every summer for the last few years, will you be the one who finally brings down the curtain on his time at Anfield?
Technically, he's not amazing. But mentally, he's quality. Valued at £12 million, he's not going to be worth mega-bucks if you sell him.
Surely he deserves his testimonial?!
DM / CM – Marko Grujic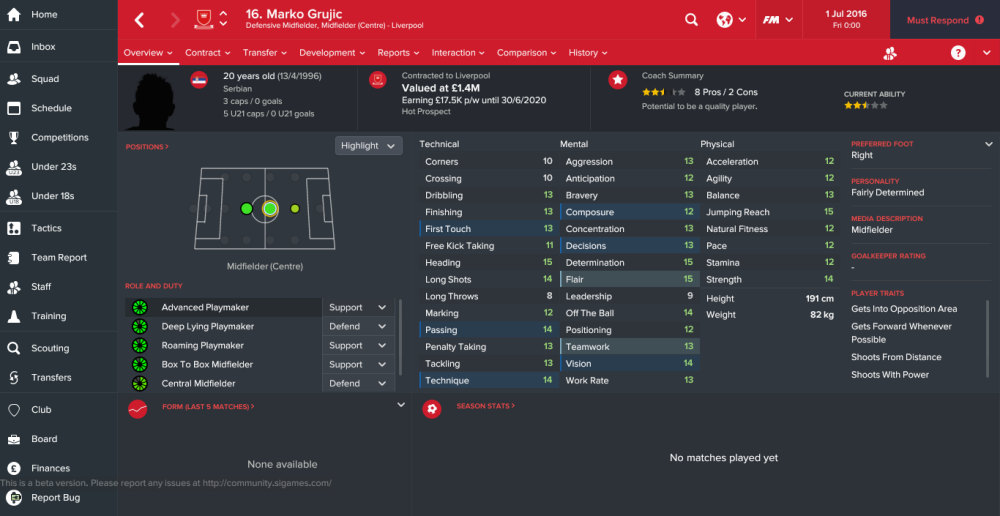 According to the game, Grujic has the potential to be one of the best players at the club. The Serbian midfielder looks like a future star and could be knocking on the door of the first team before Christmas.
He can also operate as an AMC if you're stuck down with an injury crisis.
LB / RB / LWB / RWB / DM / LM / CM / RM / AML / AMC / AMR / ST – James Milner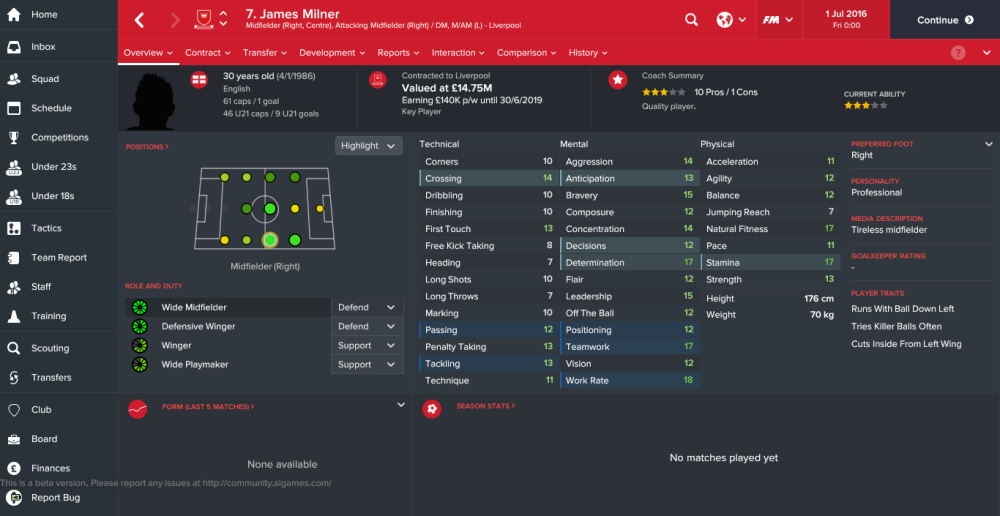 FM17 reckons there are only two places on the pitch where Milly can't function – in centre-back and in goal. Let's be honest, you wouldn't put either past him if necessary would you?!
But will you play him ahead of Moreno at full-back or restore him to his preferred role at CM / RM / AMR? A tough decision to make.
Worth £14.75 million.
CM – Jordan Henderson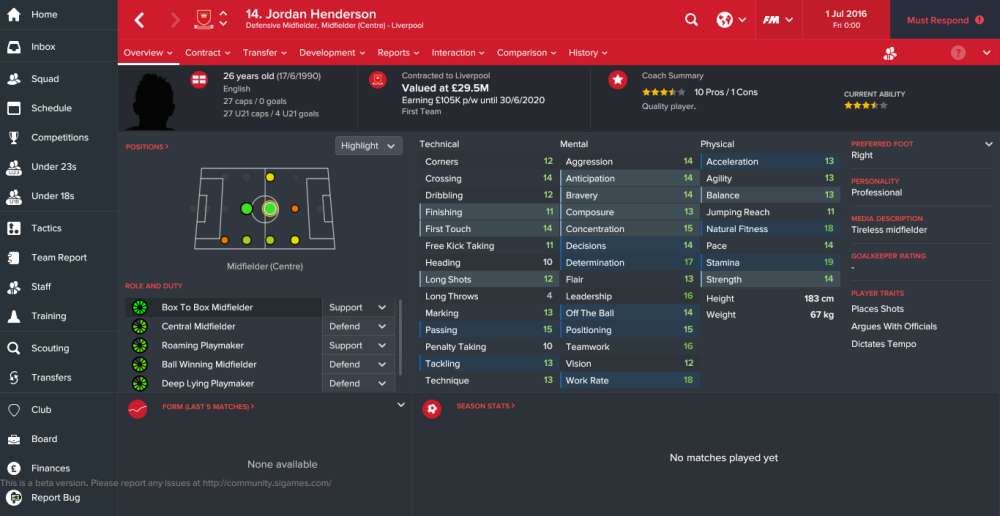 Hendo brings bags of energy, fitness, and leadership to the side.
No doubt some of you will be tempted to let him go given his £30 million price tag, but selling the captain in the first season would be a brave (or rash!) move.
With stamina of 19 and fitness of 18, he'll comfortably meet the demands of a modern Premier League campaign.
DM / CM – Emre Can
If you decide Henderson isn't the man for you, Emre Can is a ready-made replacement.
Comfortable almost anywhere in the defensive half of the pitch and boasting some seriously impressive stats given his tender age of 22, Can will be a shoo-in to the first XI for most managers.
He's already valued at more than £28 million.
CM / AMC – Gini Wijnaldum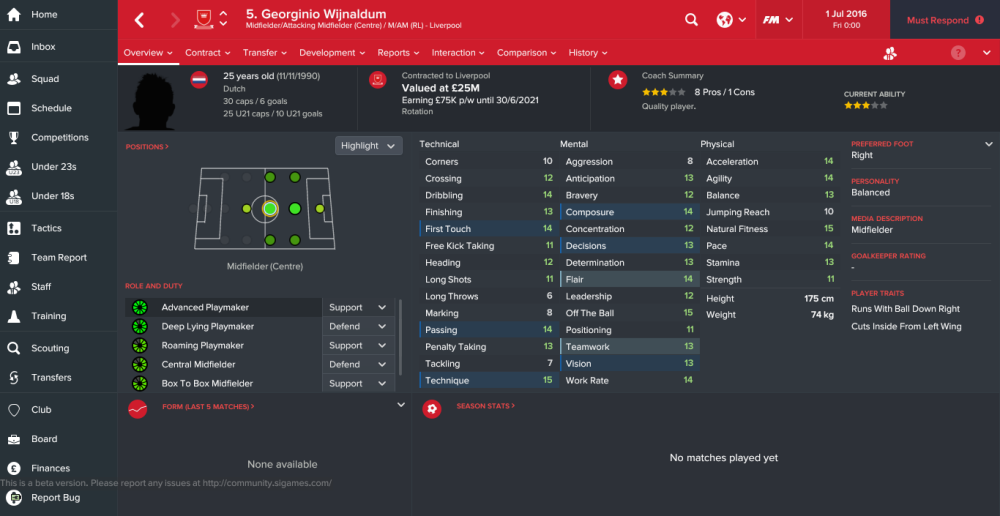 Wijnaldum is happiest when he is playing in the middle of the pitch, but he'll be perfectly solid if you push him out to the left or right flank.
If you want goals and assists from midfield, this is the player to provide them.
AMC / AMR – Adam Lallana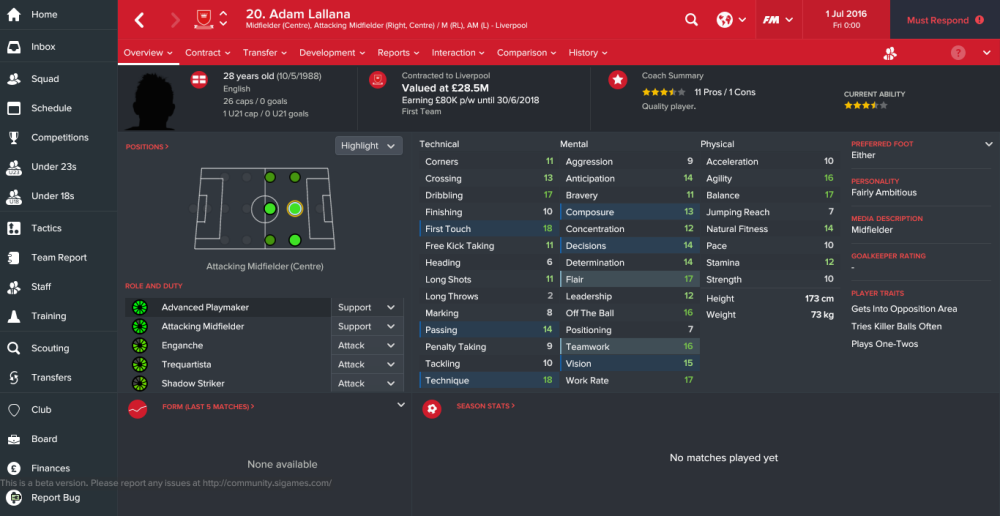 Lallana has enjoyed a huge resurgence under the tutelage of Klopp, but will you be able to keep him performing at those high standards?
A first touch of 18, 18 for technique, and 17 for work rate suggest your job won't be too difficult. Just don't expect him to power in too many headers – he's only got a 7 for jumping reach.
RM / AMR – Sadio Mane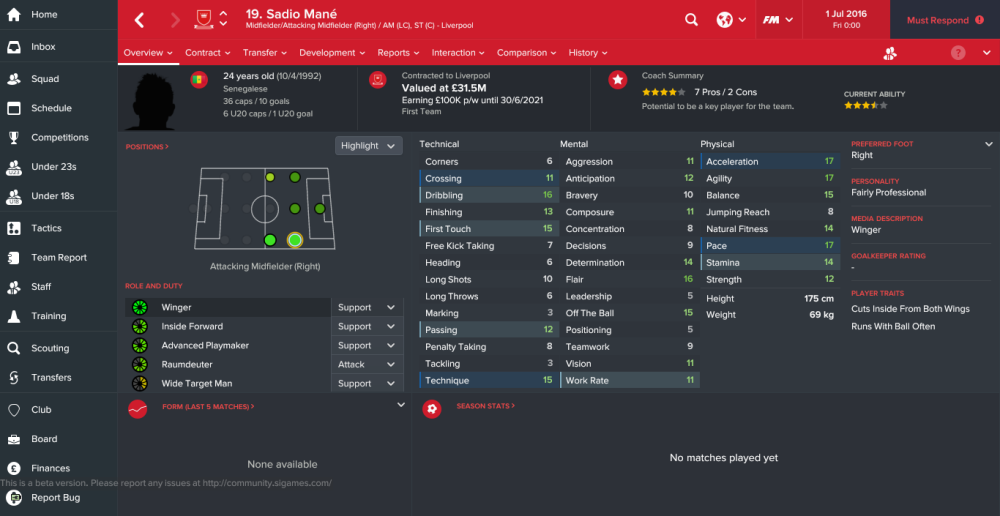 Our main summer signing is providing the fast, physical edge we lacked last season in real life, and he brings those same attributes over to the latest Football Manager game.
17 for acceleration, 17 for agility, 17 for pace, and 16 for dribbling mean he'll be a massive handful for all but the very best full-backs in the world.
At £31.5 million, he is the first man on this list to break the £30 million mark.
AML / AMC – Philippe Coutinho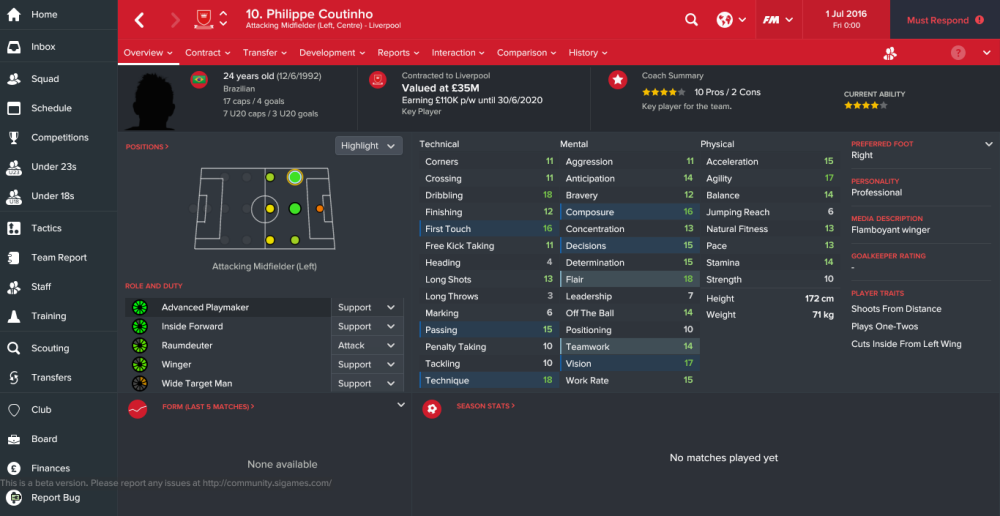 The jewel in the crown in real life, and the jewel in the crown in the game. He's got plenty of top-end stats, including an 18 for technique, flair, and dribbling. That said, we're a bit disappointed to see he's only been given a 13 for long shots.
He's worth £35 million, but none of you would seriously be crazy enough to sell him, would you?!
AMC / ST – Roberto Firmino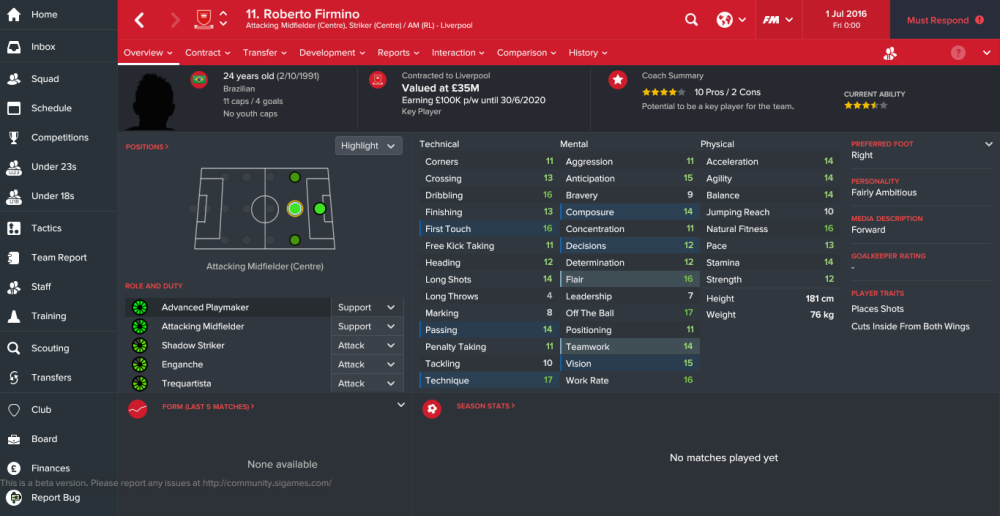 If Coutinho is the king, Firmino is the prince-in-waiting.
He's also valued at £35 million and has been given four stars by the game's developers. His stats aren't quite as good as Coutinho's, but he's still sure to be a key man in any success you bring to the club.
ST – Divock Origi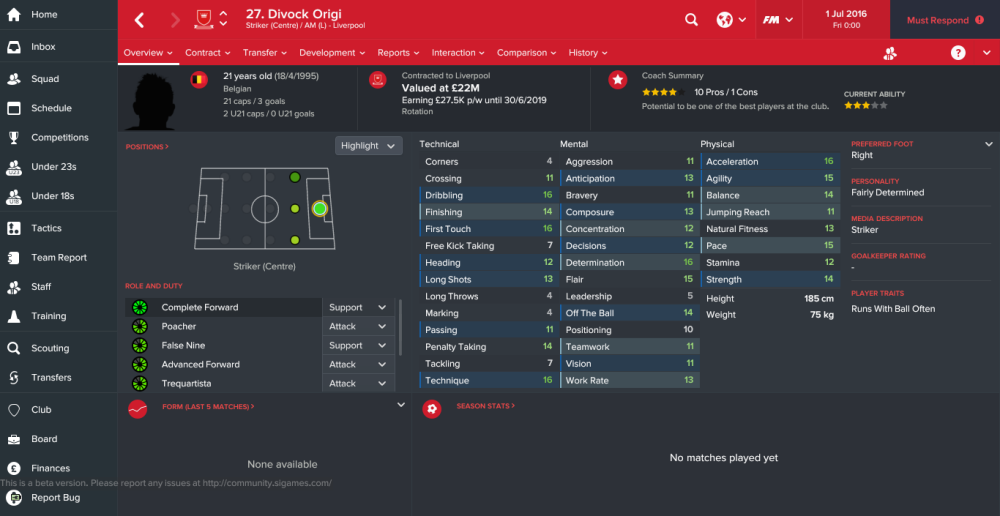 Sturridge might (just) be the main striker at the moment, but if you want to see the future, look no further than this hugely talented Belgian.
He's only 21 at the start of the game, but already has some great attributes – including 16 for dribbling, first touch, and technique. He's got a 14 for finishing, but that'll quickly improve as the months go by.
Already valued at £22 million.
ST – Daniel Sturridge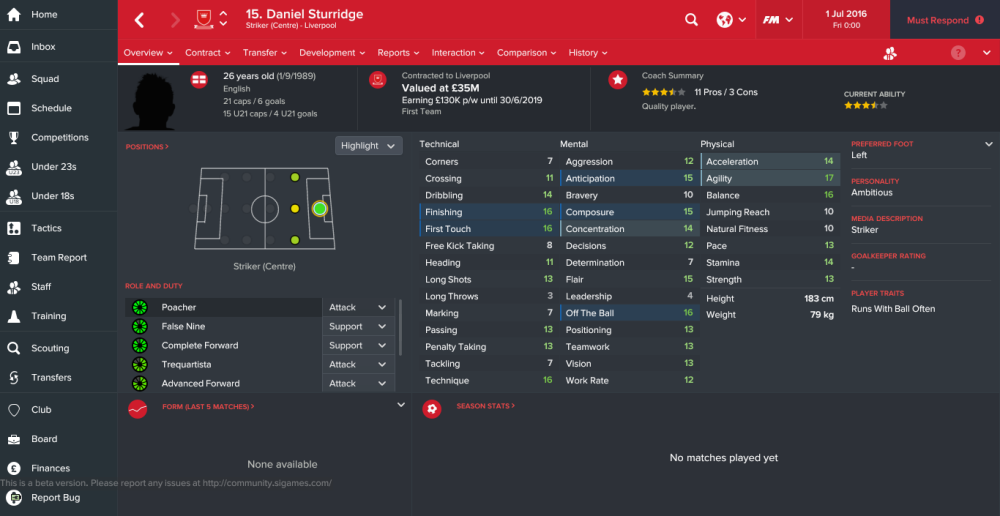 At the moment, Sturridge is the best striker on the Liverpool books. He can operate as a poacher, a complete forward, or a false nine and has most of the vital attacking stats clocking in with a minimum of 16.
One point for concern is his natural fitness – he's only been given 10.
At £35 million, could you be tempted to sell him?
ST – Danny Ings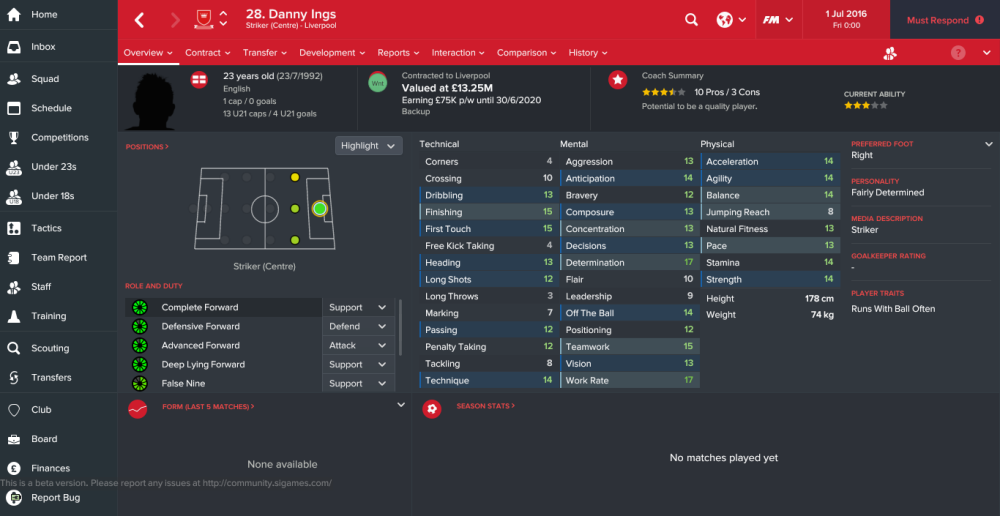 Given an extended run in the side, there is every reason to think Ings could usurp Sturridge until such time as Origi is ready for the side every week.
He's got 15 for finishing, which is only one less than his rival, and with a work rate of 17 he could be a better fit for some systems.