---
After 54 Premier League games, Jurgen Klopp and Brendan Rodgers' Liverpool  Premier League records are practically identical.
Both won just under half of those games, drawing 16 and losing 12. Rodgers' team scored a few more goals and actually conceded less, interestingly – when you consider Klopp's team is know for its prowess in front of goal.
What's more, it was after around 54 games that Rodgers' team went on a brilliant run in the second half of 2013/14 and challenged for the Premier League title, at one stage winning nine on the trot – so in the coming months – barring a Klopp miracle – the current manager's record will fall below his predecessor's at the same stage…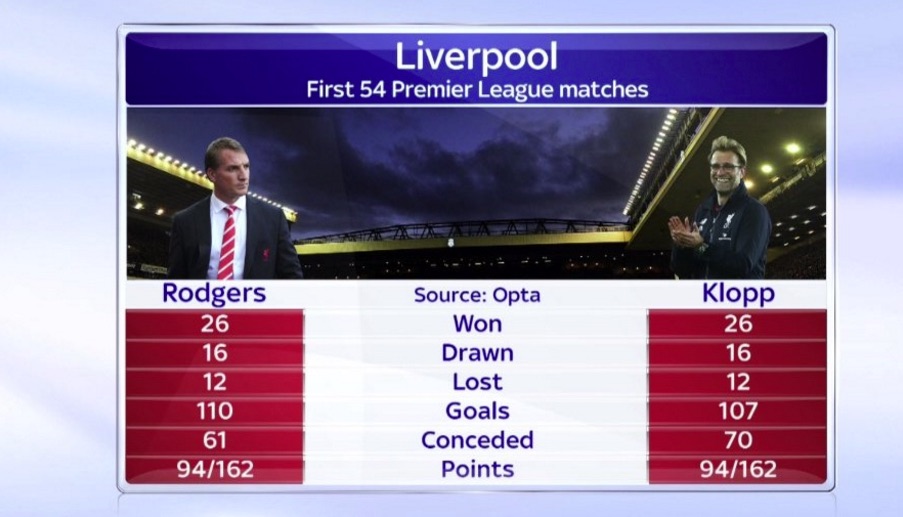 However, there's a few factors to consider.
Firstly, Klopp doesn't have Luis Suarez, Steven Gerrard or Raheem Sterling – who at the time were the best attacker in the country, a legendary captain and a fireball winger, who despite his treachery, was a quality player.
Secondly, Klopp deployed second-string Liverpool XIs often in the Premier League last season, to keep players fresh for our more important Europa League fixtures. This skews stats.
Thirdly, Klopp's net-spend is negative so far, but at the same point, Rodgers' was most certainly not – having wasted money on players like Fabio Borini, Iago Aspas and Luis Alberto.
Lastly, Klopp's excellent cup record hasn't been taken into account. We got to two finals last season and a semi this – unfortunately losing out to Southampton over two legs in January.
So – is Rodgers better than Klopp? No. No he isn't – but we're mighty glad the Northern Irishman is doing so well north of the border.