---
So much can be drawn from a recent Premier League table depicting what the league standings would be without the goals from each team's top scorer.
First and foremost, it's worth noting that Liverpool, without the 12 goals of leading scorer Sadio Mane, would be top in these circumstances. This comes as a timely reminder of how players from all over the pitch have chipped in with goals this season as opposed to relying on one man.
Having said this, we can't help but wonder just how superior we would be in this unique league if we had a prolific centre-forward in the team. Clubs around us boast the possession of a conventional and influential central striker. Tottenham and their 19-goal Harry Kane, Chelsea and their 17-goal Diego Costa, Arsenal and their 17-goal Alexis Sanchez. Think of the possibilities if Jurgen Klopp had such a player at his disposal.
It's the spread of goals that saw the Reds enjoy such a dominant start to the season that has to return until Klopp's opportunity in the summer to find himself a talisman.
Everyone must begin to contribute again. Not only Mane, but Roberto Firmino, Philippe Coutinho, Adam Lallana and even Divock Origi.
It's great that we aren't reliant on one man, but imagine we did have one to turn to at times.
The Premier League table without the top goalscorers, courtesy of Squawka: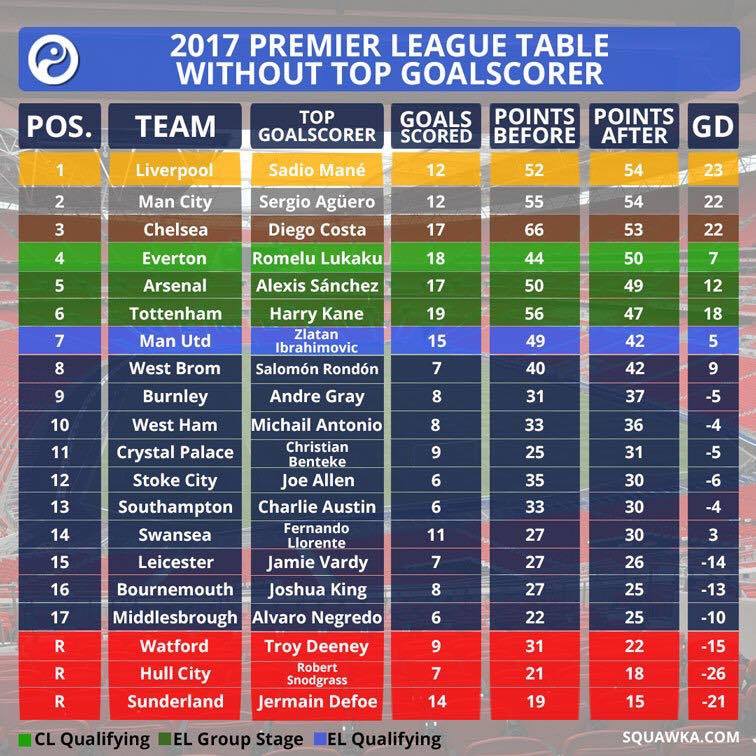 SEE MORE:
Liverpool fans divided by opinion over Emre Can's wage demands; they make some interesting points