---
It was a timid Scouse accent and giggly approach to his Young Player of the Season award speech that once again alerted Reds to Trent Alexander-Arnold's age and, for just this reason, what a sensation he could go on to be.
Only a slightly more fresh-faced appearance has distinguished him as the youth starlet in a team of experienced players during his outings for the senior side this season. He has been superb. A proud smile from Steven Gerrard in the audience on Tuesday amplified a mutual excitement and acknowledgement Reds have for the teenager's potential to be a first team regular in years to come.
The right-back's incredible year warranted the recognition he got at the club's awards ceremony, showcasing a youngster with exquisite technical ability approaching life as a professional with the perfect attitude. Rarely has a club's youth graduate strived to present himself as a role model as quickly and as intently as Alexander-Arnold has. For someone of his inexperience to express a desire to captain Liverpool, and the idea he won't be satisfied until he does so, is testament to a priceless mindset that simply cannot be taught.
An assured and confident performance in a game as intense and as mentally gruelling as Liverpool's clash with Manchester United at Old Trafford earlier this season proved to be an accurate representation of what he is all about. Self-belief, dedication and an unrelenting drive to impress. Not only does he abide by the need for hard work and commitment that is usually all managers ask of their youngsters, but he has the quality on the ball to match. Jurgen Klopp's impetus towards defusing, what he deems as, unhelpful media hype promises to be a difficult task to uphold with the defender continuing to give journalists and supporters reason to pay him attention.
Monday night's U23s mini-derby win saw him maintain that streak as he bombed forward to stride onto a pass in Everton's penalty area before defying the tight angle and expertly firing home into the far corner. A strike that typified the already familiar traits those affiliated with the club have grown to admire him for and one followed by a celebration reflective of a man overjoyed to deliver for his boyhood side. A passage of play that exhibited an admirable willingness to put himself in decisive situations. A quiet leader.
Trent Alexander-Arnold's goal for the U23's in the Mini Derby ?pic.twitter.com/muVp29sMwd

— Read Liverpool (@ReadLiverpoolFC) May 8, 2017
Alexander-Arnold finds himself subject to analysis over whether he could be an inspired option for Klopp to unleash in aid of rectifying the lack of width exposed in Sunday's draw against Southampton. The pace, athleticism and energy he possesses has fuelled suggestions he could be a valuable asset in Liverpool's final two Premier League games.
Though it looks an unlikely tactical adjustment at such a late stage, it is one Klopp will be unable to ignore. He is so highly-regarded amongst the Anfield faithful that many also called for him to replace Nathaniel Clyne in the first eleven earlier this year. Given the manner in which he is progressing, that could well happen within the next two seasons.
His upward trajectory somewhat teases Liverpool into grinning over how many millions of pounds he could save them as they look to construct a squad capable of competing with the Premier League's top clubs and Europe's elite. Does he not possess the engine, the hunger and the ideal attributes that will see him bolster the explosive dimension Sadio Mane has crucially added? Early signs would suggest he certainly does.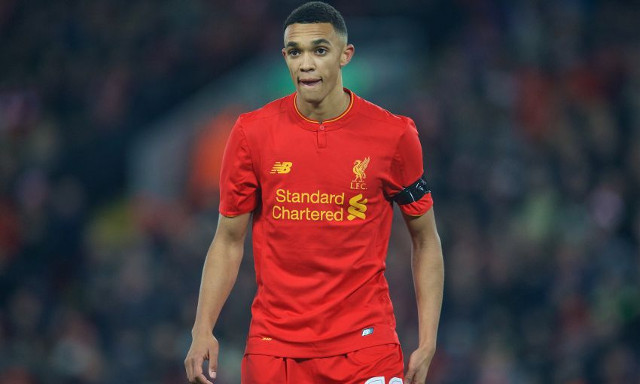 Youngsters have come and gone in quick time at Liverpool over the past few years yet has been little to indicate Alexander-Arnold is in any danger of falling into a similar trap. As much as it is only right to remain as grounded as he is, there is no harm in delivering the praise he thoroughly deserves.
Everything is in place for the 18-year-old to fulfil what is expected of him. A manager devoted to moulding youngsters in stars, a club seemingly on the rise, plenty of time on his side and an outstanding attitude to set him in good stead. Liverpool's model graduate.
SEE MORE:
The reason Oxlade-Chamberlain wants LFC move revealed [Telegraph]