---
Dominic Solanke is someone most will have heard of yet someone few will have seen play prior to the agreement to bring him to Liverpool this summer.
The club's latest signing, who will complete his move on July 1, was the standout performer for the England U20 side that won the World Cup thanks to a 1-0 win in the final over Venezuela last Sunday.
Solanke's impressive performances throughout the competition not only made for a great introduction to the fans of his new club, but they also saw him named the Player of the Tournament and thereby add his name to a star-studded list of previous Golden Ball winners.
James Milner has greeted Solanke as an exciting addition in keeping to the club's young squad and, as one of the experienced Reds, has vowed to help him find his place at Anfield.
"He's obviously had a great summer, he's a good young player coming through," Milner told msn.com.
"We've got a young squad anyway, so I think it's good to keep that going. Being one of the older guys hopefully I can help him come along."
"But I think he's shown already this summer, with what he's done with the England team, winning the World Cup is a great achievement."
"To come out of that as the best player, you look at the other names over the years who've been named the best player in that tournament—he's up there with some of the best."
"That's great for him, a great confidence-booster, and if the Liverpool fans didn't know who he was, they do now."
SEE MORE:
(Video) 'We don't need major reconstruction'- Steven Gerrard on the positions Liverpool must strengthen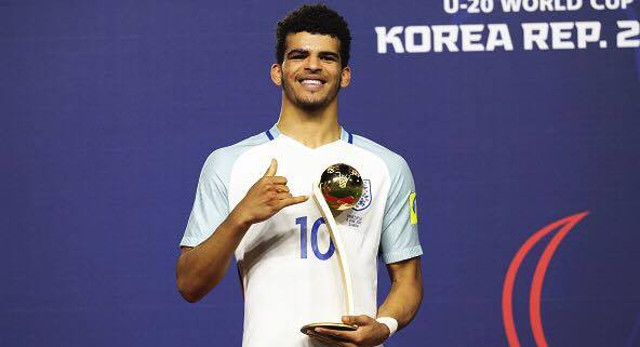 19-year-old Solanke marks the kind of raw footballing commodity that Jurgen Klopp will feel he can help develop into a key first team contributor.
The physical attributes are in place for him to adapt quickly to the nature of the Premier League at its most competitive while the technical ability is also there for him to be a valuable alternative attacking option.
His tendency to drift into deeper and wider positions in aid of turning provider is an attractive trait Klopp will undoubtedly exploit given his impetus towards attacking interchanging. Positive first impressions are also, perhaps more importantly, fuelled by his place as a apparent natural goalscorer and the kind of forward determined to put himself in the decisive positions.
Fans have good reason to be excited about what the young might provide.