---
Former Liverpool CEO Rick Parry has reflected on one of the most anxious and frankly terrifying moments fans have experienced during their time supporting the club.
Hearts looked set to be broken in 2005 when it appeared captain Steven Gerrard was on the brink of signing for Premier League rivals Chelsea after handing in a transfer request on 5 July.
This came shortly after the club's historic Champions League final win over AC Milan in Istanbul with the midfielder, 25 at the time, supposedly having been unhappy over delayed contract negotiations, leading him to believe the club didn't want him.
Gerrard's dramatic change of heart and subsequent decision to stay at the club followed up a similar situation the year before, when he had also reportedly been on the verge of a move to Stamford Bridge.
Parry has revealed just how close Liverpool came to losing one of the club's greatest ever players as well as the moment Gerrard informed him he had changed his mind.
When asked how close Gerrard came to an Anfield exit, Parry told BBC Radio Merseyside's Paul Salt: "Way too close. It's quite interesting when you reflect on that time."
"People frequently say who are the signings you are proudest of and who gave you the most pleasure. In many ways it was Steven and Carra – keeping players is as important as buying them."
"Clearly, Steven came very close (to leaving) twice. In fact on the second occasion we thought we had lost him. The chairman and I went to see him at Melwood and there was no changing his mind. He was adamant but, fortunately, he did change his mind."
"We tried to outline that he was at the centre of all our plans. Steven's dilemma was he wanted to win trophies and would he have a better chance of doing that elsewhere with greater resources?"
"Steven's head had been turned and he was tempted but when it came to it he wanted to stay."
"He phoned me late at night. He said: 'You're not going to believe this but will you have me back again?' The obvious answer was yes."
SEE MORE:
(Video) Adam Lallana continues trend of LFC fitness videos with insight into tough beach training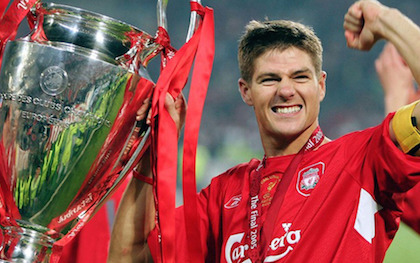 Regardless of the angry reactions to Gerrard's initial request to leave the club, supporters weren't ready to see their hero to leave. It turned out the player himself wasn't, either.
Gerrard would go on to consolidate his place as a Liverpool legend, demonstrating an incredible loyalty to his boyhood club and consistently being recognised as one of Europe's top players.
To see Liverpool's favourite No.8 in another team's kit would have felt horribly unnatural. Thankfully, it wasn't in the script and fans all of ages were able to stick to their plan and let Gerrard decide their role model and their icon for them.
After retiring from the game in November 2016, Gerrard is now set to play an influential role in overseeing the development of the club's youth stars as he prepares for his first season in charge of the U18s.