---
Gremio are reportedly working hard to convince Lucas Leiva to return to the club with the Brazilian's Anfield future looking uncertain.
The long-serving Liverpool star, who only has one year remaining on his current contract, has recently been subject to rumours that he could re-sign with the club he moved to Merseyside from back in 2007.
It has also been said that Lucas himself is considering a return to his home nation as a likely option if he were to leave the Reds this summer.
His former employers are still keen to bring the 30-year-old home during this transfer window, according to Brazilian publication Zero Hora.
The report also included the outlook of club director Odorico Román, who was speaking before Gremio's  match against Cruzeiro at the weekend.
He said: "Lucas is a great player, it would be an impact hiring. In order not to be on the wall, if there is a possibility within the financial conditions of the Guild, and that also serves Lucas' interest, it is possible that he may come."
"At this time, there is no negotiation. I talked to him a few days ago. At any moment we can make contact. He is also seeing the interest of other clubs. There is, yes, possibility of it coming. There is nothing in progress right now."
SEE MORE:
Liverpool fans give mixed reaction to Roberto Firmino shirt deal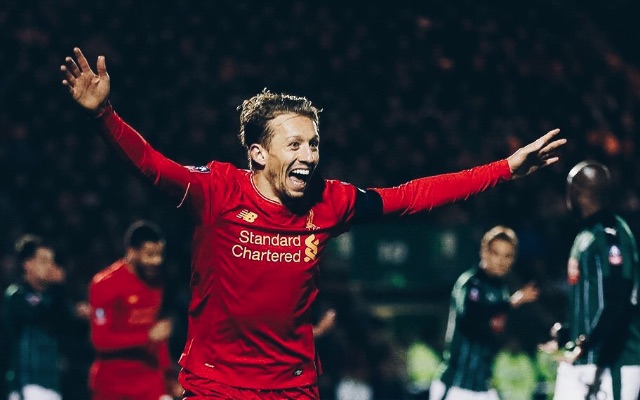 An inevitable influx of summer signings promises to add to an already fierce competition for places at Liverpool, with Jurgen Klopp's pursuit of both a central defender and central midfielder potentially set to be the cause of limited opportunities for Lucas next season.
Though he is unlikely to get regular game time, chances for Lucas to contribute will undoubtedly be there if he opts to stay thanks to the club's involvement in domestic cup competitions and the Champions League, providing the players get through their play-off game in August.
Reports have also seen Rafa Benitez's Newcastle United linked to a move for Lucas, with his experience an obvious attraction to not only newly-promoted sides but also seemingly a number of clubs across Europe.
A man who has shown this club so much loyalty and put everything into this team for the last 10 years deserves the best, regardless of what decision is made on his future.