---
125 years of Liverpool Football Club have been responsible for countless moments of ecstasy but they haven't gone by without producing several gut-wrenching and frankly soul-destroying days.
That isn't to say none have ended happily, though.
All Reds remember Steven Gerrard's illustrious career for their own unique reasons, whether it be an unspectacular but meaningful goal, a fiery yet easily forgettable tackle, an ingenious pass, a heartfelt quote, a poignant but routine badge-kiss celebration. The man was and still is so special to Liverpool that fans have a gloriously selfish desire to claim their own personal memory, or perhaps memories, of their unrivalled hero, something that makes them feel almost connected to him.
For me? There are plenty. A hattrick against Welsh champions TNS in a 2005/2006 Champions League qualifying round clash, all too reminiscent of a testimonial. A war of words with Reading's André Bikey, now of Port Vale, after being on the receiving end of a cynical foul by the defender. A similar altercation with Robin van Persie years later. An unmistakable posture, walk and gritted teeth facial expression I strived to replicate as a child playing Sunday League football. Gerrard himself shouting at Xabi Alonso for not passing to him before the Spaniard scored from inside his own half against Luton in the FA Cup.
All of course work in unison with THAT Olympiacos strike, THAT FA Cup final performance against West Ham, THAT night in Istanbul- memories Liverpool supporters will forever unite to cherish as one.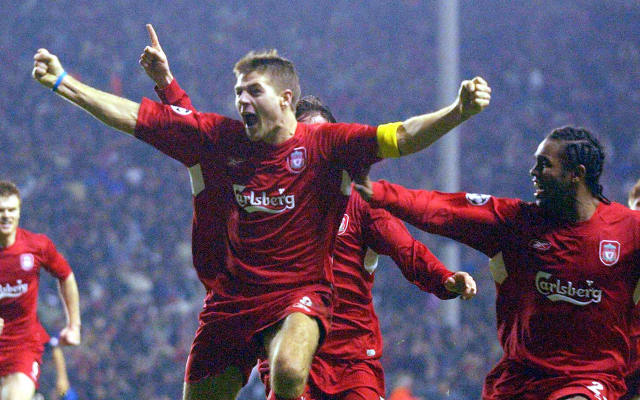 5 July, 2005 serves as a tainted memory of Anfield's beloved No.8, but one his career might not have been the same without. It was the day Liverpool's legendary captain handed in a transfer request, the day he felt his place might be elsewhere, the day that crushed the hearts of those who didn't have to second-think whose name they would be getting printed on their new jersey every year. A number of those shirts were burned out of anger. Not anger fuelled by hate but instead an unyielding devastation. It was the second time in two years Gerrard looked set to depart and for many, this time it was serious.
A monumental misunderstanding could have seen Liverpool inexcusably bid farewell to one of their greatest players. The club had been slow and seemingly unmotivated to approach Gerrard with a new contract offer, thereby leading the skipper to believe he was no longer wanted on Merseyside. Eventual and subsequently unproductive negotiations over a deal came to a demoralising halt towards the end of June. I speak for most Reds when I say I was broken and utterly terrified. Even at the age of eight, I knew what Gerrard moving to Chelsea, who had submitted a £32million bid, would mean. How he could leave after being part of the most famous comeback and triumph in European Cup history? How could I continue to demand the number eight shirt each year from the manager of my local football team?
At 11pm on 5 July, Gerrard decided he would stay. It wasn't until a day later, though, that the world would find out. My unique memory of the man? Walking home from school on 6 July and asking my Mum if I thought Gerrard would stay, only to pass a house being worked on by builders 10 minutes later and hearing a radio report answer my question for me. The day's breaking news- Stevie G was going nowhere.
If ever 'not in the script' had been more applicable. Reds weren't prepared to see their hero leave nor was Gerrard prepared to no longer be a Red. Turning his back on his boyhood club just wasn't in his nature, no matter what team was pursuing him and no matter what riches they were promising him.
His decision exposed an unshakable devotion to Liverpool and confirmed once and for all that this was where he belonged. The original script was left untouched and fans of all ages would have their role model and their footballing icon decided for them.
The daunting possibility of Gerrard moving to Chelsea became a defining moment as he would offer the same fight and commitment to his side for the next 10 years. After bringing his playing career to an end, he has since blessed Liverpool by returning as the U18s manager- the start of his opportunity to complete the cycle. Reds youngsters have the privilege of developing under the watchful eye of arguably the best equipped man in world football to teach the importance of loyalty and sheer hard work.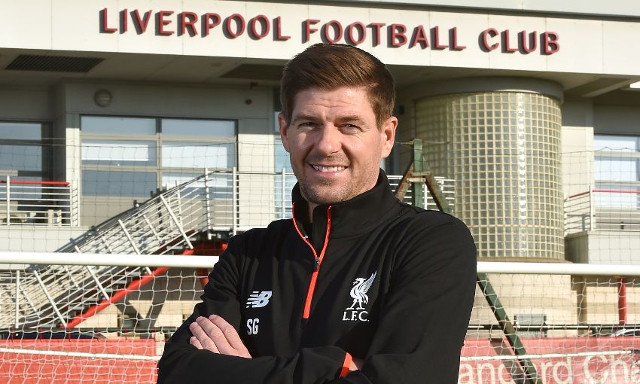 Liverpool fans all hold a specific memory of Gerrard close to them, as mentioned before, but all undoubtedly share one wish in particular- me, I'd go someway towards arguing, more than most. To meet him, reflect with him, interview him.
There will never be another Steven Gerrard, but that's okay. Aspiring to be like him is enough.
To not win all there was to win and still find himself being perceived as one of the best in world, year in year out, summed up how special his time at Liverpool was. He was the complete footballer, the man his teammates could turn to for inspiration, the man whose shirt the top players in Europe would chase up after playing against him.
So what we're trying to say is, thanks for sticking around, Stevie. As I'm sure is the case for most, you're a main reason I love football.