---
An ever-evolving and physically gruelling Premier League demands not only the expertise of Europe's technically gifted assets but also the brute strength of a modern-day enforcer.
That's not to say England's top tier hasn't always accommodated such a multi-dimensional approach. The fact is, though, that the presence of robust athletes has never been greater nor has it been more necessary.
A place for the illusiveness of Roberto Firmino and the footballing intricacy of Philippe Coutinho remains undisputed. The importance of a steely fighter is now similarly undeniable.
2016/2017 saw Chelsea set the tone for the attributes vital to a title-winning team, boasting a blend of players who could brawl and be cynical when required, but also win games in style through mere technical ability and conviction.
Though Jurgen Klopp can already vouch for a matching aggression, fearlessness and quality in his own team, there's no reason why the Reds can't benefit from bolstering such traits.
Strengthening the spine of the Liverpool team in aid of doing so has served as the foundation to the German's transfer plans. This said, there is a case for the idea Klopp already has a man at his disposal capable of injecting an added nastiness, not to mention grace.
For a £5.1million signing plucked as an unproven commodity from the Serbian league, Marko Grujic is blessed with a somewhat pressure-free opportunity to emerge as a hidden gem and mould into a key contributor.
A fixation on the club's proposed move for RB Leipzig's Naby Keita has seemingly disguised the 21-year-old reigniting his pursuit of a first team spot following a 2016 season cruelly disrupted by injury.
Regardless of his setbacks and limited first team appearances, an entire year in England promises to have been valuable to his development in terms of not just settling into a new home but also familiarising himself with the entire club setup.
He has been granted an entire season to learn exactly what he is up against and, in turn, how and where he can thrive in this Liverpool team.
Grujic has proved many right since his arrival on Merseyside, showcasing himself to be a player far superior to his opponents in the U23s side.
A future as a box-to-box midfielder has been unveiled by a notable mix of athleticism, energy and vision, all of which he is still in the process of building on.
His attacking ambition and defensive durability entail a grit and a no-nonsense attitude suited to complimenting a team accused of being far too nice in the past. Hailing his sheer power isn't condoning foul play but instead calling on him to bully and intimidate those he comes up against, in addition to beating them tactically and with the ball at his feet.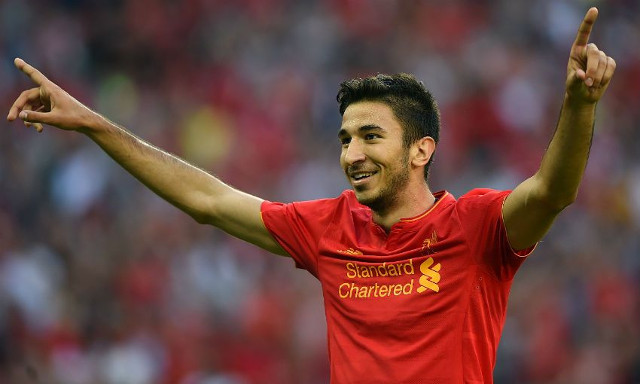 Unleashing Emre Can and affording him the freedom to follow up his attacking instincts as well as carrying out his defensive responsibilities, ultimately, helped the German find his true purpose at Anfield.
The same approach must now be taken with Grujic. He can't be burdened with positional restrictions if Liverpool want to make full use of his expertise.
Rarely have fans been so intrigued by a player's sheer height and stature, primarily because of how Grujic uses both. Besides a surprise goal-scoring prowess, he loves the hunt, the tough tackling, the duels, the collision side to the game, the fight.
At first glance, his physique alone places him as an immediate challenge in the eyes of his marker, thereby threatening to make him a player teams feel they have to overcome.
Liverpool's array of attacking talent also dismisses any pressure on his contributions in the final third, giving him more time to polish his technical features and allowing him to excel by, first and foremost, being a nuisance to the opposition.
The fact optimism surrounding the Serb is predominantly fuelled by standout pre-season performances alone, though potentially deceiving when thinking back to Dani Pacheco, does suggest there is lots more to come from him.
So long as he stays injury free, 2017/2018 represents a fresh start for Grujic and the chance to get even bigger, stronger and make the most of inevitable first team outings.
Characteristic bursting runs from deep and a will to get himself in the box sets him in good stead to fulfil every Liverpool midfielder's need to drive a quick transition from defence to attack.
An already obvious creativity and work ethic is crucially balanced with an edgy toughness designed to make him a formidable midfield option, providing it is managed correctly.
Early signs have suggested he doesn't shy away from striving to express himself and receive the ball at every opportunity, hinting at him already taking responsibility and seeking to control games. It's his obvious room for improvement that makes such positive initial impressions all the more pleasing.
He finds himself with time on his side, fighting for a place in a midfield trio prone to experimentation and under a manager devoted to overseeing the integration and growth of Liverpool's young prospects.
Whether it be how much he progresses or how often he plays, nobody really knows what to truly expect from Grujic over the next season. It's for such uncertainty that Reds have good reason to be excited.
SEE MORE:
'I'm too late'- Klopp surprisingly hints at end of £70m Naby Keita pursuit