Dear Philippe Coutinho…
In a chaotic and ever-changing footballing world, sentiment has regressed to be a somewhat forgotten trait, a norm that has been abandoned, a feature the sport has left behind.
All that said and done, it was a young Red holding up a homemade cardboard placard pleading with you to stay at Liverpool that reaffirmed my belief it wasn't time for you to move on, just yet.
Would a young fan have gone to that effort if it wasn't for Liverpool? Would supporters be idolising you if it wasn't for Liverpool? Would you have broken into the Brazil squad if it wasn't for Liverpool? Would Barcelona be so desperate to sign you if it wasn't for Liverpool? Perhaps not.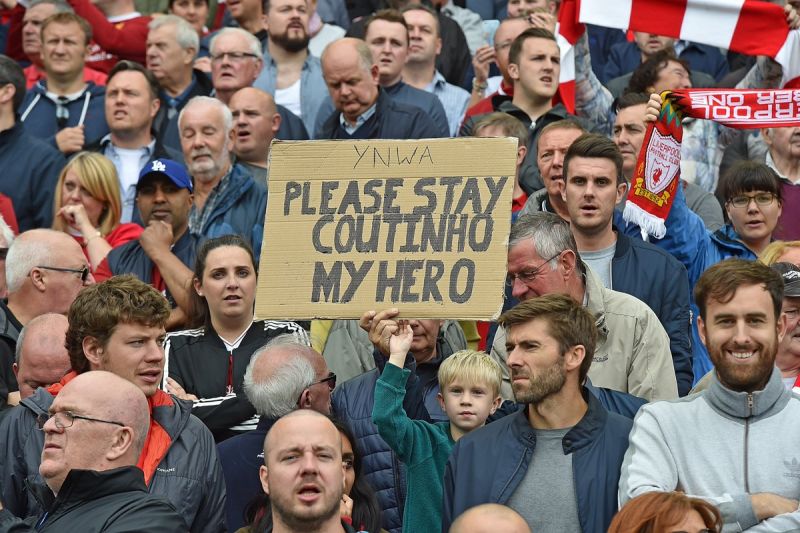 Little did Liverpool, let alone the world, know what an exquisite little talent or magician, some might say, you would go on to become after arriving as an £8.5million January signing in 2013. A signing that joined with few expectations weighing down on his shoulders and a signing few suspected would later boast a place high on the club's list of inspired bargains.
You were handed the privilege of a place at one of the most prestigious clubs in the world, the perfect platform on which to make a name for yourself and a spot in a team that would go on to challenge for the Premier League title the following season.
Calling you a risk would be a disservice to not only your undeniable natural ability, but also the club's transfer policy. It was Liverpool though, that gave you the opportunity to develop alongside the likes of Steven Gerrard and Luis Suarez, the stage to establish yourself and the chance to take the reigns as a central figure in Jurgen Klopp's long-term project.
Any anger or upset directed towards you doesn't stem from your wish to play for Barcelona, but instead the manner in which you have treated the club responsible for their interest in the first place.
The passionate Liverpool fan-base that has grown to adore you isn't driven solely by emotion, but also by logic.
Aside from the unforgiving and gloriously proud approach, there is an acceptance, believe it or not, of players with elite-level potential, such as yourself, seeking out a move to the top.
We knew Suarez had to go, but we accepted it because he had given everything he could offer us. He thought wisely, showed the club the respect it deserved and waited a year to make his move. He left at the RIGHT time.
Ask any one of Europe's top players if they want to play for Barcelona. The chances are they'll say 'yes'. Those who dedicate a large part of their wages to watching you on a weekly basis and who travel to watch you from all over England and beyond aren't furious at you for wanting that 'dream' move. What's been the source of our disappointment is the way you have handled yourself.
A deal you only wanted to happen were it to be completed 'amicably' swayed far from it, diverting to a route that has now left you with some serious making up to do. Now is the time to prove you're not the sulking and disloyal player this saga has portrayed you as.
You owe Liverpool another year, for what the club has invested in you and for what it now deserves from you.
Show some appreciation for the five-year deal you were rewarded with in January and remind yourself of the ambition you admitted at that time to become an Anfield legend.
Striving towards fulfilling that wish requires looking at one Anfield legend in particular. One that represented the dying embers of loyalty in football, one that set the tone for the devotion and commitment expected from every player to put on that red shirt.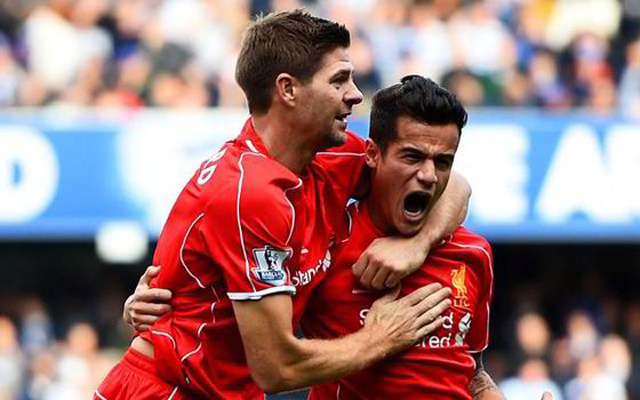 The brutal truth is that Barcelona wouldn't be targeting you for at least another season if Neymar had not left for Paris Saint-Germain.
Have you offered us everything you possibly could like Suarez had when he left? Most would say no.
Shelve your ambitions to play for Barcelona, turn a focus back towards driving Liverpool forward and start working to restore the respect you have lost.
You find yourself on the brink of taking your game to a world class level, heading into a World Cup where your nation has a realistic chance of success and part of a setup in which you know you can excel.
Any pressure that was already on you to begin taking responsibility and proving yourself as Liverpool's star man has since multiplied. Justify the chance to play for Barcelona and earn that move again but, in the process, give that young Red good reason look up to you as a role model.
Rather than venting sheer anger as most, very understandably, have, I'll say this. Get back to being the dancing, smiling Brazilian- fiery on the pitch but timid off of it. Get back to being the humble, unassuming star most previously deemed you to be. Be a Red.
We may feel insulted, we may feel let down, but there's a lot of us that still think you're brilliant.
People work incredibly hard to be able to watch you, so deal with the backlash, deal with not getting your way. As far as most fans are concerned, you're fighting for your place again, so get to work.
No player is bigger than Liverpool Football Club. You already knew that, though.
Yours sincerely,
A Red eager to see you scoring belters again.
SEE MORE:
Why Alex Oxlade-Chamberlain is £35million well spent by Liverpool