---
Rejoicing over the genius capture of Alex Oxlade-Chamberlain makes it gloriously impossible to avoid the calamitous unrest Liverpool have been responsible for fuelling at Arsenal.
If humiliating the Gunners 4-0 at Anfield with a devastating attacking masterclass wasn't satisfying enough, the Reds went one better by exposing the regression of Arsene Wenger's methods.
To snatch Oxlade-Chamberlain from the clutches of the champions Chelsea is pleasing, but to lure him from a previously solid platform on which to develop into a star reaffirms just how far Liverpool have come.
Jurgen Klopp conquered two of the world's top managers to secure his man and, in turn, grant Reds yet another reminder of how fortunate this club is to have him at the helm.
The German boasts a project striving for longevity, clear direction, constant progression and a route back to an undisputed place amongst England's best and Europe's elite.
No longer will Oxlade-Chamberlain be afforded the freedom to operate with the 'potential' tag comfortably looming over him, there to justify his gradual rather than significant progress. Anfield is where he makes his mark, where he unlocks the full extent of his undeniable talent, where he finally ditches talk of him as a 'prospect' and instead dictates the spotlight.
A necessarily gruelling and strict approach beckons for an exquisite commodity who will relish the shift from his previously uninspiring surroundings.
He now finds himself under the perfect coach to reignite his career and with the traits designed to make him an equally perfect fit to his new system on Merseyside.
Reds can take confidence from the fact the dangerous player waiting to be unleashed hasn't been disguised by his stuttering progress and lacklustre statistics over the past few years.
There is a fierce, technically exquisite, powerful and electrifying player somewhere inside Oxlade-Chamberlain, fighting to break free and showing glimpses of doing so in the process- a player that Klopp will find.
Though fans warmed to the club's pursuit of Oxlade-Chamberlain in stages, his bursting pride to be a Red has since somewhat eradicated uncertainty and replaced it with an optimism he can find his purpose.
Supporters want players appreciative of their privileged position at this club and he certainly fits the bill.
A previously dormant boyhood ambition to play for Liverpool has been rejuvenated and transformed into a delight that this dream has become a reality.
It's the cliché new start and fresh challenge he needed and the second wind that threatens to bolster the attacking expertise Klopp has at his disposal.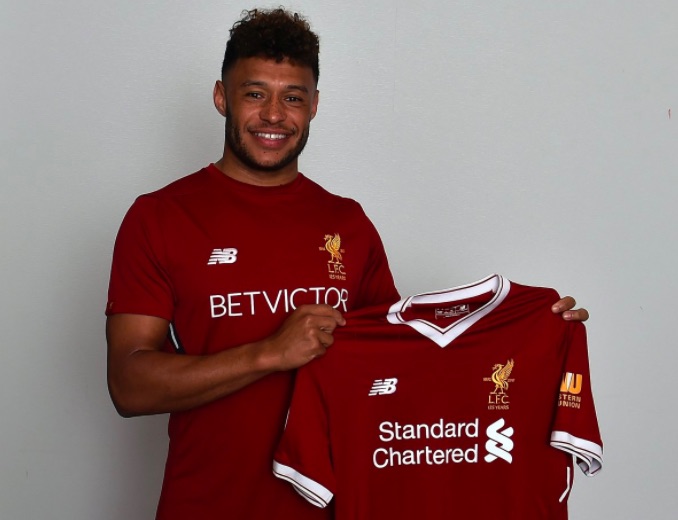 There's so much to love about the signing of Oxlade-Chamberlain, besides his rejection of Chelsea in favour of the chance to be a Red.
The intensity of Liverpool's high-pressing, counterattacking approach- as successful as it is- always risks burning Klopp's men out. It's for this reason that strength in depth promises to be central to how close the team gets to the Premier League title and, ultimately, silverware in all competitions.
An ideal scenario would see Klopp given no reason to abandon his 4-3-3 system or alter a front three of Sadio Mane, Roberto Firmino and Mohamed Salah.
If adjustments are required, Oxlade-Chamberlain, though his eyes are on a central midfield role, represents a viable alternative wide option with the pace to launch counterattacks and the ability to not only hug the touchline, but also move central to match the interchanging of his teammates.
Much like Georginio Wijnaldum, he promises the natural forward-thinking capable of seeing him function on the half-turn and pose as the kind of link man responsible for overseeing Liverpool's all-important quick transition from defence to attack.
The positional discipline Klopp's setup demands will drive his development, as will the incisive decision-making needed to pick out an illusive Firmino and to release the likes of Mane and Salah at the correct moment.
Liverpool's breaks partially rely on a confidence and ambition for players to take it upon themselves to stride forward and give their teammates the green light to make their runs.
Oxlade-Chamberlain won't just be mastering his technical craft, but he'll be required to start taking responsibility and playing with a will to make a statement.
Klopp can't go wrong with another all-action utility man, blessed with the bonus of being an explosive attacking contributor.
It's time for the question marks to be dismissed. A player hailed as one with 'promise' must become a known and consistently performing threat.
Everything is in place for Liverpool's industrious and multifaceted deadline day signing to excel on Merseyside. Champions League experience, cup final experience and obvious room for improvement makes him a potentially inspired acquisition.
SEE MORE:
Four headline inclusions as Klopp reveals LFC's 25-man Premier League squad