---
A fortnight of yawning, eye-rolling, heads sinking into hands, frowning and simply complaining about the international break is unbearable- even when things aren't going swimmingly for Liverpool.
The animosity and Christmas Eve-feel to a clash with Manchester United makes the prolonged wait even more agonising. For most, the build-up started the minute Joselu celebrated a Newcastle equaliser that Joel Matip played a more productive role in scoring.
Jose Mourinho's men have been waiting for their first true defensive test of the season, and that's exactly what they'll get when they step out before a rocking Anfield crowd next week.
Jurgen Klopp need not worry about Sadio Mane leaving flames in his path, Philippe Coutinho demanding Nemanja Matic play the role of moth or Roberto Firmino dancing his way back to form.
As ever, Liverpool's back four persists to hog the spotlight- perhaps more so than usual ahead of a matchup with, undeniably, one of the Premier League's fiercest attacking forces.
Categorising them as 'one of' means standing by the fact Klopp's counterattacking crew remains capable of dissecting, disjointing and defeating any defence in England's top flight.
With Matip and Dejan Lovren boasting the title of the unconvincing but undoubtedly first-choice centre-back pairing, it's the full-back positions that remain subject to debate.
Klopp's allegiance to Alberto Moreno narrows it down further to a right-back scenario flying the flag for constant rotation.
Trent Alexander-Arnold or Joe Gomez? That is the question.
It's hard to separate the two, with both having enjoyed their fair share of performances warranting the 'exciting prospect' label in the newspapers the next day, and both having also endured their typical 'learning curves'.
Alexander-Arnold turning 19 served as an eye-brow raising reminder of his smooth ascendance through the ranks and the strides he has made over the past couple of years.
A trip to face Manchester United at Old Trafford is where it started for him. An intense and high-stakes contest for his first league start, and he thrived.
The West Derby-born starlet oozes the Scouse pride and the local knowledge required to face Liverpool's old foes without having to switch into an extra gear.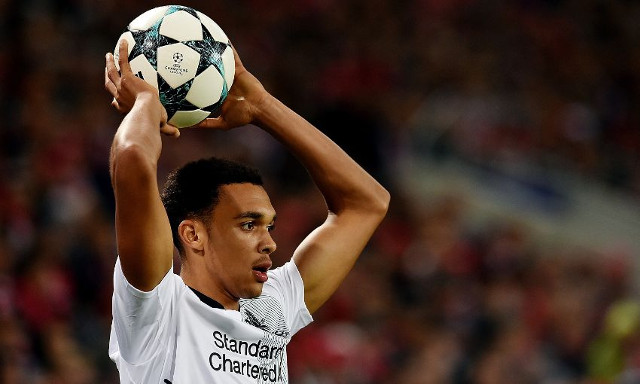 Nerves he felt at Old Trafford won't have disappeared, but his first start will have gifted him lessons he will take into next week's game- if called upon.
The 1-1 draw back in January could have been a harsh lesson, with Anthony Martial threatening to give the teenager a torrid afternoon.
That wasn't the case, though, as Alexander-Arnold previewed the athleticism and intelligence that makes him a strong contender to start next Saturday.
On this occasion, Liverpool's right-back looks likely to come up against a Marcus Rashford who has spent the majority of the campaign so far teasing his markers.
While Joe Gomez has the pace and power to match the England international physically, it can be argued he doesn't quite share the agility and reactions Alexander-Arnold has to combat such quick feet.
That's not to discount Gomez, who is equipped with the grit and strength capable of bullying his opponent and laying down the kind of dominant market required in such a high-calibre fixture.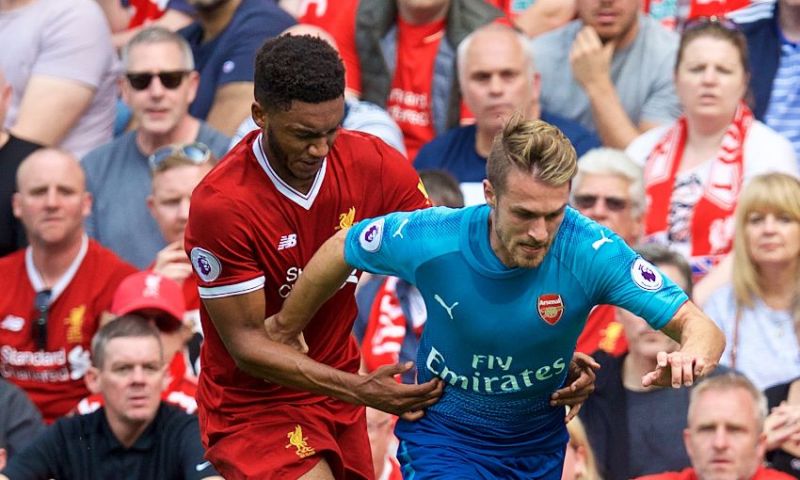 The newly-appointed England U21 captain also carries more value when it comes to defending crosses into the box, which promises to be an aspect an aerially-strong Manchester United side turns a focus towards.
Ask supporters, and most would demand Gomez be given his shot at centre-back and deem a matchup with Romelu Lukaku as a gruelling but potentially inspired decision.
Whilst Gomez is, arguably, the more defensively-inclined, Alexander-Arnold would fare better against Rashford and Martial, who has been dangerous coming off the bench of late. The attacking ambition of Alexander-Arnold does, however, always run the risk of leaving gaps. There are flip sides to both.
Unconventional has become conventional. Rashford won't be the only one drifting on the left-hand side, just as Roberto Firmino won't be the only one operating centrally.
Every individual on Liverpool's back four, at some stage, will also be required to limit the involvement of tricky customers in Henrikh Mkhitaryan and Juan Mata.
Playing at home against a team whose defensive organisation and ability against the quick breaks is yet to be tested, using Alexander-Arnold could prove key in out-numbering Mourinho's men going forward.
That said, Klopp's usage of both throughout the season suggests Gomez could be the more likely option.
It all comes down to how confident the Reds boss is feeling.
In truth, it's extremely difficult to make a firm case for one over the other.
SEE MORE:
'I started to fall out of love'- Rickie Lambert opens up on bittersweet LFC move