---
Jurgen Klopp has urged Andy Robertson to take inspiration from Alberto Moreno
Left-back has only made three appearances for Reds
Moreno's superb form keeping former Hull man on the sidelines
Jurgen Klopp insists there are no worries over Andy Robertson's position at the club or the progress he is making.
The left-back signed for Liverpool from Hull City in the summer but has since only managed three appearances for the first team.
Upon his arrival, Robertson had been deemed as a potential replacement for Alberto Moreno, who had looked certain to depart during the transfer window.
After enduring a torrid 2016/2017 campaign, in which he lost his starting spot to James Milner, and topping the list of those expected to be shipped out, Moreno enjoyed a superb pre-season and convinced Klopp to retain his services.
The defender's form has subsequently kept Robertson out of the picture, although Klopp is confident the Scotland international is on the right path.
"It's the exact same situation for Andy Robertson," the Reds boss told Liverpoolfc.com.
"People will say 'why do you do that? Because he is here and not playing?'
"Because he has to learn. But there is no problem. We are in conversation, talk about it and he has to improve."
"As long as the other players are doing like this. Alberto is like a little machine, he never shows when he is tired and stuff like this. Andrew has had a little less rhythm."
"So you think now, okay, he will have a game with the national team and come back. We will have a little internal game then and that's good for Andy."
"So he's on a good way, a really good way. It's going well apart from maybe he is not happy he cannot start so often as he would have thought from the beginning."
"But it's all about improvement and then to be ready for the moment you are used."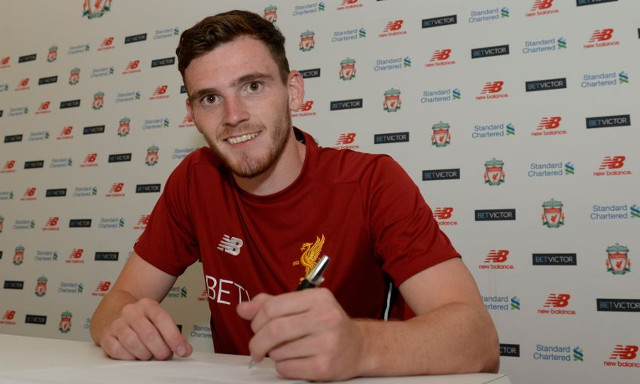 Healthy competition
The threat of new competition undoubtedly fuelled Moreno's dramatic comeback, and is exactly what must drive Robertson to make a name for himself on Merseyside.
His solid performance in the 1-0 win over Crystal Palace earlier this season served as a useful glimpse of the attributes he is capable of offering.
He finds himself under the ideal manager to continue improving and to ensure he is equipped to slot comfortably into the team when required.