---
Roberto Firmino to play for Brazil v England this evening
Liverpool's no.9 certain of World Cup spot barring injury
Firmino praises relationship with Coutinho for club and country
Roberto Firmino has discussed his current role with the Brazilian national team, why people in his homeland don't know much about him – and why his relationship with Coutinho is good for Liverpool and El Selecao. 
The 26-year-old is likely to feature at some point this evening against England at Wembley, with Tite's Brazil taking on Gareth Southgate's in a marquee friendly.
For the home team, Joe Gomez and Dominic Solanke could feature as well.
Firmino is looking forward to showing the world what he can do on such a prestigious stage ahead of Russia next year.
"I left Brazil very early, before reaching the top level of the Brazilian championship," Firmino exclusively told The Independent. "That made a difference: I was not seen as a 'name' around the country.
"But I never worried too much about that. I knew I had the potential to play at a high level and that the recognition would come in a natural way. Now I'm playing in one of the strongest, most important leagues in the world, I feel I have more responsibility. I'm being watched the whole time. But this gives me strength and motivates me to do a great job."
Unlike with Brazil, Firmino is an automatic starter for Liverpool, where he plays in a fluid frontline as a deep-lying forward.
He's not a goalscorer, but a creator, helping our other attackers like Mo Salah and Sadio Mane with clever movement and unselfish pressing.
It's his on-pitch relationship with Coutinho which is most noticeable, however.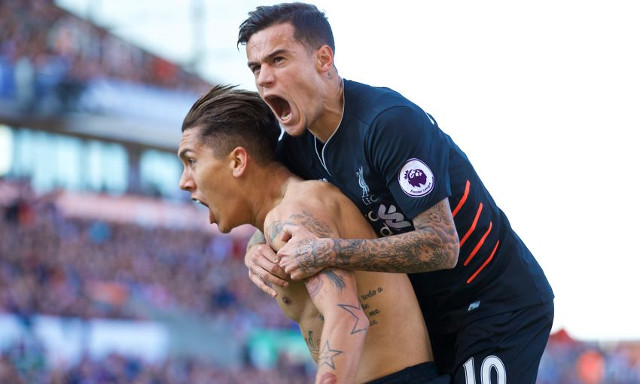 "It helps having Coutinho with me. He's a 'differential' who helps swing games," Firmino continued. "The fact we're together day to day at Liverpool means we have a good understanding, so we can use that in Brazil games. Coutinho is a friend and also a great player. He's got incredible passing ability; he knows how to put attackers in on goal.
"I think the Brazil system is similar to the one we use at Liverpool, with lots of movement, players open out wide and quality midfielders who join the attack and score goals."
It's not often we pay much attention to international friendlies, but with potentially four Liverpool players on the field this evening, we wouldn't be doing our job properly if we didn't!
We hope Solanke scores on debut and Coutinho does something mesmerising, but while Gomez is off the field.
That should work!