---
Joe Gomez got Man of the Match for England v Brazil during international break
But Jurgen Klopp drops him to the bench for Southampton victory
This is despite Joel Matip pulling out with a late injury
SEE MORE: Klopp hints at Gomez position change
There were some surprised supporters at around 2pm on Saturday, when it became evident that Jurgen Klopp had dropped Joe Gomez from his starting XI.
The Englishman has been pretty much an automatic choice in the Premier League, with the younger Trent Alexander-Arnold preferred in the Champions League.
However, Klopp went with Trent at right-back against Southampton and decided to use Dejan Lovren alongside Ragnar Klavan centrally, too.
This was even after Gomez's wonderful full England debut, in which he got the better of the world's most expensive footballer Neymar v Brazil.
The manager explained that with a congested fixture list coming up, he had no choice but to rotate.
"This will happen over the next few weeks, we will have to make decisions," he told reporters after the game, cited in the Echo.
"Usually I don't think too much about the next game, but in this case I have to think about the next 13 games.
"I haven't already planned them, but we need to try to. We cannot play one lineup until they are all injured, we need to mix it up—even if we win games like today.
"Joe had two games in the last week and it's not a problem, he could have played today.
"But then for Tuesday I don't think it would have been a big chance or a good idea to bring him again."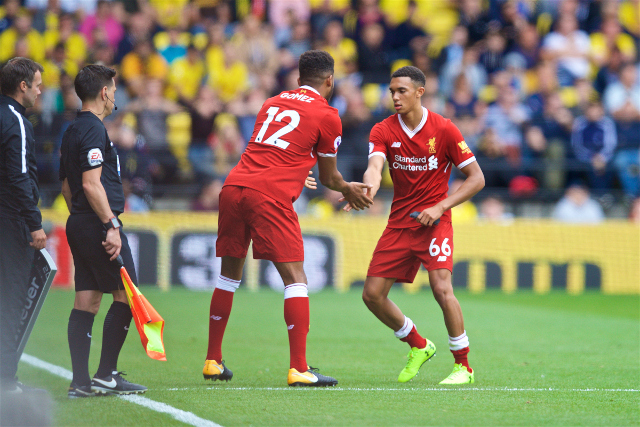 Actually, Klopp's decision makes sense.
By resting Gomez yesterday, the newly capped England international can start against Sevilla on Tuesday and this coming weekend at home to Chelsea…
Then, Trent can come back in for the away trip to Stoke, allowing Gomez another breather.
This means that in games where we'll be up against a higher quality of attacker, Gomez, the better natural defender, will be on the field.
While Trent can continue to develop at his own pace. It's worth noting that he shone against Southampton, by the way.