---
Jurgen Klopp has lavished praise on Alberto Moreno's meteoric levels of improvement
Manager admits underusing him last season for Liverpool
This term, Moreno barely put a foot wrong and is now an automatic starter
Jurgen Klopp has described Alberto Moreno as a 'brilliant footballer' and stated that 'it's unbelievable how good he now is!
The manager also recognised that he's perhaps never seen such an incredible improvement from one season to the next.
Last term, Moreno was effectively frozen out of first-team consideration, with Klopp preferring James Milner.
It was widely accepted that we'd sell to the first buyer in the summer, but despite interest from Napoli and Swansea, Moreno stayed at Anfield.
"I never had something like this, I never had it to be honest," he told Liverpoolfc.com.
"This season is not a surprise, the surprise is how he dealt with last season. There was not one bad word in the whole season.
"Yes, he was in my office, yes, he asked what he could do better, and we spoke about the things he had to do better.
"On the other hand, Milly played really well and he's a machine, he could play every two days, so there was not a lot of reasons to make the change then he had no rhythm.
"I felt that it was unfair after the season, I thought, 'Damn, we didn't use him often enough'.
"Before the season, he came to my office and asked again and I told him we get another full-back but it was not the plan for Milly to be in the full-back race again so you decide what happens – and he decided it.
"He's now a much better defender, that's how it is, he's a brilliant footballer.
"When you see him shooting here, you think he cannot shoot – he shoots like crazy! It's unbelievable how good he is! In the games so far, obviously, it didn't settle.
"How he reacted on last year is really, really good."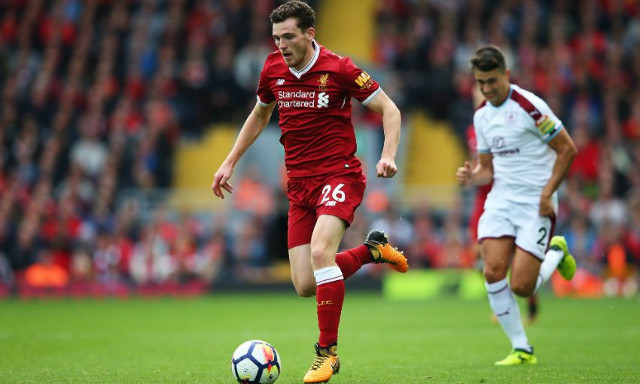 Moreno's form has earned himself a recall to the Spain squad, three years after he was last in it in 2014.
If he maintains his current level, he should be a shoe-in for the World Cup, which would be enormous reward for a player whose got his head down and actively worked on his weaknesses.
We do feel sorry for Andrew Robertson, who can't even make the Match Day squad at the moment, but his time will come. Our prediction is that while Moreno will play v Sevilla and Chelsea, the Scot may come in for next week's mid-week clash v Stoke.
If he doesn't, then maybe Klopp just doesn't fancy him!