---
Joe Gomez has spoken about his experience of facing Neymar for England v Brazil
Liverpool youngster now in contention for Gareth Southgate's World Cup squad
Gomez likely to start for Liverpool v Chelsea this evening
Joe Gomez has been an absolute revelation this season, for club and country.
The 20-year-old is Liverpool's first-choice right-back with Nathaniel Clyne a long-term injury absentee and is already a reliable member of the back-four.
His performances earned him a call-up to England and against Germany and Brazil, Gomez shone.
On his full debut, directly up against Neymar, Gomez earned the Man of the Match award for an accomplished defensive performance that saw the £200m man at a loss of how to break England down.
According to Gomez, he was helped by Dominic Solanke, who told him to watch out for nutmegs before the game!
"The games were difficult because Germany and Brazil had so many runners," he told Paul Joyce in the Times. "There was so much movement that we had to keep a steady line and stay switched on.
"There was some banter before Brazil. Dom [Solanke] was bantering with me in the build-up, 'Ah Joe's going to get 'megged by Neymar. Don't get 'megged'. Obviously in my head I am bantering back, but I was thinking, 'This could be possible'. But that sort of helped me because I was wary going into the game, saying to myself, 'Be defensive, be on your toes'."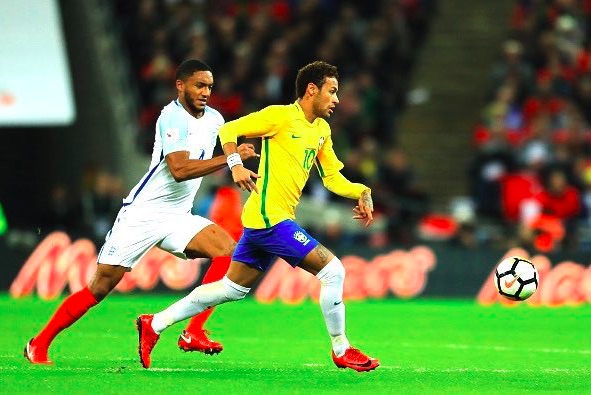 Gomez managed to drop his Magnum of Champagne, awarded for Man of the Match
Sadly for Liverpool's defensive prodigy, he's currently without a memento from his superb evening – having smashed the champagne he was given after the game!
"At Wembley, there is a room where all the families are and as I was going through the door, it was kind of tight. I went to go sideways and the bottle started slipping. I tried to catch it but it smashed on the floor," he continued.
"It was in the worst place, right by the door and, as it has smashed, everyone in the room has turned to look at me. There were a few laughs.
"My family were sitting over at the back and didn't see what happened. They were gutted. I have spoken to the liaison guy and I am going to get another one. I don't drink, so it won't be opened any time soon."