---
Jurgen Klopp claims referee stopped him from bringing on Adam Lallana sooner against Chelsea
Liverpool boss wanted midfielder on in order to move to back five 
Willian equalised before Lallana was allowed to join the action
Jurgen Klopp admits he was left frustrated by the referee's refusal to allow him to introduce Adam Lallana before Chelsea's equaliser.
The Liverpool boss was intent on handing the midfielder his first appearance of the season in order to protect his side's 1-0 lead by shifting to a back five.
Lallana was subsequently not given the green light to join the action, with Willian drawing the away side level shortly afterwards.
Klopp feels the ability to alter his team's shape would have seen Ragnar Klavan positioned in the ideal place to prevent the Brazilian from sending his looping effort over Simon Mignolet in the 85th minute.
When asked if Lallana was ready, Klopp told Liverpoolf.com: "Maybe ask the ref, I don't know."
"That's how it is, we never did really time play [wasting] – people can say we are not really smart, but we don't do it because of that, we wanted to change the system, we wanted to bring a player and that means we have to give advice and he said 'no'."
"After the game I was not happy with it because we wanted to change, what we did afterwards, to five at the back."
"In my mind, Ragnar Klavan would have been exactly in the position where Willian crossed the ball, that means we would've blocked the cross in my mind. It doesn't feel too well when you couldn't change the system because the ref thought maybe it was time play or something else."
"No idea why he said 'no'. The assistant next to me was prepared, I was prepared, the player was prepared but [the referee said after the game] that the goal was four minutes after you wanted to change."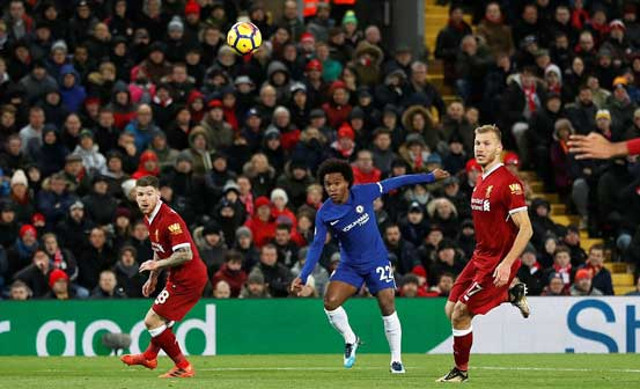 Regardless of Klopp's apparent failure to follow through with his plans, Chelsea were undoubtedly deserving of their late goal in what had been a both entertaining and tightly-fought contest.
That said, there remains to be doubts over whether Willian did in fact intend his effort as a cross or a shot. As far as Liverpool fans are seemingly concerned, the verdict is unanimous.
A side including five changes from the team that drew 3-3 with Sevilla put in a confident and assured display against their well-drilled opponents.
Mohamed Salah proved to be a class above alongside Eden Hazard, threatening to dissect a solid back-line throughout and producing the vital opener for the hosts.
A positive response to any lingering midweek disappointment.