---
Alex Oxlade-Chamberlain says Jurgen Klopp has told every player to be ready
Liverpool boss ready to take advantage of team's strength in depth
Klopp started rotation in Saturday's 1-1 draw with Chelsea
Alex Oxlade-Chamberlain claims Jurgen Klopp has warned his players that they will all be needed during the Premier League's gruelling Christmas schedule.
The deadline-day signing reaped the benefits of the Liverpool's manager's rotation plans on Saturday as he earned a start in the 1-1 draw with Chelsea.
Klopp made four others changes to the team that drew in Sevilla as he seemingly triggered the start of a period in which he plans on utilising every player at his disposal.
Oxlade-Chamberlain has revealed the German's plans for the winter.
"The manager spoke to us about that. He's got a big squad for a reason and he's got faith in everyone. I think he showed that by changing some players and some big players that have been doing really well [against Chelsea]," he told Liverpoolfc.com.
"It's a really busy period and it's important that all the boys are going to be fresh for as much of it as possible, if not all of it."
"Everyone is going to have to chip in and play their part and whoever gets left out is always disappointed, but the good thing about this manager and being in this team is you always know you could be needed in the next game and your chance is always going to come."
"You need to make sure you're ready for that and that keeps everyone really competitive and ready and motivated [so] when the time does come for them to come in, they seem to come up trumps."
"He sat us down and said: 'You're all going to be needed here. I know people are going to be disappointed when they're pulled out or not playing, but you're all going to be used so make sure you're all ready.'"
"I think that's what he proved at the weekend with his changes and I'm sure there's going to be a lot more as it does get really intense, especially when it gets close to Christmas."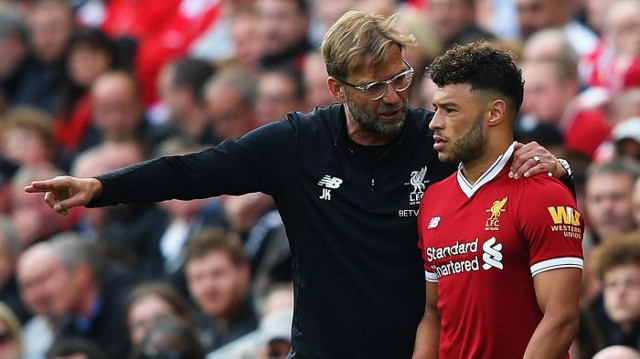 The quick turnaround for Wednesday night's trip to Stoke marks the beginning of a traditionally busy festive period for English clubs.
Klopp's plans to alter his team bode well for Oxlade-Chamberlain in terms of granting him added opportunities to impress and vie for a regular starting spot.
He took his chance at the weekend relatively well, filling in admirably for Sadio Mane and representing the strength in depth his manager is so keen to make use of.
With Champions League fixtures adding to a packed Premier League fixture list and key players returning from injury layoffs, now is the ideal time for Klopp to exercise his array of options.