Stubbs has criticised Liverpool's manager for not taking the Derby seriously
Klopp made significant changes to his lineup for Anfield clash
Everton stole a 1-1 draw despite being heavily outplayed throughout
Former Everton servant Alan Stubbs, who actually only played for our rivals between 2001 and 2005 but is somehow given legendary status across the park, has criticised Jurgen Klopp for his Merseyside Derby team selection.
The German left Coutinho and Roberto Firmino out, but still watched Liverpool completely dominate Sam Allardyce's side with 81% of the Anfield possession.
Everything was going perfectly until Ref Pawson gave a late penalty for a seemingly innocuous challenge from Dejan Lovren on Dominic Calvert-Lewin, which was converted by Wayne Rooney.
According to Stubbs, this is evidence that Klopp underestimated the importance of the Derby – which – hilariously – is a result of him being foreign.
Stubbs told talkSPORT: "I would have been delighted when I saw Liverpool's team yesterday. It's not to say that it was a considerably weaker team, but when you don't play your best players in a derby…
"A lot of Liverpool fans would have turned up to the game thinking, 'what's he doing'? This is a derby, it's not just another game, and I think foreign coaches sometimes don't get it as much. He's got only himself to blame really."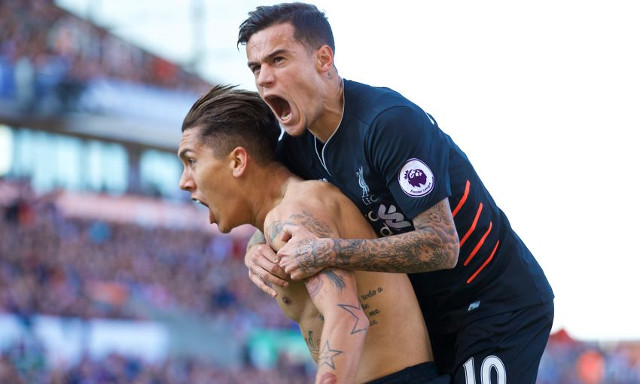 "I honestly think with those players [Coutinho and Firmino] on the pitch it would have been really hard for Everton to get a result.
"No disrespect to [Dominic] Solanke but, if you put Coutinho up there, as a defender you're thinking, 'oh, no'. The movement is completely different, the link-up play is different, the speed is different."
So where do we begin…?
Klopp won his first three Derbies at a canter and was primed to make it four in a row had the ref not messed up.
Ignoring the ref's decision, Sadio Mane still could have squared to Alex Oxlade-Chamberlain who would have finished into an empty net, which clearly is not Klopp's fault.
Allardyce set out to ruin the game and played the most defensive, useless brand of football we've ever seen in a game between Liverpool and Everton.
If anyone disrespected the match, it was him.