---
LFC boss reacts to the story about milk being thrown over Mourinho at the weekend
Klopp jokes that opposing teams do that at Anfield following draws!
United's loss means Liverpool are five points behind in fourth
Jurgen Klopp was today asked about the furore and rumours that emanated from Old Trafford after Manchester United 1-2 Manchester City on Sunday.
The word is that Jose Mourinho entered the City dressing room to castigate the City players who were celebrating in an overzealous manner. Eventually, Mourinho was covered in milk by goalkeeper Ederson and City coach Mikel Arteta left with a bloody head, after a bottle hit him.
According to Klopp, it's not uncommon for opposing teams to play music loudly in a dressing room; pointing that on a few occasions when opponents have DRAWN at Anfield – they've played music themselves!
 "I don't think most of the things happen a lot, that one team is celebrating and the other doesn't like it too much," he told today's pre-match press-conference. 
"We've had 1 or 2 draws at home and I've heard loud music from the other side. I've got no problem with that. Everything is allowed as long as you show the right amount of respect.
"Everything is allowed as long as respect is showed. It's an emotional game."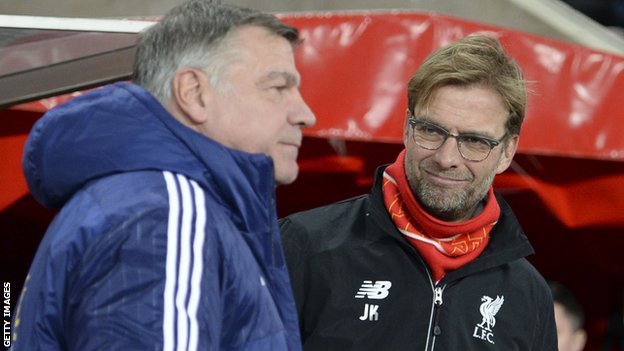 Liverpool haven't lost a game at Anfield this season, in any competition.
To be fair, if Everton had somehow stolen three points at the weekend, we're not sure Klopp would have been able to stop himself entering their dressing room and saying something to Dominic Calvert-Lewin, who he believed dived to win his side a penalty!
What made us laugh about the whole situation though is the hypocrisy of Mourinho. Remember, this is the man who did a knee-slide down the side of the pitch in 2003 when visiting with FC Porto.