---
Gary Neville insists Liverpool's defence is the only thing standing between Jurgen Klopp and success
Reds came under-fire for giving up two-goal lead in 3-3 draw against Arsenal at the Emirates
Gunners scored three goals in five minutes to turn the game around in the second-half
Gary Neville has tipped Pep Guardiola's brutal transfer policy at Manchester City as the modern prototype Jurgen Klopp must aspire to replicate if he intends on winning the Premier League title with Liverpool.
The Reds' defence came under familiar criticism on Friday night as they relinquished a two goal-lead along with their commanding dominance in the space of five second-half minutes.
Less than a minute after Mohamed Salah had put Klopp's side 2-0 up in the 52th minute, Alexis Sanchez headed home Arsenal's first before Granit Xhaka's powerful effort and Mesut Ozil's chipped finish completed a dramatic turnaround before the 59th minute.
Speaking after the game, Neville questioned both the quality and reliability of Liverpool's defenders, and urged Klopp to take note of the extreme measures Guardiola took to transform his defensively-weak City into league leaders.
Get rid of the players. You look at what Pep Guardiola did last season. He brought Claudio Bravo in for big money. He wasn't good enough and couldn't adapt to the Premier League. He got rid of him," Neville told Sky Sports. 
"The full-backs weren't good enough at City, he got rid of them, spent £130m on three new ones and just dealt with the issue."
"He has got to deal with the issue and Jurgen Klopp is the only one who can do that. It is staring everyone in the face."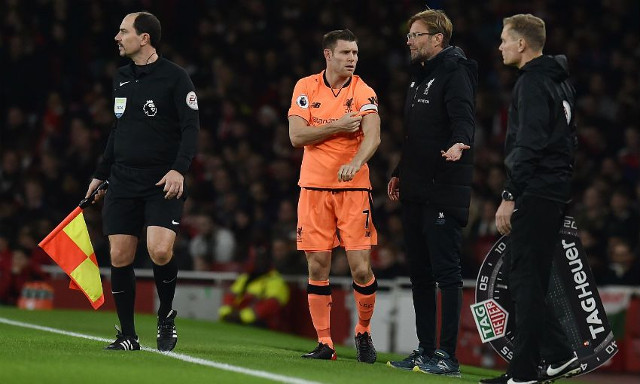 "Ragnar Klavan? Really? Dejan Lovren has disappointed me even though he was fantastic at Southampton. Joe Gomez is young so I think he's got some development to do."
"Simon Mignolet we have talked about, Loris Karius we have talked about. And then you talk about the left-backs, you play James Milner there, you play Andrew Robertson there, you play Alberto Moreno there. Can you trust them in the biggest games?"
Despite his individual resurgence over the past few months, Mignolet understandably came under criticism for his weak attempt to keep out Xhaka's equaliser.
The Belgian's costly mistakes are once again beginning to wear thin with supporters and re-triggering demands that Klopp adequately addresses the goalkeeping position at some point over the next two transfer windows.
England's top sides boast accomplished and assured figures between the sticks and it's time Liverpool accept the fact they are lacking in that department.
The defence similarly remains in desperate need of reinforcements, with the acquisition of a new centre-back in January having now become a must.
Yet another frustrating reminder of familiar hindrances for a team gloating an attack force capable of carving open any team in world football on its day.