---
Jurgen Klopp admits he didn't expect Virgil van Dijk to play so well against Everton
Liverpool boss wasn't originally planning on starting defender
Van Dijk scored debut goal to give Reds 2-1 FA Cup win
Jurgen Klopp admits he was surprised by how well Virgil van Dijk performed on his debut for Liverpool in Friday night's FA Cup tie with Everton.
The Dutchman scored a dramatic 84th minute winner after being thrown into the starting lineup for his first appearance since arriving from Southampton for £75million.
Having endured a stuttering individual start to the season with Southampton, Van Dijk had looked set for a gradual introduction before Klopp decided last-minute to give him his debut in the Merseyside derby.
The centre-back boasted a commanding presence at the heart of Liverpool's defence and displayed an impressive composure in a high-calibre first outing for the club- much to Klopp's delight.
"He was much better than I thought, to be honest, because it's difficult, it's always difficult," Klopp told Liverpoolfc.com.
"I said before the game that my expectations are easy to reach because I know how good he is and so I only want him to show that. I still know that he's a human being and things can happen that he can show it tonight, things like this happen."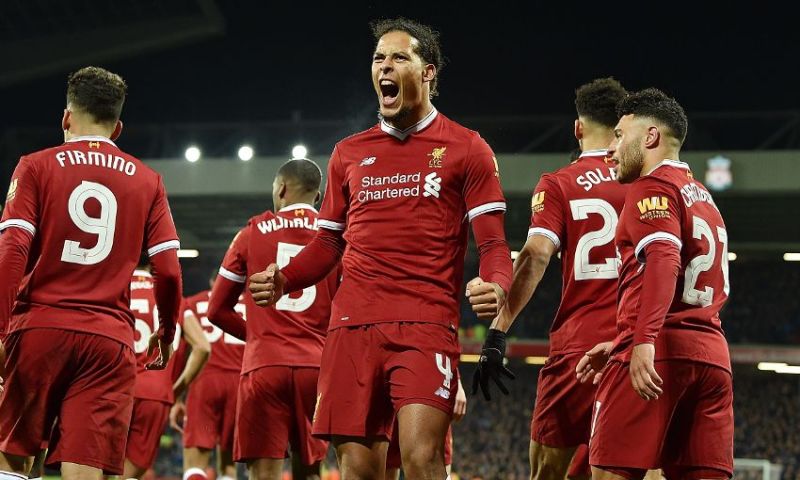 "He was for sure nervous but you could not see it and that's the most important thing probably. He came quite well in the game and then from this point on I think how it is as a player you are then in kind of a tunnel, you don't think about anything else than the game, so that helped a lot."
"It was a difficult decision to make, to be honest, because, to be 100 per cent honest, the first plan was not to start him tonight but then Dejan and Raggy played a lot of games in the last few weeks, so I changed my mind this morning. And it helped!"
Liverpool's record signing didn't disappoint in-front of a crowd that has waited months to see him grace the Anfield turf.
Van Dijk took no time in asserting himself as a leader in defence, dispatching instructions to his teammates and injecting a much-needed sense of calm.
He exhibited early glimpses of his ability to play out from the back, as well as posing as a towering figurehead in the box and looking confident when leaving his central position to close down opponents.
Klopp has an accomplished defender at his disposal, and one still yet to rediscover his top form this season.