---
Jurgen Klopp reacts to comparisons between Mohamed Salah and Lionel Messi
Egyptian produced two strikes reminiscent of Barcelona star
Salah scored first hat-trick for Liverpool in 5-0 win over Watford
Jurgen Klopp admits Mohamed Salah is paving a way to warranting a place in the same conversation as Lionel Messi.
The Egyptian scored two stunning solo goals as he fired four past Watford in Saturday's 5-0 win, reigniting comparisons to Barcelona's talisman.
Salah's sharp skill in the build up to his first floored helpless defender Miguel Britos in similar fashion to Bayern Munich's Jérôme Boateng at the hands of Messi in a 2015 Champions League clash.
"Mo is on the way, that's good. I don't think that Mo wants – or anybody else wants – to be compared with Lionel Messi," Klopp told Liverpoolfc.com.
"He is the one that is doing what he is doing and it feels like [he has been] for 20 years or so. The last player I know that had the same influence on a team performance [as Messi] was Diego Maradona, I think."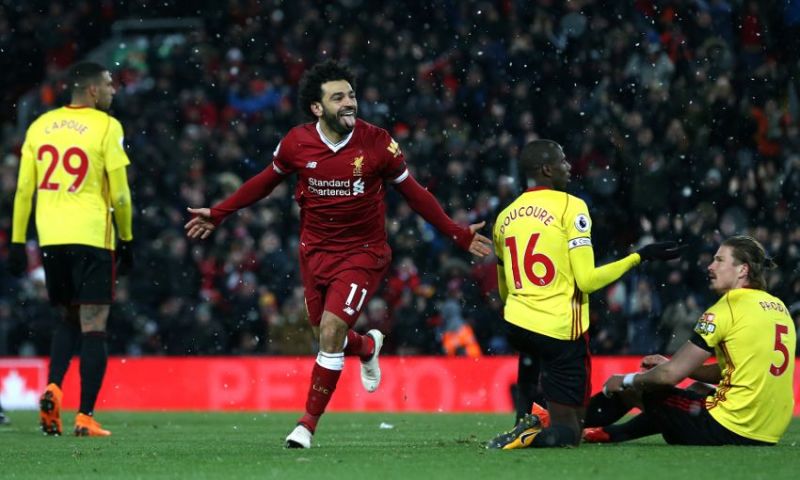 "Yes, Mo is on a fantastic way, that's for sure, but how it always is in life, if you have the skills then you have to show it constantly. His consistency is very good for us. It helps, he helps us a lot, the boys love playing together with him, he loves playing with them, so it's good."
Such high-profile comparisons often border tenuous in light of over-exaggerated excitement in the heat of the moment. Not with Salah.
Between the tight-knit footwork in tight corridors, to a notorious ruthlessness in front of goal and a presence that leaves defenders petrified to contest for the ball, there are evident similarities.
Though it would be wrong to put Salah on the same pedestal as the greatest to ever grace the game, suggesting the pair thrive with matching traits can certainly be justified.
As influential as Kevin De Bruyne has been in Manchester City's likely title-winning campaign, Salah is the outright candidate to claim the Premier League Player of the Season award.