---
As the season draws to a dramatic close, Liverpool fans will be looking forward to seeing their team fight hard for a second-place Premier League finish as well as hoping that they will make the most of their opportunities to progress further and perhaps even win the Champions League. Still, there's a lot of promise left this year for The Reds. Regarding the players, Mohamed Salah has made his mark on the club in his first season after moving from Roma. Will he be able to prove himself as the Premier League's top goal scorer as well as winning the European Golden Shoe?
Who can win the European Golden Shoe?
Now, there's plenty of familiar faces at the top of the European goal scorer's list. Currently, Salah is leading the pack, but recent performances from Lionel Messi means he has competition as the season end draws closer. Both now have 29 goals, with Salah adding a "poker" (that's one up from a hat trick for anyone who doesn't know the slang!) to his total with a four-goal match before suffering an injury that put him out of action. Barcelona's Messi has won the award a total of four times, with only Real Madrid's Cristiano Ronaldo matching him. It's going to be a tight race up there at the top.
Currently, Bayern Munich center-forward Robert Lewandowski is the third highest goal scorer in Europe, a joint honor he shares with Lazio forward Ciro Immobile. Both have 26 goals and 52 points in the European Golden Shoe. Also, in the elite of goal scorers are Jonas Goncalves, Mauro Icardi, Edinson Cavani, Harry Kane, Cristiano Ronaldo and Luis Suarez.
Harry Kane was looking like he could have been first after an admittedly stunning performance this season, but a recent injury means that he now stands on 24 goals, five behind leaders Messi and Salah.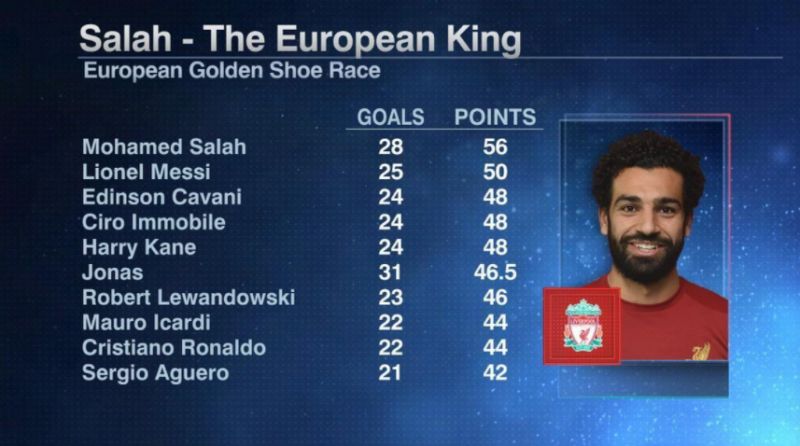 Can Salah pull through and win?
Salah has had nothing short of a fantastic season this year with Liverpool. Since his move from Roma, he has put away a total of 38 goals in all competitions as well as 13 assists, with 43 appearances to his name. His Premier League record stands at 29 goals, making him a joint first place in the running for the Golden Shoe.
It was in Liverpool's 5-0 victory over Watford on March 17th where Salah made his mark, scoring a "poker." Salah scored after just four minutes in the Watford game, put in a second from a cross by Andy Robertson and then finished off with two more to complete his poker.
Salah's association with the word "poker" goes no further than those four goals, unlike 888Poker Ambassador Denilson, once the most expensive player in the world, who has now transferred his football skills to the tables.
Salah was looking set to become the European Golden Shoe winner this year but fell victim to a minor groin injury — not that much of a big deal in the long run, but sitting out any games at this point in the season will damage his chances. Salah missed Liverpool's recent game against Everton, adding no goals to his total last week, though he is expected to return for the next game against Manchester City.
Because of Salah's absence, Lionel Messi managed to close the gap with a hat trick in Barcelona's game against Leganes on Saturday, April 7th. His performance helped Barcelona to match the La Liga record for the longest unbeaten streak, and they are now seven matches away from finishing their season without a loss. Messi's hat trick pulled him three goals ahead of Lewandowski and Immobile and leveled him with Salah at 29 goals. For sure, he will be Salah's biggest competition for the Golden Shoe.
Can Harry Kane pull it back?
Harry Kane was also looking to be the top goal scorer in the Premier League as well as a noteworthy competitor for the Golden Shoe. The Tottenham striker was ahead of Salah with 24 goals before suffering an injury in the Spurs' match against Bournemouth in March. The injury meant that Salah had the opportunity to pull it back; one that he did not squander. Salah pulled five goals ahead, leaving Harry Kane with some catching up to do.
Kane has now returned to action and played in Tottenham's game against Stoke City on Saturday. The Spurs won the match two goals to one, but Kane didn't get a goal to add to his total. He did try to claim that he got a touch on teammate Erikson's free kick, but an FA review awarded the goal to Erikson. With five goals to catch up, only a few league games left to play as well as Salah and Messi both consistently finding the back of the net, Kane will have a hard time staging a comeback.
It's looking like a heads-up race between Salah and Messi as we approach the end of the season. Of course, other players like Lewandowski and Kane should not be ruled out. Anything could happen. Salah's "poker" helped in the game against Watford, but he will need to make a quick and wholesome recovery from his injury to keep his chance of securing the European Golden Shoe. He will then need to drive forward the goals in the coming Premier League games for Liverpool, hopefully, helping them to make a second-place finish, too. We will have to wait and see how each player performs, and every game will count from now until the Golden Shoe is won.